Highlights
Teeth whitening treatment performed by dentist
Includes consultation
Lasts up to 80 minutes
Valid at eight locations
Fine Print
Validity:
Expires 20 Jun 2014.
Purchase:
Limit 1 per person. May buy 1 additional as a gift.
Booking:
Required by phone: 01225 839 797 or online:
www.brightwhitesmiles.co.uk/contact.html
. 48-hour cancellation policy.
Restrictions:
Valid Wed 10am-7pm at 23 Broad St, BA1 5LN; Fr-Sat 10am-5pm at 1 Saville Row, BA1 2QP; Thu, Fri 10am-6pm 17 East Walk, BS37 4AP; Mon 10am-7pm ND Sat 10am-2pm; GH Health & Fitness Gym, BS8 3DA; Wed 9am-5pm 3 Cornhill, TA6 3BU; Tue 10am-7pm 8a Fore Street, TA1 1HX; Fri 9am-5pm 5 Vestry Road, BA16 0HY. Must be 18 or older. GDC: 227088. Full refund if deemed unsuitable.
Original values:
Verified using our merchant's website on 14 Mar 2014.
See the rules
that apply to all deals.
The Treatment
Groupon finds out more about the laser teeth whitening treatment at Bright White Smiles.
What does this treatment involve?
A solution is applied to teeth, before a plastic mouthpiece is inserted. An intense light will then be directed at teeth, designed to reduce yellow staining and return teeth to their earlier, natural colour.
How long will the session last?
Customers should allow up to 80 minutes for the treatment, which is preceded by a consultation.
Does the treatment lighten crowns?
No, only natural teeth will be affected. Crowns, fillings and other dental work will remain the same colour, although some surface stains may be removed.
What does the aftercare involve?
Clients should not eat or drink dark, staining substances for 24 hours after the session. These include coffee, tea, red wine and coke; smoking should also be avoided.
The Merchant
Dentists aim to create Bright White Smiles across hubs in Bristol, Bath and Cardiff. Specialising in teeth whitening, the clinics offer sessions in-house, or kits for application at home. Gift vouchers can also be purchased as a pampering gift for those seeking a dazzling smile.

Available at the following locations:
1 Saville Row, Bath BA1 2QP

23 Broad Street, Bath BA1 5LN

17 East Walk, Yate BS37 4AS

5 Vestry Road, Street BA16 0HY

Grove House, Bristol BS8 4DE

3 Cornhill, Bridgwater TA6 3BU

8 Fore Street, Taunton TA1 1HX

Redcliff Way, Bristol BS1 6SQ
Reviews
Bright White Smiles has scooped up over 600 sparkling likes on Facebook.
Details verified 17 March 2014.
Learn more about Groupon's Merchant Reviews Policy.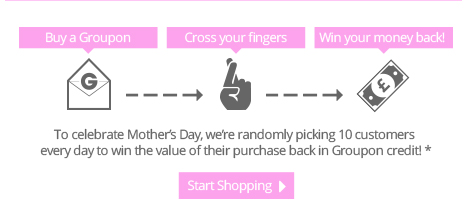 Bright White Smiles