5 Places in London to Get An Authentic Indian Meal
BY: Edward Smith |
30 Jun 2014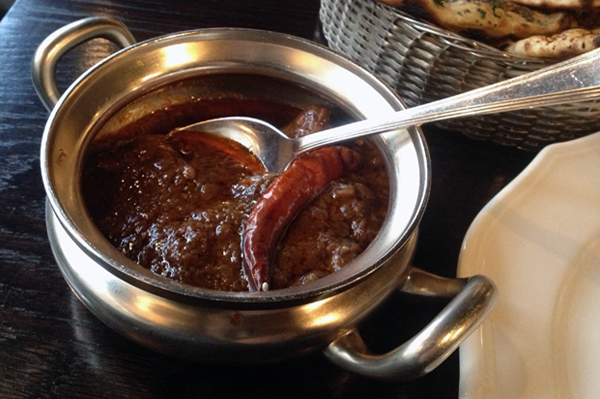 There are a number of renowned curry centres in Britain: the Balti Mile in Birmingham, the Curry Mile in Manchester, Bradford's curry cafés and, of course, London's Brick Lane.
I have no first hand knowledge of the Birmingham, Manchester and Bradford curry strips. But the idea that Brick Lane is the place to get your curry fix in London is a myth. A fallacy. A downright lie.
Sure, there are plenty of curry houses along the street - but the experience of being harassed into a restaurant as you walk down Brick Lane comes second in disappointment to the slop you'll likely be served. Give it a miss. Instead, look to one of the following options – which cover a range of budgets and occasions.
Gymkhana
Gymkhana opened in September and quickly dismantled all prior claims to being the best Indian restaurant in London. Critics and punters alike fawn over the authentic, deep, complex spicing; the simple, unfussy aesthete; and the cocktails. This is not a cheap restaurant. It's certainly not what you're looking for if you seek numbing spice and a peshwari naan to end your night on the beers. Rather, it's a quality Mayfair restaurant with consistently superb food (and prices to match). Highlights are the goat methi, muntjac biryani, game dishes, and the pig cheek vindaloo (pictured).
Gymkhana, 42 Albemarle St, W1S 4JH
Tayyabs
At the other end of the scale, Tayyabs in Whitechapel is one to go get your fingers dirty, where smoke and spices penetrate every pore and (item of clothing). This is a genuine London curry institution. The Punjabi main courses are flavourful and moreish, but it's the grilled meats for starters that keep me going back. Awesome food. Always packed. Cheap – you can bring your own booze.
If you do find yourself walking down Brick Lane, keep going, turn left, and get in the queue for a table at Tayyabs.
Tayyabs, 83-89 Fieldgate Street, E1 1JU
Dishoom
The food at Dishoom is refined yet casual, varied and affordable. You can't get things like keema and vada pau, Frankie rolls, and lamb raan (braised lamb leg) in many other places. But the reason I think Dishoom is worth a look-in is the setting. They've captured the atmosphere and soul of a Bombay Irani café beautifully. Free flowing chai and a bacon naan get any day off to a cracking start. Cocktails and small plates to share finish things off just as well. They're open in Covent Garden and Shoreditch. The Shoreditch one is best.
Dishoom, 7 Boundary Street, E2 7JE
On the Street
Going slightly leftfield here: some of the best Indian food in London is found on the street, where we find inventive, off the cuff, happy cooking. Some of the best vendors sell authentic dishes, like the moong dal dosas made by Horn OK! Please, and cracking bhel puri by (the amazingly named) Everybody Love Love Jhal Muri Express. Others, like Rola Wala, twist things up a bit to make things interesting – think beetroot and paneer dal naan rolls, Goan pulled pork sliders.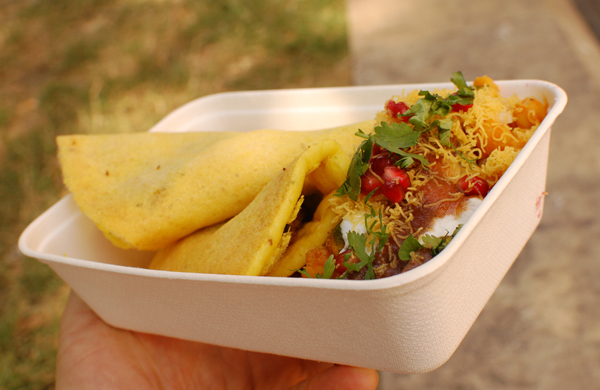 An organisation called Kerb curate day time street food trading and have a number of Indian vendors under their umbrella. Similarly Street Feast, who run night events in East London. Borough Market also regularly houses Indian street traders. My favourite stalls are Horn OK! Please, Rola Wala, and Everybody Love Love Jhal Muri Express.
Darjeeling Express
Some of the tastiest, and most interesting food I ate in India was cooked by normal people in their homes. Ditto London.
You can eat superb, authentic, Indian home cooking at Darjeeling Express, the supper club of Asma Khan. She's normally found at her home in Kensington, but she often does one off pop up events too. Be warned: Asma is a feeder … and you will want to have seconds of everything.
The best place to find up to date information is on the ticketing site Edible Experiences
Darjeeling Express, Kensington and various other locations
More Information
Honourable mentions for Indian food in London go to Delhi Grill in Islington, Trishna in Marylebone and, for the stiff upper lipped, the Cinnamon Club in Westminster.
Where do you think the best Indian restaurant is in London? Do you agree with this list? Tweet us @Groupon_UK #grouponguide
____
Check out our deals for Indian restaurants in London.
BY: Edward Smith
Click here to see more articles by Ed...Ed Smith used to be a lawyer but retrained as a chef and now cooks and writes for a living. Based in London, Ed writes for various publications, including his blog, Rocket and Squash, and was shortlisted in the 'Best Online Food Writer' category of the 2013 Fortnum and Mason food awards. Ed eats too much. Click here to see more articles by Ed...