London's Top 5 Fish Finger Sandwiches
BY: Helen Graves |
19 Feb 2015
Have we all stopped doing that healthy eating New Year's resolution thing yet? Yes? Good. Time for some deep fried fish.
The fish finger sandwich is something we tend to associate with childhood…or hangovers. Four or five of those uniform, orange-crumbed sticks between factory sliced pappy white. Of course, your choice of saucing says something about your place in the world. Will it be ketchup? HP? Tartare? And what about plain old butter and vinegar? People will defend their choice to the last crumb.
Here are five of the best fish finger sandwiches in London, from the traditional, to the fancy.
Hix's Fish Dogs
Hix's fish dogs are now big on the fish finger sandwich 'scene'. Yes, that's definitely a thing. Chef Mark Hix has cashed in on the street food trend with these posh, panko-coated coley fish fingers. Served in a soft hot dog bun with minty-mushy peas and tartare sauce, this is a dog done very well indeed, with expertly cooked fish and an ultra crunchy, uniformly golden crust. See their Twitter feed or website for locations.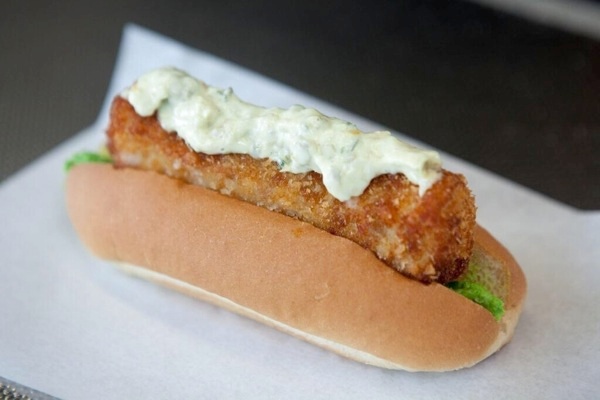 Eat2 Fingers
These guys cater for everyone, offering both a posh and 'old skool' version of the fish finger sarnie. The posh version comes with panko coated fish on 'artisan White London Loaf' with mixed leaves and home made tartare sauce. The 'old skool' is packing some classic Bird's Eye fingers on traditional white bread, with Heinz ketchup. Can't decide? Don't worry, you can just get the '50/50', which is, obviously, half of both. Genius. www.eat2fingers.com
Kerbisher and Malt
Kerbisher and Malt's fish finger butty uses sustainably caught fish, fried and elegantly slapped between two pieces of plain 'chip shop style' white. There's a shiny golden base of butter waiting to melt once the hot fish fingers hit, while the saucing is left entirely up to you.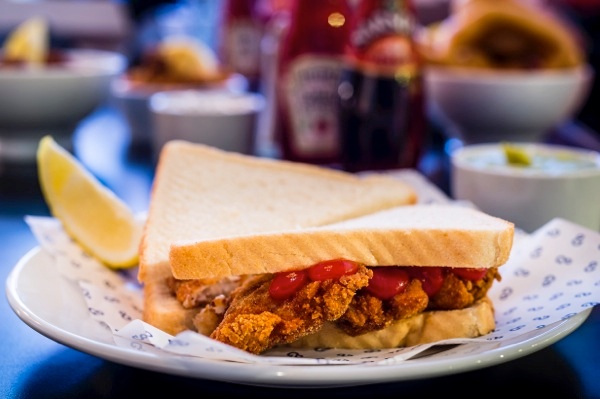 Lucky Chip Daryl Hannah Filet-O-Fish
Okay so it's not strictly a fish finger sandwich but it's just so good it has to go in. You'll need to keep your ear to the ground on this one, as the Daryl Hannah only goes on as a special every now and then at Lucky Chip, who name all their sandwich variations after celebrities. This hunk of haddock fillet comes with perfectly pitched tartare sauce (lots of it) and cheese. Anyone with any affection for the golden arches version will find heaven in this sandwich.
Fish Finger Sandwich at Maddy's Fish Bar
This has got to be the most trend ticking of all the sandwiches in the list, with panko crumbed fingers, 'slaw (that's what we call coleslaw nowadays) and tartare sauce on a brioche bun, but that's okay, because it's tastes really very good indeed. The residents of New Cross have been blessed with this local gem, Maddys Fish Bar.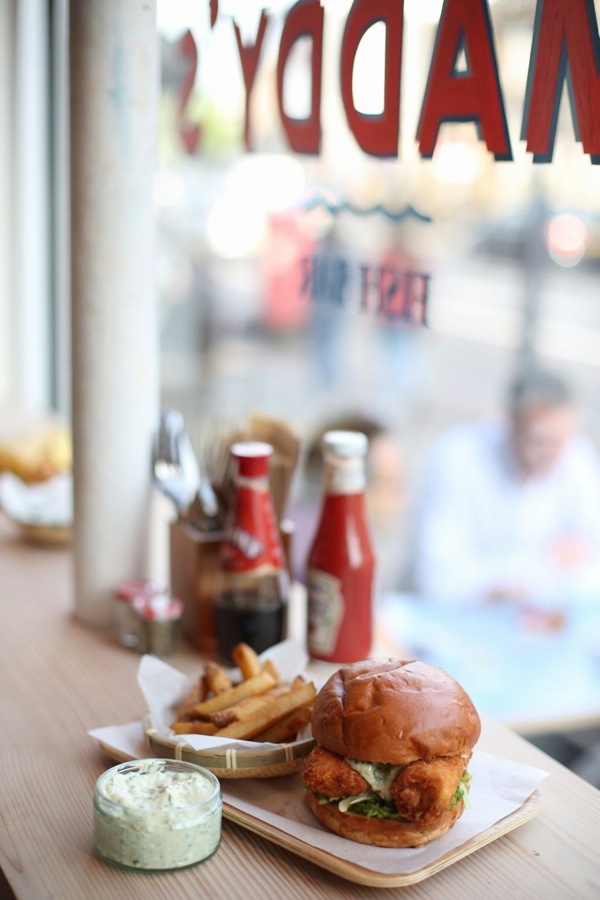 More Sandwich Articles...
Top 5 Mushroom Sandwiches in London
Top 5 Healthy Sandwiches in London
London's Top 5 Toasted Cheese Sandwiches
Find a deal for restaurants in London.
BY: Helen Graves
Helen is a food and travel writer based in Peckham, South East London. She is the author of the book 101 Sandwiches and the blogs Food Stories, and The London Review of Sandwiches. She has written for The Guardian, The Times, The Evening Standard, Sainsbury's Magazine and various other publications. Her writing and recipes are inspired by the diversity of London and her travels and she is a sandwich and jerk chicken addict. She spent six years perfecting her recipe for jerk marinade, which is available to buy via her blog and in various shops in London. She won the fresh faces in food writing award at the Young British Foodie Awards in 2013 where judge Ottolenghi praised her 'jaw droppingly foul mouth'. She is also studying for a PhD in psychological medicine. Follow Helen on Twitter @FoodStories.'