GROUPON GUIDE TO MANCHESTER
Hunting Out a Hidden Gem
BY: Sarah Tarmaster |
18 Aug 2014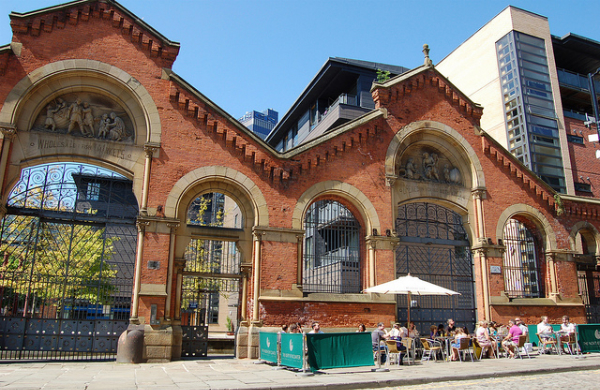 My favourite feeling in the world is finding something that no one else knows about or making a discovery which lights up my day. I've lived in Manchester for 13 years now and the city I call home is still delighting me with twisty alleyways that open onto the best food the city has to offer. I'm sharing my favourites with you here because I love them and want them to flourish - though I'm loathe to – I want them to stay my secret hideaways forever.
Salvis
Although Salvis is located in the main shopping area in the very centre of Manchester, it's so small compared to its neighbours that you'd hardly know it was there. Tucked into the front of the Corn Exchange and surrounded/shadowed by some of the largest shops in Manchester, Salvis is the truest of little Italian joints. The space is tiny, but the welcome is massive, whether they know you or not. Salvi's is one of the only places in Manchester that I feel truly settled when eating alone.
Salvis specialises in mozzarella, but it's not all milky fromage-ophilia – the coffee is amazing (nb: when you order more than one espresso, remember, it's espressi as it's plural), they bake their own bread, there's a mouth-watering selection of fine charcuterie and they make amazing, hand-made tortellini.
But I don't go to Salvis for any of that. Go at lunch (or for a late afternoon plate of post-shopping restoration) and order the lunch menu. For roughly a tenner you'll be presented with a mixed mozzarella/meats plate (the smoked mozzarella is to die for and the fennel salami is super moreish) and the largest bowl of homemade pasta you'll have ever seen – a proper Nonna's portion. Go for the carbonara, it's one of the only places you can get it done properly ie. sans cream - it's a delicious mix of eggy pasta and crispy/salty/sweet/smoky pancetta - a proper dish to sooth the soul.
This and That
I'm not one to suggest you go hang round the backstreets and alleys in the Northern Quarter, no matter how hipster the area is becoming - you never know what you'll find down a back street. Unless it's Soap Street and then you really want to know what's down there.
Here be the home of This and That, a long time rice 'n' three institution, serving up bowlfuls of homemade curry and rice to Manchester's Asian population and those in the know. The curries are all homemade, as well as the chapattis, bhajis and anything else they throw on the menu. It's a limited menu that is set depending on which day of the week it is, but there's always enough variety to satisfy anyone and a bowl of rice and three will never cost you more than £6. Bargain.
Lately I've been eschewing the curry and choosing a bowl of warming, savoury dhal paired with a spicy-ish kofte in a charred chapatti - smoky, sweet, tender and about £4 all in.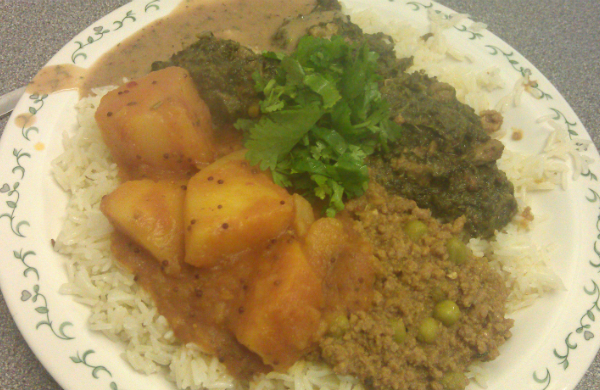 Oak Street Café
Housed in an old market in the Northern Quarter, the Oak Street Café blends so seamlessly into the arts and crafts market around it, that it's only the hiss of the coffee machine that makes you realise the jewel coloured foods aren't an installation and that you can actually eat there.
Oak Street serves honest homemade food, with a great selection for those with various dietary needs – everyone seems to be catered for and it's one of the best places for vegan/veggie food. The menu's not massive, but I think that's for the best as what's on there is delicious. It's always hard to choose, but my favourite is the homemade falafel with hummus – there's no shop bought, sawdust-tasting rubbish here, just light, garlicky, citrusy flavours and a massive portion for the little you pay. Oak Street will delight you by throwing on extras like pomegranate seeds or curly leaved herbs – being located in the middle of artists' studios/stalls must be more than enough inspiration. Oh and try the cakes, your life needs them.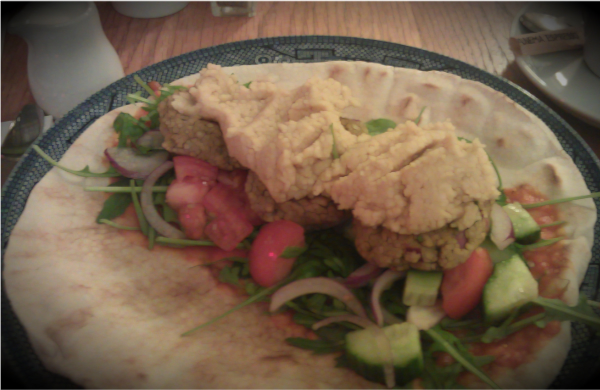 Cover photo credit: The Mancunion, flickr
Related Reads
Foraging for Food - Where to get Wild Food in Manchester without the Wellies!
Eating Alone – Not Lonely Eating
Find a deal for restaurants in Manchester.
BY: Sarah Tarmaster
Sarah Tarmaster has been eating and drinking her way round Manchester for the past 12 years and has been writing about it for the past four. Sarah started the blog North West Nosh to shout about what's great in the North West and because she suffers from that common British phobia, complaining in restaurants. When's she's not planning where to eat, eating, cooking or recovering from overeating, Sarah can be found putting on street food events, yomping round the countryside or crafting something; she rarely sits still, which is good considering how much she consumes.