Interview with Glasgow Fashion Label Naromode
BY: Ann Nugent |
25 Aug 2014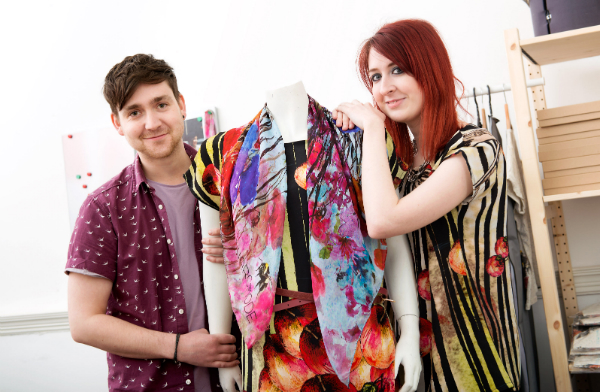 Glasgow based textile designers Anna Thorn and Iain Macdonald have found their happy ever after.
The pair, who established Naromode in 2012 following internships in London's fashion houses (Iain at fashion royalty Alexander McQueen no less), have garnered popularity on the Scottish fashion scene with their intricate illustrative sketchbook-styled designs, lovingly recreated onto simple silhouettes in high quality silks and chiffons.
Roughly translated as 'narrative fashion', Naromode tell stories through their designs and suggest that the wearer creates their own fairy-tale: "You can be part of the story through each collection – either by owning the same story or mixing it up with different tales" explains Glasgow born MacDonald.
Their first collection, 'The White Snake for Spring Summer 2014' was inspired by the Brothers Grimm story of the same name and featured rich, hand-illustrated pieces in a tropical palette with flowers, ravens, sparrows and coi fish. The collection has now spawned a jewellery range of the same name in collaboration with young Scottish designer Kirsteen Stewart – think must-have Perspex collar pieces, raven wings and white snake necklaces.
Naromode's latest chapter – 'The Little Snow White Collection' is as an equally exciting tale to tell. "The collection follows the story visually from beginning to end," says MacDonald. "The famous tale begins 'Once upon a time in midwinter, when the snowflakes were falling like feathers from heaven, a queen sat sewing at her window, which had a frame of black ebony wood' - so our collection opens with a blush pink tunic dress, illustrated with delicate feathers and snow and striking black lines – like the window frame that the sets its scene through.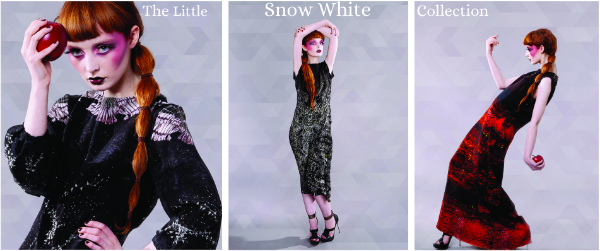 "A dress featuring illustrated thorns and a heart represents the quest that the hunter is sent on to cut out Snow White's heart, and we have a fire dress and coal top which represents Snow White's chilling revenge in the true Grimm Brothers ending"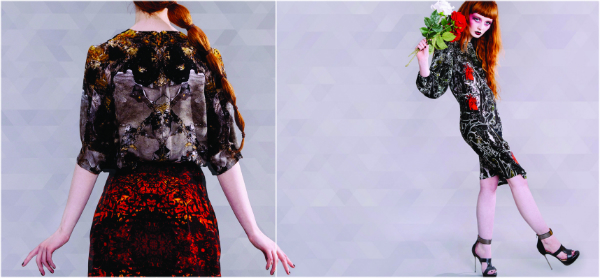 Deliciously dark, this collection is the perfect autumn/winter statement and while mirrored patterns represent that famous fairy tale moment - 'mirror, mirror on the wall' – surely it'll be the wearer of the collection dubbed the most fairest of them all.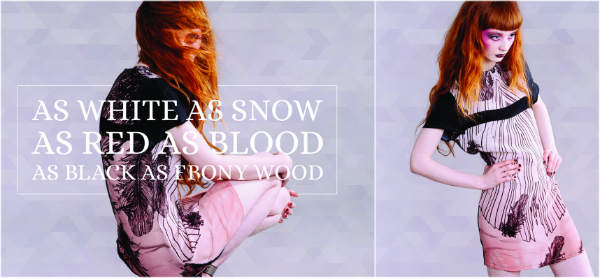 The brand, who recently caught the eye of celebrity stylist Alexis Knox (Rita Ora, Little Mix, Britain's Next Top Model) are currently working on a new spring/summer 2015 collection - a brand new story and author yet to be revealed.
The Little Snow White collection will be on sale at www.naromode.com from September 2014.
Naromode's tees and silk scarves are stocked in:
The Kilo Store, Glasgow, Godiva, Edinburgh and Kirsteen Stewart, Kirkwall and online on ASOS marketplace.
View the Little Snow White look book at here.
Related Reads
Shop Exclusive Fashion Brands at Department Store Frasers Glasgow
Fast Food Fashion! Abandon Ship Apparel Womenswear Collection
____
Find a deal for shopping in Glasgow.
BY: Ann Nugent
Ann Nugent is a 30-something girl in the city of Glasgow. A freelance style writer and culture insider, Ann established her blog in 2010 and regularly contributes reviews and social commentary across Scottish national and local media titles.