Last Minute Christmas Gifts for Foodies in London
BY: Edward Smith |
19 Dec 2014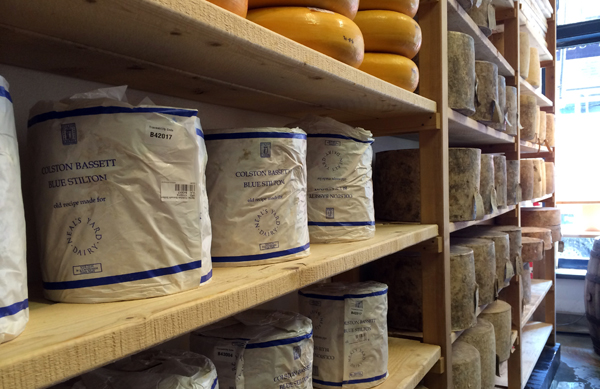 OK internet shoppers, the time is almost up (or when you read this, maybe it's passed already?).
This whole stroll into a virtual room, click a button or two and have Christmas delivered to your doorstep thing is wonderful. But if you're still hunting for presents, or have only just started to think about the catering, you may already be too late to do it from the comfort of your sofa.
Fear not, though.
Here's a selection of places you might dash into during the last, mad, shopping days before Christmas. They're good for gifts for foodies, and to assist your festive dining. Maybe some things are better bought offline?
Markets and Food Halls
Food markets are an excellent place to grab last minute gifts, or ingredients for all that eating you're going to do. They're maybe the most festive option too.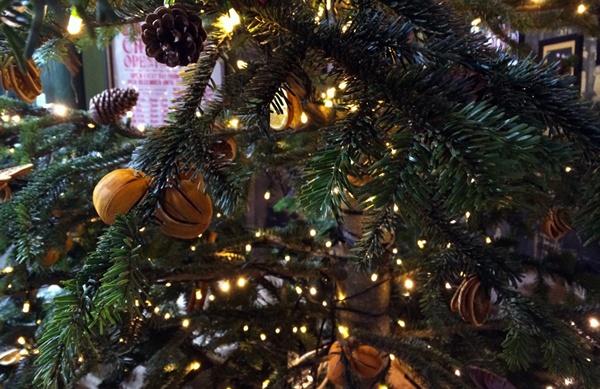 Borough Market remains the biggest and best. Fresh meats, cured meats, cheeses, condiment, British, French, European, Asian … every craving and taste is covered. The Spice Mountain store have excellent chilli / curry spice gift sets, Cannon and Cannon's British cured meat hamper and 3 for £10 deals are worth looking out for, and, if in doubt, buy booze from the likes of Utobeer and Borough Wines. Open right through to Christmas eve.
Broadway Market covers many bases too. If you're an East Londoner, check this recent City Guide post out and head over on Saturday 20th or last minute on Wednesday 24th. Maybe South London's more your thing? Check out Herne Hill on Sunday 21st. Or The Real Food Christmas Market at King's Cross will sort you out nicely. Open from 17 December through to 23 December, 12:00-19:00, this artisans' market is extremely well connected for a quick grab and go.
Delicatessens and Food Halls
Fortnums, obviously. The Queen's grocers is a beautifully presented store, and their produce equally well packaged. Which is always a good thing if you're looking for a gift. Seek out their chutneys, hampers and tea. 09:00-22:00 (save Christmas Eve, when you need to get in before 17:30.
But we like to support the little man, too.
Brompton Food Market is a brilliant food store, just a few metres from the exit of South Kensington tube. Loads of impeccably sourced ingredients. So much stuff to choose from - you could make some cracking hampers out of it.
Salon Storeroom in Brixton Market will sort you out with a range of gift boxes – meats, cheeses, preserves, craft beers and cider. Quality stuff.
General Store in Peckham would also be a fine place to collect edible gifts. Lovely place packed full of groceries and provisions.
Kitchen Equipment
Food is such A Thing these days, that kitchen related presents appear to be a fairly fail safe option. I'm continually surprised by the paucity of truly great kitchen shops in London, but the following are good.
Divertimenti: A well established cookware store, which shops on Marylebone High Street and in Kensington.
Borough Kitchen: The new kid on the block. Based on the edge of Borough Market, this is a really good and smartly stocked shop. Beautiful copper pans, casseroles and chopping boards if you're feeling lavish (and strong), but there are stocking fillers too – like linen cocktail mats, milk jugs for your morning espresso and lemon squeezers.
Selfridges: Along with their famous food hall, there's a basement full of kitchen equipment. No one would be sad about receiving the latest KitchenAid or maybe a Nespresso machine, Global knife or Joseph and Joseph mixing bowl set. Great selection of cookery books too.
Nisbets: This is a bit niche. But if you're buying for a serious cook, the Fulham Road, Shaftsbury Avenue and Shoreditch catering equipment shops are an excellent bet. Thermapen, nitro gun, blow torch and silicon baking mat heaven.
Butchers and Cheese Mongers
Finally, the good stuff. You're done with buying presents for others and its time to concentrate on you. Christmas is nothing without meat and cheese. I recommend the following.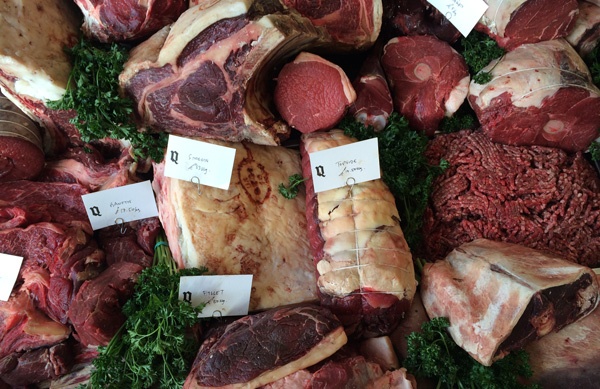 The Butchery Ltd. Nathan Mills' impeccably sourced, aged and butchered meats can be bought from their Spa Terminus (Bermondsey) HQ, their shop in Forest Hill and at Brockley and Wapping markets (Saturday and Sunday respectively).
The Quality Chop House: A remarkable meat counter. Like The Butchery, they buy only whole carcasses and use the lot. If you're lucky there'll be a fore-rib or turkey left, but if not, why not pick up some game or goat for Christmas Day?! Lovely grocers attached to the butchery too. 09:00-20:00 up to the 23rd, and 09:00-15:00 on Christmas eve.
Turner and George: You'll not see a more festive butchers. These guys know their meat, and know how to make a butchery look good. They've a concession in Selfridges Food Hall and a shop at the bottom of Upper Street, Islington.
The Ginger Pig: Seven excellent shops across London… So there's no excuse not to eat great meat this Christmas if you're staying in town.
And for cheese …
Neal's Yard Dairy: For a wholly British cheese board. Covent Garden, Borough and Spa Terminus.
Mons: For the best of France. Many restaurants rate these guys. Borough, Spa Terminus and Wapping Market.
Paxton and Whitfield: Her Majesty's Cheesemongers have something for everything in their very Olde English Jermyn Street shop. Grab a bottle of port on the way out.
La Fromagerie: The danger with La Fromagerie, is that you enter one of their cheese rooms, and never want to leave. Marylebone and Highbury.