London Walking Tours For Foodies - Hampstead to Kentish Town
BY: Edward Smith |
29 Sep 2014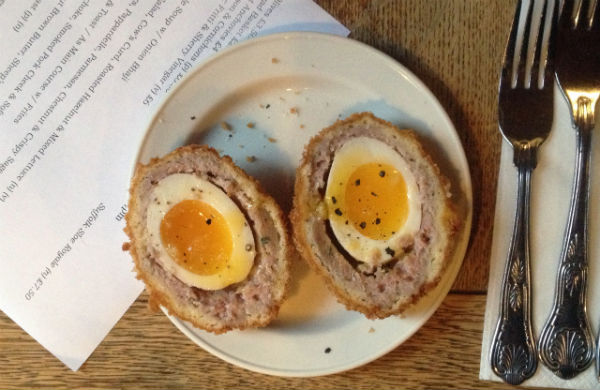 In my opinion, this particular walk is one of the best ways to spend a Sunday in the capital - it's an opportunity to get your feet properly muddy, walk up a minor incline, and eat great food. Start with a mid morning coffee (or pint) in Hampstead, stroll over the Heath and then have a cracking meal at the one of the city's best gastropubs.
There's probably about 8km to cover if you include the side trip to the Spaniards Inn – or just some general ambling around the ponds and so on. It should work up a good appetite.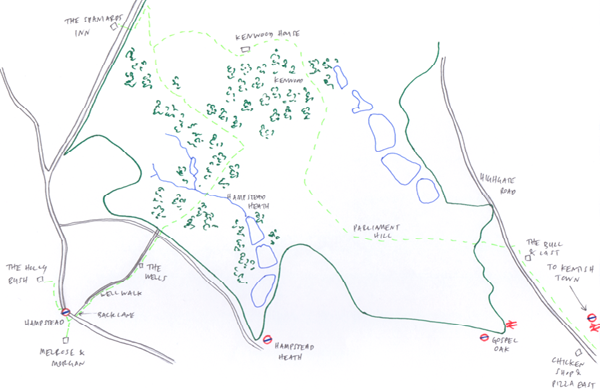 Coffee to Start
Start at Hampstead tube. This is a lovely part of town. So I suggest taking a coffee at the deli Melrose and Morgan on Oriel Place and doing a bit of estate agent window shopping for houses that you can't afford. If you're of stronger constitution, maybe a pint in the Holly Bush on the Holly Mount would be an alternative to caffeine. This is one for the 'traditional' pub fans – great ales on draught.
Stroll to the Heath
When you're ready, find the super cute alleyway named 'Back Lane' and head down Well Walk towards the Heath. Again, look at the houses you can't afford to live in, and, if you're being leisurely, maybe pop in to The Wells for another pint and a bag of pork scratchings. For those doing the walk in reverse, you could do worse than aiming to have lunch or dinner here.
Now, finally, into the park. Walk up the tree shaded path and either get totally lost (if you wish) or branch up and eventually round to Kenwood House – a grand white home that's recently been given a lick of paint. It's worth checking out, particularly if you seek shelter from a rainy day. They've a café here, but you're not far from The Spaniards Inn, which is one of London's oldest pubs.
The Spaniards would be a decent detour. But, to be honest, this walk is mostly about two things.
The first is the view from Parliament Hill. Whatever route I take in and around Hampstead Heath, I always make sure I spend a few moments at the top of Parliament Hill. From here, you can take in most of the city. The Shard has spoiled the view a little – as it towers over St Paul's – but it's still worth heading here and stopping for a bit.
Lunch Time
The second is lunch, tea or dinner at The Bull and Last. Starters and desserts are a few levels above normal (good quality) gastro pub food. Mains are hearty. You should always begin by sharing a few Scotch eggs among the table as you decide what else to order. (Read more about The Bull and Last in Five of the Best for a Sunday Roast.)
A word of warning: it's difficult to get a walk in table at the Bull and Last, so you should definitely call in advance to reserve a spot.
Other Options
Should you be too late for a booking, continue past the pub and down Highgate Road towards Kentish Town rail stations. You can get pretty good pizza and decent chicken and chips from Soho House's Pizza East and Chicken Shop. Both are great rooms to sit in.
If, however, you do get to settle in at The Bull and Last for a meal and a few drinks, you have two final options. The first is to stay in the pub for the Sunday quiz night. The second, is to head reluctantly home via Kentish Town, ducking just behind Chicken Shop to grab a Dirty Burger on the way, or holding back the munchies until you reach E. Mono – one of the best kebab venues around.
Related Reads
London Walking Tours For Foodies - Regent's Canal London
London by Foot and Mouth: Piccadilly to Bayswater
Exploring London's Walthamstow Marshes
____
Find a deal for restaurants in London.
BY: Edward Smith
Click here to see more articles by Ed...Ed Smith used to be a lawyer but retrained as a chef and now cooks and writes for a living. Based in London, Ed writes for various publications, including his blog, Rocket and Squash, and was shortlisted in the 'Best Online Food Writer' category of the 2013 Fortnum and Mason food awards. Ed eats too much. Click here to see more articles by Ed...