London's Christmas Burger Round Up – December 2014
BY: Nick Andrews |
11 Dec 2014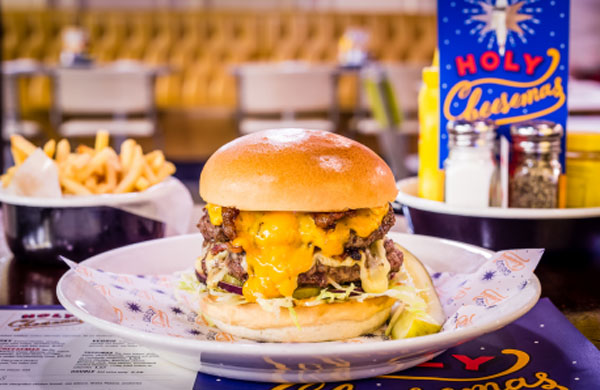 Every December, as a sort of tonic to the usual motley collection of uninspired Christmas turkey dinners rolled out for big group lunches, London's restaurants and burger joints go head-to-head to create a wide range of Christmas-themed burgers. From traditional turkey roasts to game, and featuring a range of toppings including brie, cranberries, and lashings of cheese, here's a round-up of London's best Christmas burgers.
Hawksmoor
Hawksmoor are once again bringing back their fantastic Christmas burger. This gourmet masterpiece features a massive slab of turkey fried in buttermilk and topped with a sausage meat patty from the Ginger Pig, topped with smoked crispy bacon, sprout tops and a cranberry ketchup. It's finished off with melted Ogleshield cheese. It also comes accessorised with duck fat roast potatoes and turkey gravy for you to French Dip the whole thing in, so you can have a whole Christmas dinner in a burger.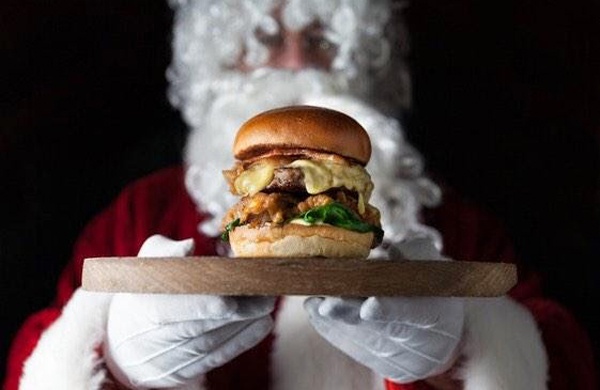 It's available at Spitalfields Bar only, and costs £12. It'll be on until 24 December 2014.
MEATLiquor
Dead Hippie burger purveyors MEATLiquor are featuring a festive selection of burgers including the XXXmas burger, a delicious sausage and stuffing patty, topped with roasted turkey, crispy bacon, a drizzle of cranberry sauce and gravy as good as your nana's; the XXXmas Dog, draped in turkey slices, cranberry coulis and sprinkled with crispy stuffing; and the Xmac & Cheese, deep fried miniature logs of mac fused together with cheesy Camembert and Stilton, to be dipped in a pot of cranberry and port sauce.
The menu is running at MEATLiquor, MEATMarket, MEATMission in London from 24 November.
Tommi's Burger Joint
Everyone's favourite Icelandic burger joint, Tommi's, is this year bringing back their great venison based-burger. It pulls together a venison patty, melted brie, cranberry sauce, green pepper mayo, rocket and thyme salt. It's a spicy sweet take on a seasonal classic and a great counterpoint to all that turkey.
It's on the menu at Tommi's on Thayer St. for £8.90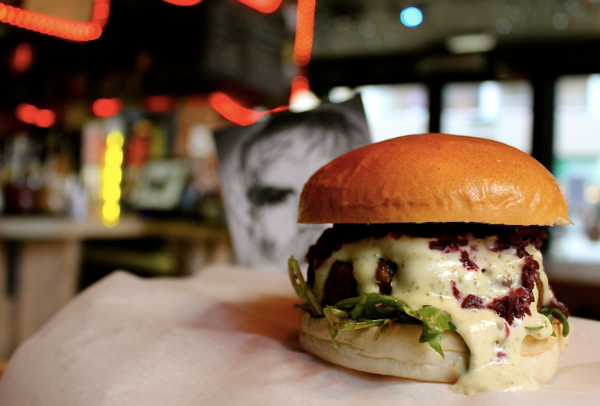 Image Credit: Tommi's Burger Joint
Byron
For the last three years, Byron Hamburgers have given us the Triple Cheesemas every December, as if the month wasn't indulgent enough, but this year they've upped the ante and the amount of cheese, and delivered the Holy Cheesemas. This double-pattied (10oz of beef in total) has 4 x different cheeses – American, red Leicester, Monterey Jack, and cheddar, and also includes bacon too. There'll be no mince pies after this feast! It costs £12.95 and is available until 5 January.
Ben's Canteen
Ben's Canteen on Snow Hill, Clapham is serving up their take on a Christmas dinner in a bun with their turkey and stuffing patty, complete with smoked bacon, smoked cheese and a very seasonal Cranberry mayo. It costs £9, and is available for brunch, lunch and dinner until 24 December.
Is anywhere you know offering a special Christmas burger? Let us know…@GrouponGuide_UK
Related Reads
Top 5 Christmas Sandwiches in London
Christmas Shopping Pit Stops in London
____
Find inspiration in our Christmas Gift Shop.
BY: Nick Andrews
Nick is Hamburger Me and he likes burgers. Actually, it goes a bit deeper than that. Nick is, in fact, London's pre-eminent burger blogger, and the author of www.hamburger-me.com where, since 2010, he's been posting about and reviewing London's best burgers. He's a keen collector of burger memorabilia (check out his burger phone!) and he even has his own line in burger cufflinks...