Let Your Freak Flag Fly! - London's Quirkiest Cafes
BY: Rejina Sabur-Cross |
18 May 2014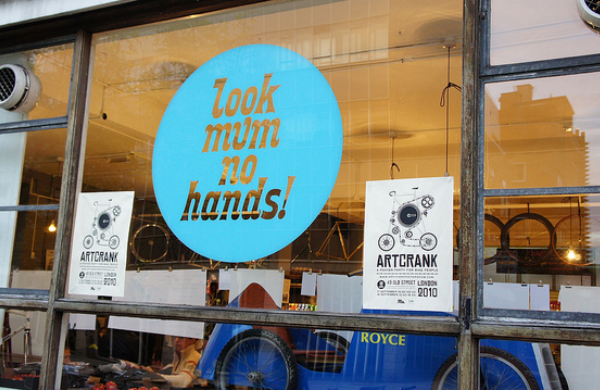 Once upon a time you'd be hard pressed to find more than a scowl and a chipped mug of Nescafé in your local greasy spoon. Nowadays you can barely move in the capital for bean worshipping baristas. In the past few years we've become spoilt for choice with the likes of Prufrock, Tap Coffee and Nude Espresso .But as if that's not enough, we can now score our caffeine fix in increasingly weird and wonderful surroundings. Bonkers about bikes? Massively into cats? A bit of a granny geek? There's a coffee shop for you. Here's my list of the top six:
1) Nana, Clapton
Leading the backlash against high street homogeneity, Nana - the cafe run by nanas for nanas - was set up via crowdfunding earlier this year. It's opening soon on Chatsworth Road and is likely to be a huge hit for anyone seeking comfort in the form of tea, cakes, dippy eggs and soldiers; or just looking to learn a new skill or craft from the wise old ladies of Clapton.
2) Look Mum No Hands, Farringdon
At cyclists' favourite Look Mum No Hands not only can you can get your bike fixed, but you can also take part in a cycle quiz night or even snap up a limited edition artcrank print. All this while enjoying the finest square mile coffee plus a smashing array of locally made cakes, pies, soups and stews.
3) The Candid Cafe, Angel
Fancy trying your hand at life drawing classes? Check out The Candid Cafe - a local artists' and writers' secret. You can cherish your brew in the charming little garden if the weather gods are on your side.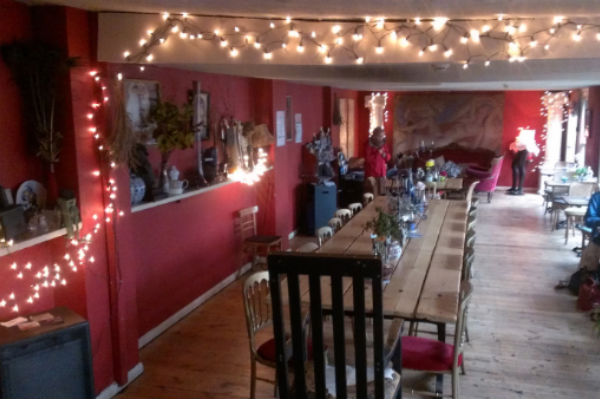 4) The Idler Cafe, Notting Hill
If you've always dreamt of learning the ukulele, would love to take a day course in ancient philosophy or fancy a go at making your own mosaic tiles, then The Idler Cafe is the place to head. Run by husband and wife team Victoria Hull and Tom Hodgkinson (author of 'The Idle Parent') this gem of a cafe serves the finest Monmouth and home made cakes alongside a fat slice of leisure cultivation.
5) Morning Glory, Shoreditch
For those stuck in the 9-5 rut with neither the time nor indeed the inclination to sweat it out at the local gym, why not try a pre-work dance session instead? At Morning Glory at Village Underground you can literally jump start your day by grabbing a double espresso and "raving your way into the day" from 6.30-10.30am, before resigning yourself to desk-bound formality.
6) Lady Dinah's Cat Emporium, East London
Chilling out with cats more your thing? At the fantastically named Lady Dinah's Cat Emporium, East Londoners will be able to kick back with a steaming cup of Jo and a furry friend or three at London's first cat cafe. Cakes and sandwiches including gluten free and vegan options are accompanied by the mellifluous purring soundtrack of rescued feline friends. These are just a few. London also boasts hydroponics, poetry and cookery cafes as well coffee shops covering just about every country in the world. It's hard to predict where this trend for quirky specialist coffee shops will take us, but we've certainly come a long way from instant coffee in a mug. Quite frankly though, I don't think you can ever really top a cat cafe.
Image Credit: Yukino Miyawza, Flickr
Do you know of any other quirky cafes in #London? Tweet us! @Groupon_UK #grouponguide
____
Check out our London cafe deals.
BY: Rejina Sabur-Cross
Click here to read more articles by Rejina..Rejina Sabur-Cross is a blogger and freelance food writer. She started Gastrogeek back in 2009 and has written for various publications including The Guardian, Fork Magazine, Eat Me Magazine, Le Cool, Blogosphere Magazine, Channel 4 Food, Fire and Knives and BBC Good Food. She's been featured in Red Magazine, the Evening Standard, The Independent, Olive Magazine, Waitrose Kitchen and more recently in the Sunday Times Magazine as one of the UK's top food bloggers. She's judged the Brick Lane curry competition, dined on bull's pizzle pie on Jimmy and Jamie's Food Fight and judged dishes for "The Perfect" on the Good Food Channel. Her first book "Gastrogeek" is out now. Click here to read more articles by Rejina..