Top 5 Mushroom Sandwiches in London
BY: Helen Graves |
2 Feb 2015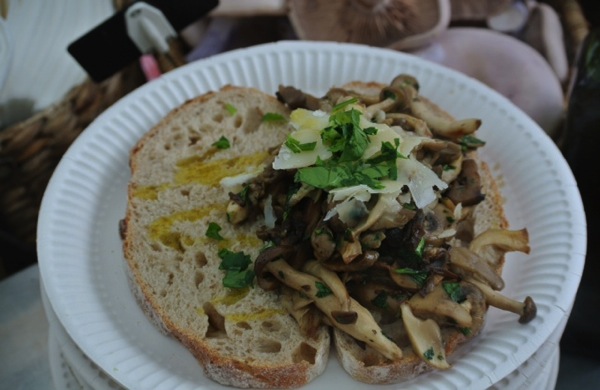 Mushroom sandwiches. They may sound…humble? Plain? A bit dull? Wrong. Forget any ideas of slimy button shrooms slapped between pre-pack slices and consider the idea of wild mushrooms sautéed with garlic, topped with cheese, perhaps some herbs, and a sprinkle of seasoning…now we're talking. They've a very satisfying texture, and plenty of umami (say that last word in the style of Vic Reeves on Shooting Stars for maximum enjoyment), which together make for a full on sandwich experience.
Mushroom Sandwich from Spore Boys
It's fair to say that the Spore Boys were pioneers of the mushroom sandwich in London and they still make one of the best. The Spore Boys run their mushroom stall from various markets around London (see website for details), selling a variety of wild mushrooms and also cooking them up into a magnificent sandwich. A selection of the finest shrooms (which may include Winter Chanterelle, Girolle, Buna Shimeji, Shiitake, Golden Enoki, Fresh Cep and always some 'humble cup') are fried in butter with a little garlic, piled onto sourdough bread and topped with shaved pecorino cheese, parsley, a sprinkle of sea salt and more than a tinkle of olive oil.
Truffle Egg and Mushroom Sandwich at Loaf
Loaf describes itself as part traditional British caff, part New York coffee shop. Their menu looks so simple you'd be forgiven for thinking it was bog standard but you'd be very wrong - the execution is impressive. Chestnut mushrooms sautéed with garlic and sandwiched with fuzzy ricotta, oozy mozzarella and truffle oil. Okay so this depends on how you feel about truffle oil (there are plenty of haters out there) but I think it's blinding in a toasted cheese situation.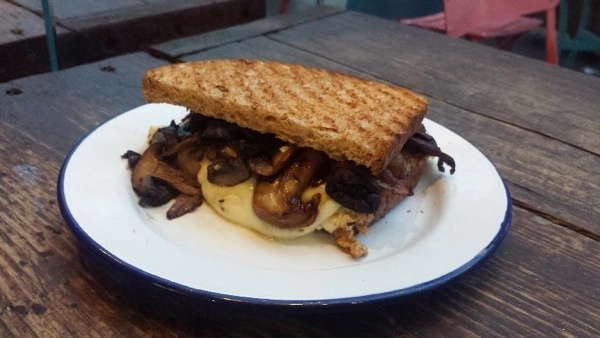 Image Credit: Loaf
Sub-terranean at Sub-Cult
Sub-Cult is another joint that's working the Anglo-American vibe. You'll find these guys slinging subs from their van on Broadwick Street in Soho during the day, and at The Duke of Wellington (N1) in the evenings. If the idea of a soft, part-brioche sub filled with seared woodland mushrooms, roast garlic, crème fraiche, thyme, Stilton and a hint of truffle floats your boat, then you know what to do.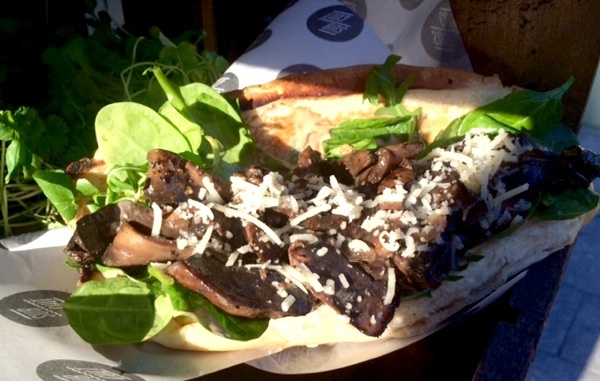 Image Credit: Sub Cult
Yumbun
Street food giants Yum Bun make a mighty fine mushroom filling for their addictive Chinese steamed buns. Funghi come miso-glazed and very moreish, topped with toasted walnuts. Cucumber and spring onion nestle alongside. It is completely impossible to eat just one and walk away.
Shake Shack 'Shroom Burger
Now this is a veggie burger worth your money, and not a bean in sight. A deep fried Portobello mushroom is stuffed with a mixture of cheddar and muenster cheeses, which burst gloriously forth once you take a bite. The sandwich comes topped with lettuce, tomato and 'Shack Sauce' and it surely has to be the one of the best mushroom burgers ever made. www.shakeshack.com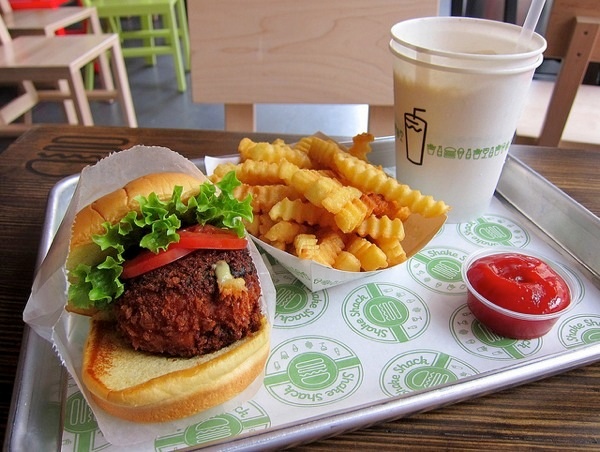 Image Credit: Larry, flickr
Cover Image Credit: Spore Boys
More Sandwich Articles...
London's Top 5 Toasted Cheese Sandwiches
Top 5 Healthy Sandwiches in London
____
Hungry? Find a great deal for restaurants in London.
BY: Helen Graves
Helen is a food and travel writer based in Peckham, South East London. She is the author of the book 101 Sandwiches and the blogs Food Stories, and The London Review of Sandwiches. She has written for The Guardian, The Times, The Evening Standard, Sainsbury's Magazine and various other publications. Her writing and recipes are inspired by the diversity of London and her travels and she is a sandwich and jerk chicken addict. She spent six years perfecting her recipe for jerk marinade, which is available to buy via her blog and in various shops in London. She won the fresh faces in food writing award at the Young British Foodie Awards in 2013 where judge Ottolenghi praised her 'jaw droppingly foul mouth'. She is also studying for a PhD in psychological medicine. Follow Helen on Twitter @FoodStories.'
Sandwiches Deals in London