Once Upon a Tart: A Tale of Tempting Treats in Magical Surroundings
BY: Lisa Marie Ferla |
26 May 2014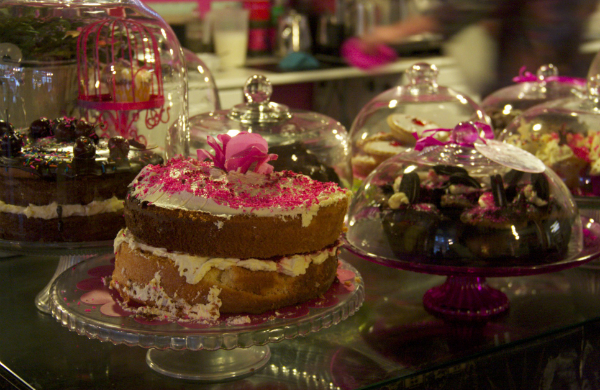 Of all the latter-day food trends, the proliferation of cosy, cake-filled nooks in which one can indulge in herbal tea and baked goods supped from mismatched crockery is one of my favourites. That said, I can see where those who rage against the Great British Twee-ification of the humble coffee and cake are coming from - which is where
Once Upon a Tart
 comes in.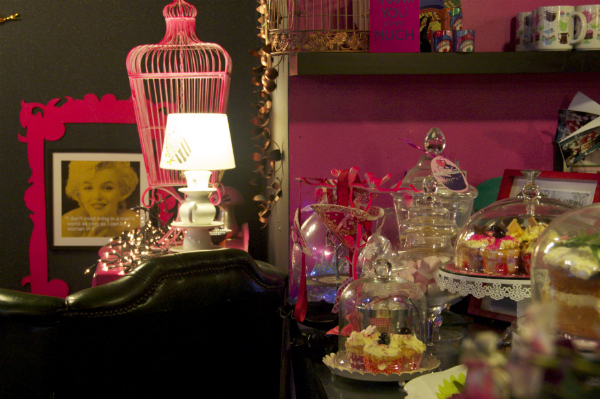 Located on King Street, just off the Trongate, this kitchen and bakehouse is central enough to be handy but just far enough from Glasgow's bustling shopping streets for its acolytes to feel as if they have discovered a hidden gem. The kitchen's name is a title that's shamelessly courted by the cafe's kitsch interior: every detail seems lovingly attended to, from the blackboards and the bunting to the plastic chandeliers and the birdcage designs painted on the hot pink and black walls. While it could come across as whimsical in type, the effect is akin to the bedroom of a 15-year-old Hot Topic fan. Think Alice's Adventures in Murderland, where the potions demand to be eaten and drunk.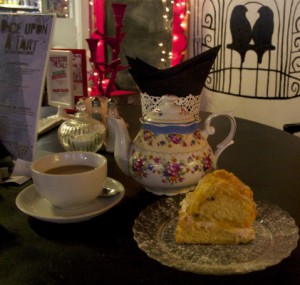 Grabbing a seat can be a bit of a lottery - the garage sale mis-match of styles includes long tables, grand armchairs and the sort of plastic stools you'd expect to see in front of a breakfast bar - but it's certainly not as difficult as choosing what to eat. The savoury selection is superb: soups, salads and sandwiches, on spelt or rye or sourdough, using organic flours and local ingredients. All-day breakfasts at the weekends include pancakes with bacon and maple syrup, waffles piled high with berries, home-baked croissants, scrambled eggs and porridge. A recent addition to the menu is homemade chilli served with pitta and tortilla chips, available in meaty and veggie varieties. The portions are huge, which is great for the bank balance - but not so much for when it comes to saving room for dessert. If you're popping into Once Upon a Tart, saving room for dessert is mandatory. You'll spot the freshly-baked cakes as soon as you arrive - they're enormous things, displayed proudly on the counter as a testament to their regal appearance. Each day's selection includes a couple of giant sponges, slathered in messily-applied buttercream and decorated with paper flowers and sugary sprinkles. They are joined by a no-less decadent selection of ring-shaped cakes and sweet loaves, individual cupcakes the size of a hand, scones, brownies, muffins and shortbread. From a glass case in front of you the eatery's namesake tarts will wink at you, urging you to save some room for gooey chocolate or banoffee or maybe even a traditional apple pie. Nobody ever seems to be in a hurry at Once Upon a Tart, I've more than once found myself losing an hour in a large pot of tea and a book on the comfortable sofa, or managing to squeeze in a second portion without the slightest bit of guilt. If you don't have time to try everything though, don't despair - it's hard not to fall under the spell of Once Upon a Tart and you will almost certainly be back.
Have you been to Once Upon a Tart? Tweet us! #grouponguide @Groupon_UK
____ Check out our deals for
cafes in Glasgow
.