GROUPON GUIDE TO MANCHESTER
Places to Eat in Manchester - Culture Edition
BY: Sarah Tarmaster |
29 Sep 2014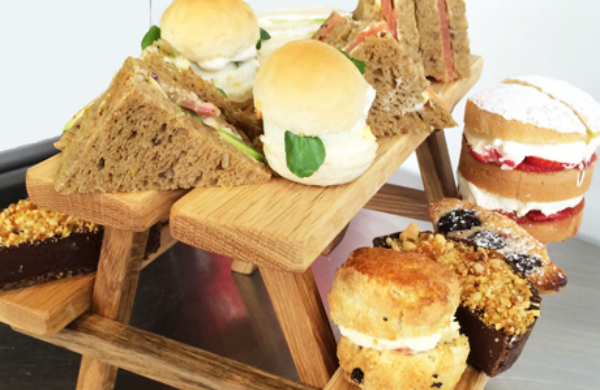 When it comes to getting a bit of culture Manchester is 'mad fer it', the same goes for eating out. For a while, we all thought eating was cheating because venues offered nothing more than a bag of salted peanuts, but now some clever bods have realised food is as entertaining as the entertainment itself. So where are the best places to eat in Manchester culturally and gastronomically?
The Good Grub/Gig Venue
Located on the crossover where student-land meets city centre, Gorilla offers great eats and great music together. Unlike other venues that combine their performance and eating spaces, Gorilla keeps it all separate – eating/drinking space at the front, gig space tucked away at the back. Food is easy comfort eats, so expect juicy, locally sourced beef burgers; buttermilk chicken; and zingy, fresh cooked kebabs. Gorilla has an amazing bar and their cocktails are some of the best at this end of town.
Picture Perfect Food
Housing a cinema, art gallery and alternative bookshop, the Cornerhouse is Manchester's culturally independent powerhouse and long-standing meeting space. Upstairs in the bar and restaurant there are massive, steamy windows looking out over Manchester's rainy streets - great whilst you peruse the reasonably priced menu and wait for your friends to turn up. Everything (including the bread) is home cooked from the wood-fired pizzas to succulent fish specials and it is very apparent in quality of the dishes. If you're in a picky mood, go for the dips platter - massive portions at a cheap price and the best I've found in Manchester.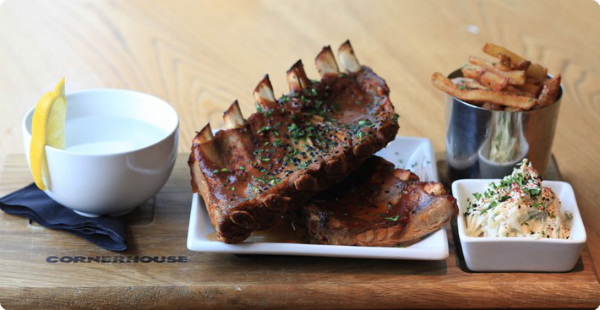 The Not so Arty Farty Lunch
Forget the age old associations of artists and mung beans, the café at the Manchester Art Gallery has food so good you'll be rushing through the paintings just to get to the grub. Freshly cooked and hearty, there's plenty on offer with a menu that changes daily – there's usually a mix of sandwiches, soups and hot cooked dishes. Oh and don't forget the cakes table, it's literally groaning under the weight of all the baked goodies – I've tried everything (gastronomic research, for you, dear readers, not greed…) and can vouch that the lemon drizzle is one of the best.
(Read more about Manchester Art Gallery in Top Three Art Galleries in Manchester)
History, Without the Rationing
The IWM North is a must see for everyone - encapsulating the history of modern warfare, it's a sobering yet inspirational place that makes you reflect heavily on what peace is and if we'll ever reach it. The aluminium clad building, designed by celebrated architect Daniel Liberskind, represents the shattered world and is a stunning visual addition to the Salford Quays skyline. Luckily, after all that retrospection, IWM houses a canteen dishing out non-rationed, home cooked foods created by Head Chef Tony Pickup. Expect wood fired pizzas, delicious oven bakes and fresh sandwiches every day. Enjoy your food looking out over the Salford Quays and the famous Salford Docks.
(Read more about the Imperial War Museum North in Get in the Know With Our Insiders Guide to Manchester's Best Big Sights)
Food Astronauts Dreams of
Located just outside of Manchester, in the lush countryside of Cheshire, lies Joderall Bank. Famed for its large radio telescope and being the backdrop for Professor Brian Cox's Stargazing Live programmes, it's also the home of The Planet Pavilion. With a commitment to sourcing all their food locally and only cooking meals with the season, you'd expect starched linen and fancy prices. Not so. The Planet Pavilion is easy on the pocket and a delight for your tastebuds – the fresh curd cheese/syrupy beetroot salad is a brilliant sweet/sour combo, the sandwiches are full to bursting and their potted meats (especially the pork with the sharp apple compote) are superbly succulent. The view's not bad either – get a window seat and marvel at the sheer scale of the telescope.
Cover image courtesy of Joderall Bank.
Related Reads
Manchester's Best Museum and Gallery Shops
Creative Sighting: Manchester's Packed With Original, Modern Artwork for Sale - If You Know Where to Look
Stop and Take it All in - 3 of the Best Views in Manchester
Find a deal for restaurants in Manchester.
BY: Sarah Tarmaster
Sarah Tarmaster has been eating and drinking her way round Manchester for the past 12 years and has been writing about it for the past four. Sarah started the blog North West Nosh to shout about what's great in the North West and because she suffers from that common British phobia, complaining in restaurants. When's she's not planning where to eat, eating, cooking or recovering from overeating, Sarah can be found putting on street food events, yomping round the countryside or crafting something; she rarely sits still, which is good considering how much she consumes.