GROUPON GUIDE TO MANCHESTER
Ruth Allan - Manchester Wire
BY: Emma Toner |
17 Feb 2014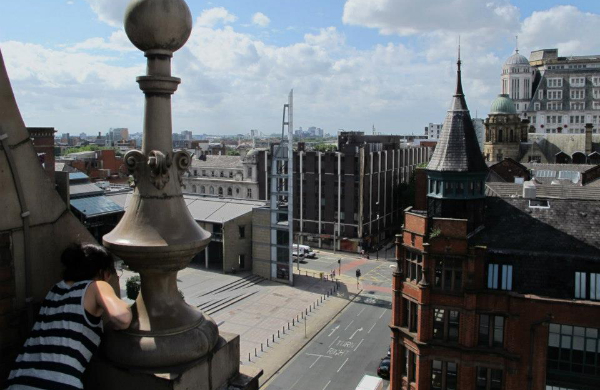 Tell us something about your city people usually don't know?
It takes a while to get into Manchester. It's a bit like a really good record. You have to listen to it a few times before it becomes part of your soul.
What is the top place in Manchester people shouldn't miss?
They change all the time but proper places like Sam and Tom's Chophouse remain at the top of my list as they make really good steak and kidney pies that everyone should try at least once in their life.
What advice would you give to someone who is thinking about starting their own blog?
Just do it! I've met loads of people who want to be writers, but the only way to be a writer is to write. It doesn't matter if no one reads it. At least you can tell yourself that you are doing what you want to do and be proud of yourself. I really think that making stuff - even if its just a paragraph of text on the web - makes life a richer, more meaningful experience. Writing has got me out of loads of really dark places, plus, I believe that by covering small, independent businesses and events in Manchester, Manchester Wire is helping to get the word out there that Manchester is a great city to live in, and that you don't have to live in the capital to get involved in cultural stuff.
Popular Articles by Ruth
Drunk at Vouge Guide to the Best of Gay/LGBT in Manchester
Contact's Matt Fenton Guide to the Best of Manchester Theatre
A Place to Write the Next Great Novel
Manchester's Best Small Museums
Get in the Know With Our Insiders Guide to Manchester's Best Big Sights
Creative Sighting: Manchester's Packed With Original, Modern Artwork for Sale - If You Know Where to Look
A Star Spotters Guide to Manchester Theatre
Where Manchester's Coolest Music Promoters go to See Live Bands
Salford's Cultural Renaissance
Back in the Day: Un-Modern Places to Visit in Manchester
Bike Shops Manchester - Best for Bike Hire
Manchester Yoga Classes - Best for Beginners
____