GROUPON GUIDE TO MANCHESTER
Salford's Cultural Renaissance - Where Art and Culture Thrive in Unexpected Places
BY: Ruth Allan |
18 Apr 2014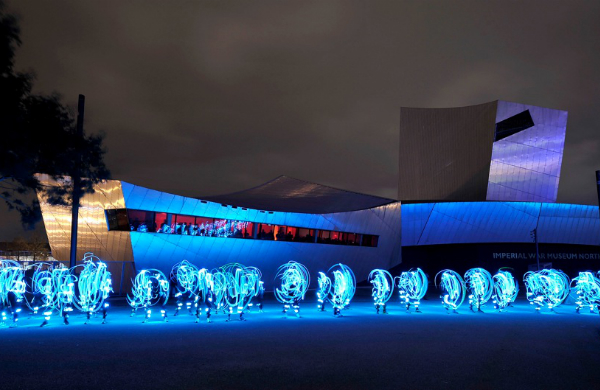 The name Salford might not be synonymous with art and culture, but things are changing in Manchester's sister city. As the bold name suggests, MediaCityUK is Salford's new, purpose-built 'media village' of production studios, offices and supporting facilities where some of the country's biggest players have relocated. They join a network of landmark museums like the Imperial War Museum North and The Lowry as well as smaller artists' studios like Islington Mill and Hot Bed Press, making it Greater Manchester's largest hub of culture and creativity.
BBC North HQ - Even the Blue Peter Garden!
Starting with the big boys, the BBC opened their northern HQ on the shores of the old ship canal in 2011, bringing hundreds of staff from the capital. Departments like Children's TV and Sport came too, and they even went as far as to rebuild, piece for piece, the Blue Peter garden from the kids' TV show of the same name. Keep an eye out for loads of people having their picture taken with former Blue Peter dog's paw prints and inspiring (even to grown ups) projects, like 'bug hotels', that are being featured on the show.
Piling on the pizzazz, ITV's £10 million new Coronation Street set opened across the water from the BBC in 2013. Tours of Coronation Street started in 2014, and the BBC's tours are also very popular. You'll need to book up to six months in advance though.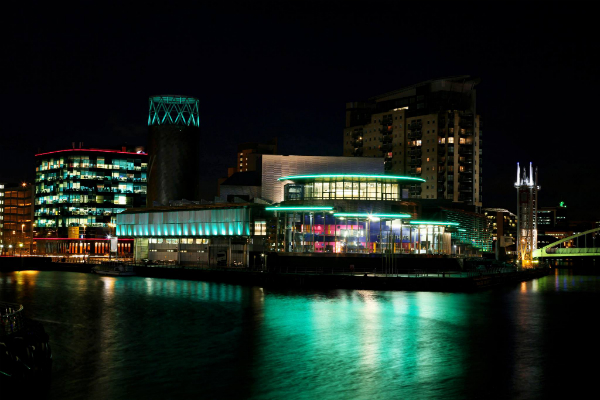 Photo Credit: The Lowry Arts Centre
The Magnificent Lowry Arts Centre
In the same complex, the award-laden Lowry Arts Centre has a permanent display by Salfordite L.S. "matchstick man" Lowry, best known for his remarkably affective depictions of pre-wartime and industrial-era life in the city. Fun and creative changing shows are another reason to visit. A recent exhibition was curated by singer Alison Goldfrapp and revolved around her gothic inspirations, while The Imperial War Museum North is something of a hub for contemporary photo reportage. Recipient of many awards from 'best large UK attraction' to architecture prizes, look out for off-beat exhibitions in the museum's smaller galleries and corridors.

(Read more about The Imperial War Museum North in Get in the Know With Our Insiders Guide to Manchester's Best Big Sights.)
The Quays
The Quays (taking in MediaCity, the various museums, canals, industrial buildings and the Lowry Outlet Shopping Mall) is occasionally transformed into a living gallery, thanks to a programme of free spectacles under the auspices of Quays Culture. It's a remarkably relaxed part of the city, with a kind of bonus, holiday feeling to it as a result of all the water – and the reflective capacities of the canals make it ideal for light shows. Two for 2014 include a two mile laser beam artwork lighting up the night skies called 'Alan Turing Thank You' by Craig Morrison, and winter's "Lightwaves" festival - keep an eye on their website for exact dates.
Independent Galleries
Less well known are the network of small independent galleries and studio spaces taking advantage of cheaper rates in Salford. Look out for Islington Mill which hosts artists' residencies throughout the year, as well as one-off shows in the atmospheric loft space of the historic cotton mill (pictured). Art fans could also consider booking a visit to MASA (Manchester Artists Studio Association), or Hot Bed Press studios (strictly advance booking only). The University of Salford is home to the Birth Rites collection about women and childbirth, and there are occasional shows in the Regent Road Industrial Estate – ask at Islington Mill for details.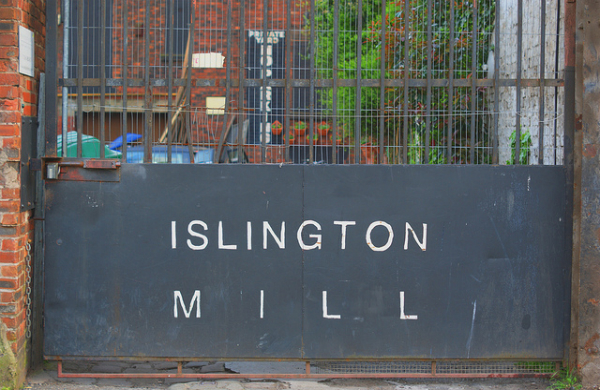 Photo credit: Man Alive!, flickr
What's interesting is that many of these galleries and studios are closer to the city centre than, for example, student hubs like Fallowfield, or upmarket West Didsbury. MediaCity really has had an impact on the whole 'feel' of the area, giving it a kind of sheen that was previously missing, and - as mentioned, there are loads of hidden gems if you know what you're looking for. Just a few reasons to give Salford a go.
Do you love Salford? Let us know! @GrouponGuide_UK #grouponguide
Related Reads
Manchester's Best Museum and Gallery Shops
Creative Sighting: Manchester's Packed With Original, Modern Artwork for Sale - If You Know Where to Look
A Star-Spotters Guide to Manchester Theatre
____
Click to see our deals for art galleries in Manchester.
BY: Ruth Allan
Ruth has been writing about Manchester's cultural scene for the last 10 years, specialising in off-the-beaten track destinations and hidden gems. She's the editor of Manchester's award-winning what's on guide.