The Scotch Egg Challenge at The Ship, Wandsworth
BY: Chris Pople |
26 Aug 2014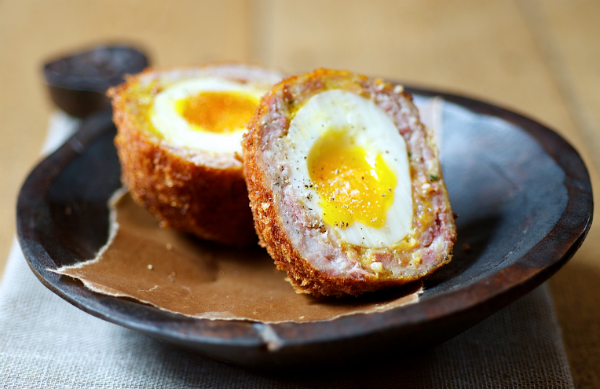 If all you want from a pub snack is salt & vinegar crisps or a packet of dry roasted peanuts, then quite obviously you're spoiled for choice and need not worry about which particular pub or bar to spend your time in. But the discerning barfly needs something more; something hot, fresh, cooked to order. Something drawing upon centuries of tradition, something as British as Big Ben and custom-made to soak up room-temperature cask ales. What you need, my friend, is a Scotch Egg.
Some of you may think you don't like Scotch Eggs. If what you think of as a Scotch Egg is one of those miniature balls of indeterminate grey matter covered in orange grit, cold from the supermarket fridges, then I don't blame you. But a real Scotch Egg is a thing of beauty, hot salty sausage meat covered in crisp breadcrumbs, and – ideally – fried just so that the white of the egg is solid and the yolk spills gloriously out when cut into. It is a thing of exquisite joy.
So now you want a Scotch Egg. Of course you do. But your next problem is where to go for a good one. And this is where the Ship Wandsworth Scotch Egg Challenge comes in. Every year a brave group of food experts gathers in this grand old pub in South London to sample the very finest examples from up and down the country, and to definitively announce which deserves the title of Britain's Best. Last year it was the British Larder in Suffolk who came out on top, their twist on the classic formula involving smoked venison meat.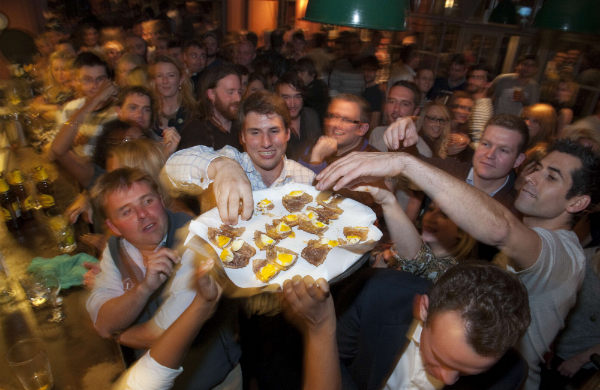 Image courtesy of Danny Kingston
2014 entries are now closed, which means any day now the list of finalists will be announced, and the lucky teams from kitchens around the country will be ready to take over the Ship kitchens on Tuesday 16th September for an evening of fun and egg-based competition. I can't recommend enough trying to make it on the night yourself – follow @shipwandsworth for news on a limited number of tickets; it really is worth every yolk-stained second. And if you can't, well luckily for everyone the Ship make a rather lovely Scotch Egg themselves every day of the year. I'll see you there.
For more on The Ship read Where are the Best Beer Gardens in London?
BY: Chris Pople
Over the seven years Chris Pople has been writing the Cheese and Biscuits blog, he has written about nearly 500 different restaurants, which is far too many by anyone's standards. During that time he has been lucky enough to be picked as one of the top food blogs in the Times, New Statesman and Esquire magazine, and for the last three years running has been named as one of London's 1000 Most Influential people. He's probably in a restaurant right now, scouring the menu for spelling mistakes and waiting for a martini.