Foraging for Food - Where to get Wild Food in Manchester without the Wellies!
BY: Sarah Tarmaster |
23 Jun 2014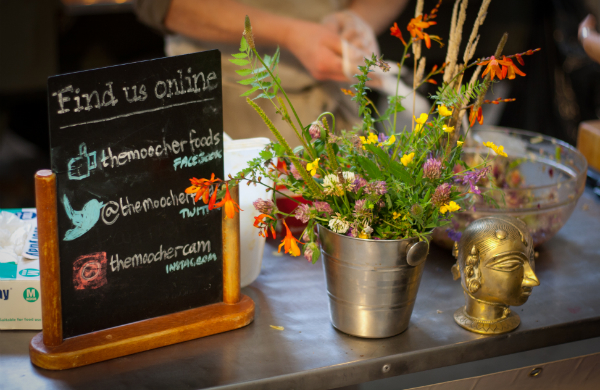 Wild foods, initially eaten by all and then by those weird friends of your parents who 'had opted out' has been making a comeback. After countless food scares, the rise of Scandi-cuisine and the affable Hugh Fearnly-Whittingstall constantly popping up on our screens, wild food is definitely back. But where can you forage for wild food in Manchester, without getting your wellies on and your hands dirty?
The Moocher
A fast food stall with a difference,
The Moocher
is very much slow food orientated. Using nature's bounty, they cook, cure, preserve and create low-cost dishes based around the ethos of local/seasonal/wild. Expect to find their stall packed with delights such as cured venison peeking through jars of wild garlic pesto; juicy hares hiding under a pastry pie or wild boar laid down on homemade bread. Regularly popping up at
Levy Market
, they also make appearances at street food events and festivals in the North West.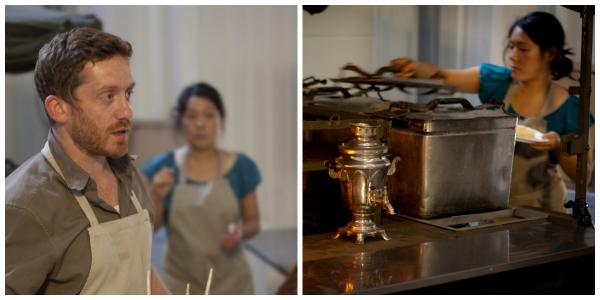 Season's Eatings
It's not just the markets that you need to stalk to find wild food - tiptoe carefully into Manchester's world of supper clubs and you'll find
Season's Eatings
, a monthly event dedicated to foraging the good stuff and bringing it direct to you. Run by Issy and Suzy, who have years of experience cheffing in all sorts of unusual places, expect quirky takes on modern British food starring foraged ingredients.
Aumbry
Look to Manchester's suburbs to find the best in foraged foods - just outside the city centre in Prestwich you'll find
Aumbry
, an ethical, seasonal, historical gem. Aumbry brings together the finest foraged foods - the best the North West has to offer - modern cooking techniques and a look back into historical recipes. Sounds like a mish-mash, but head chef Mary-Ellen McTauge brings it all together in a gastronomic symphony that makes you wonder why all food isn't like this. Forget the a la carte menu (solid, but limited) and fall straight into the tasting menu – you'll find yourself on a foodie adventure like none you've had before, discovering foods you didn't know existed.
Do it yourself: Cracking Good Food
If you do fancy pulling your wellies on, getting your hands dirty and foraging in the wild for your own food, then look no further than
Cracking Good Food
. Lifelong forager (and medical herbalist) Jesper, will take you out into the wild and teach you the basics for collecting food in the wild and the most tasty and identifiable species – he'll even teach you what to do with it if you ask. Foraging courses are run just outside the city centre – you'll be surprised at the rich pickings you can find including exotic mushrooms, oodles of fruit and plants you've always thought of as weeds (which are actually very tasty). Are you a wild food fanatic? Let us know!
#grouponguide
#Manchester ____ Check out our deals for
Manchester restaurants
.
BY: Sarah Tarmaster
Sarah Tarmaster has been eating and drinking her way round Manchester for the past 12 years and has been writing about it for the past four. Sarah started the blog North West Nosh to shout about what's great in the North West and because she suffers from that common British phobia, complaining in restaurants. When's she's not planning where to eat, eating, cooking or recovering from overeating, Sarah can be found putting on street food events, yomping round the countryside or crafting something; she rarely sits still, which is good considering how much she consumes.