In a Nutshell
This tasting box features 24 various types of German beer and can make an ideal gift for most beer enthusiasts
Product Details

Today's Groupon offers Kalea Beer Tasting Box, distributed by Kalea.
Attention: You have to be 18 years or older to order this product.
Box includes 24 various beer specialities mainly from Germany
Bottle capacity: 500ml
All beers contain gluten and alcohol
Box contains the following beers:
Käuzle Hell - Helles - alc. 5.2% vol
Hohenthanner Blau Weisse - Pale Hefeweizen - alc. 5.6% vol
Schnaitl Jubiläumssud - Märzen Bavarian Style - alc. 5.9% vol
Memminger Gold - Märzen Austrian Style - alc. 5.1% vol
Kress Bayrisch Zwickl - Zwickel - alc. 5.4% vol
Erlkönig Hell - Hellles - alc. 5.0% vol
Ladenburger Weizenbock - Pale Wheatbock - alc. 7.4% vol
Bürgerliches Brauhaus Altbairisch Hell - Helles - alc. 5.0% vol
Hösl Rauchmärzen - Rauchbier - alc. 5.3% vol
Grandl Lager - Helles - alc. 5.1% vol
Graminger Kirta - Dark Hefeweizen - alc. 5.0% vol
Herrnbräu Jubiläumsbier - Dark Lager - alc. 5.6% vol
Edel Bayer Urtyp Hell - Helles - alc. 4.6% vol
Herrngiersdorfer Hopfen Cuvée - Pils German Style - alc. 5.3% vol
Schwarze Tinte - Dark Bock - alc. 6.2% vol
Kurpfalzbräu Helles - Helles - alc. 5.3% vol
Propeller Turbo Prop - Imperial Pilsner - alc. 6.5% vol
Bären Weisse - Pale Hefeweizen - alc. 5.6% vol
Schlossbräu Rheder Pils - Pils German style - alc. 4.7% vol
Wittmann Urhell - Helles - alc. 4.9% vol
Kartäuser Bock - Dark Doppelbock - alc. 7.5% vol
Rieder IPA - India Pale Ale - alc. 6.0% vol
Eaglebräu Weizenbier - Dunkelweizen - alc. 5.3% vol
Schloss Weisse 1516 - Hefeweizen - alc. 5.5% vol
Shipping only to the UK Mainland.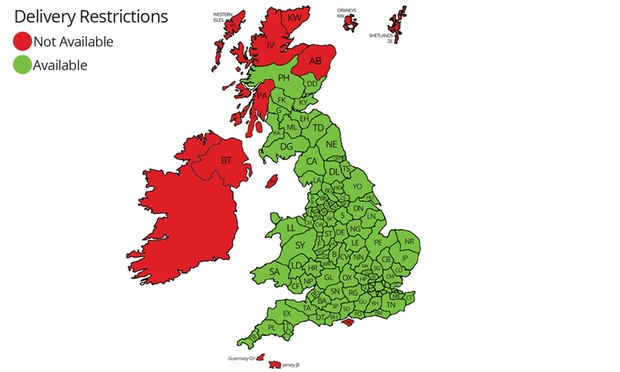 Fine Print
Dear customer, following the implementation of restrictive measures by the UK government aimed to contain the spread of Covid-19 (also known as Coronavirus), deliveries may suffer delays throughout the United Kingdom.

Delivery: Free. Allow 7 working days (Monday to Friday). Shipping only to most of GB mainland.
Your order: Your voucher will be redeemed by Groupon on your behalf with Kalea, who will fulfill the order. Order will be dispatched to the delivery address entered at checkout. Delivery address cannot be amended after order is placed.
Returns and queries: You are responsible for the return shipping costs of the product to Kalea if you cancel your purchase during the 14 day withdrawal period. For how to return, click here. For queries contact: shop@kalea.at. Returns: Unit 25, CBTC East Terrace Euxton Lane Chorley Lancashire PR76TE.

This deal cannot be added to your cart, purchase it directly via "Buy".
Groupon may need to submit phone numbers and email address to its suppliers and/or courier companies to assist with the delivery of an order. They will only use those details to contact you to assist in the successful delivery of the order.