In a Nutshell
Add a burst of colour to a garden or patio with this spring flower collection which is ideal for patio containers and flower borders
Product Details
Perrenial
Can be toxic to pets
Mixed colours
Varieties
Tall Tulips Triumph Mixed
25 bulbs
Kaleidoscope of colour
Versatile strong and sturdy
Classic tulip shape
Flowers: April
Height: 50cm
Miniature Narcissi Mixed
25 bulbs
Produces lots of golden-yellow flowers from late February
Vigorous and strong
Flowers: Late February-April
Height: 15-20cm
Crocus 'Ruby Giant' and 'Romance' Mixed
50 bulbs
Striking violet (Ruby Giant) and soft yellow (Romance)
Ideal for pots and containers
Flowers: February to March
Height: 10cm
Iris Dutch Mixed
50 bulbs
Unusual and striking flowers in contrasting shades of purple, white, orange and yellow
Very hardy and easy to grow
Flowers: May-June
Height: 50-65cm
Brodiaea (also known as Triteleia)
50 bulbs
Light violet, star-shaped trumpet blooms at the top of slender stems
Long-lasting cut flowers
Flowers: June-July
Height: 30cm
Allium Drumsticks
50 bulbs
Egg-shaped clusters of rosy-purple blossoms on slender green stems
Can be cut for indoor displays
Ideal for beginners
Flowers: April-May
Height: 25cm
Muscari
50 bulbs
Grape hyacinth with spikes of deep blue, densely packed flower heads
Ideal for beds and pots
Flowers: March-April
Height: 15cm
Planting Instructions
Spring-flowering bulbs should be planted in the autumn for displays next season
Some bulbs such as Tulips can be planted as late as November
Hardy summer-flowering bulbs like Lilies and Alliums can also be planted in the autumn
Plant in herbaceous borders, in pots, or leave in the ground to naturalise
If planting in pots make sure to water frequently and keep moist
Plant bulbs at twice the depth of the height of the bulb and four times their width apart. e.g 5cm tall bulbs need to be planted 10cm below the surface of the ground and 20cm apart
Please check the bag for any additional planting instructions
Leave them in the ground once they die back – they'll come back bigger and better each year
For better results feed them when in active green growth
We reserve the right to substitute one or two components to an equal number and value, should insufficient stocks be available all season.
Images shown are for guidance only of the expected results from plants upon maturity. Different growing conditions may vary results.
Customers should check whether plants are suitable for their homes and gardens before purchasing.
Shipping only to the UK Mainland.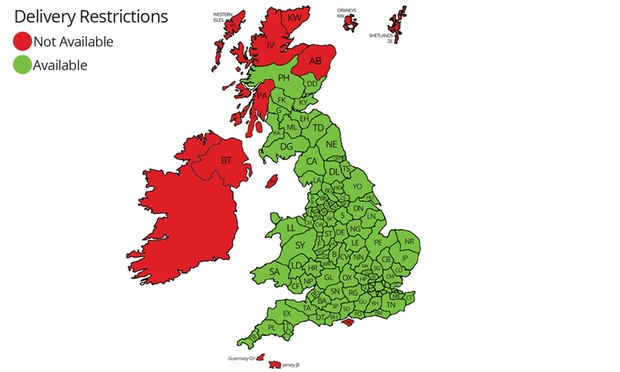 The Fine Print
Delivery: £1.99 (not included). Allow 7 working days (Monday to Friday). Shipping only to most of GB mainland.
Your order: At checkout you will be prompted to enter a delivery address. Delivery address cannot be amended after order is placed.
Returns and queries: Products sold by Groupon Goods Global GmbH. For this deal the Terms of Sale and the Returns Policy of Groupon Goods Global GmbH are applicable. For more on Groupon Goods Global GmbH, see the FAQ.

Customer Reviews
100% Verified Reviews
All reviews are from people who have purchased this product.
See all reviews