In a Nutshell
Get a taste of a plant-based lifestyle with this box of 100% vegan products, containing food, drink, household and beauty items
Product Details
Today's Groupon offers a TheVeganKind lifestyle box for £4.99 with subsequent monthly boxes for £10, distributed by TheVeganKind.
The Specifics
Contains a selection of vegan products over the value of £10
A mix of food, drink, household and beauty items, toiletries and accessories
Also contains collectable recipe with ringbinder
Previous boxes have included Freedom marshmallows, Pulsin Raw chocolate brownie, Vita Coco coconut water, Living Naturally laundry detergent and Organic Surge almond shower gel
100% vegan
10p from each box sold is donated to animal charities
Includes automatic subscription which can be cancelled at any time, see below for details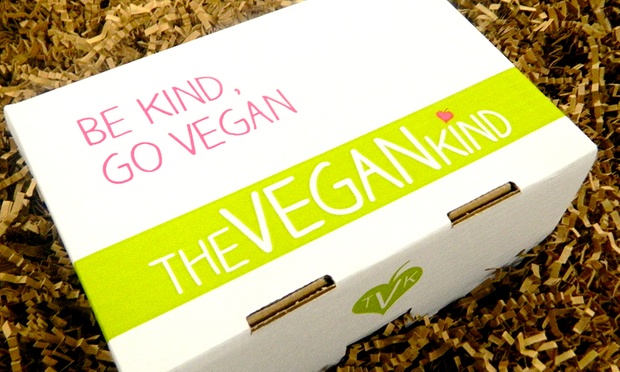 Subscription: You will receive your first Vegan Kind lifestyle box for the Groupon price of £4.99 plus £3.15 delivery. Future boxes are automatically sent monthly, priced at £10 plus £3.15 delivery. Guests can unsubscribe by logging into their account at thevegankind.recurly.com, using the email address they subscribed with and the password sent to them. They can do so any time, but need to cancel before the payment cut-off point of midday on the first of the month to avoid being charged for that month. Users can also email goodbye@thevegankind.com to cancel their subscription, but need to email at least 48 hours before the payment cut-off point of midday on the first of the month to guarantee it's processed in time.
Fine Print
Delivery: £3.15 payable on partner's site. Allow up to 7 working days. UK mainland only.
Using your Groupon: Place order by 9 April 2015 at www.thevegankind.com/join/subscribe/thevegankind-monthly-subscription-box, by copying and pasting your Groupon code into required field.
Original value: Based on online price as sold by The Vegan Kind, checked on 26 Sept 2014.
Further information: By purchasing your first box you will be automatically subscribed to receive monthly boxes until you cancel your subscription Cancellation can be done at an time. To cancel - You can cancel by logging in and cancelling your account at https://thevegankind.recurly.com/. To login simply enter the email address you originally subscribed with and a password will be sent to you. You will need to cancel before 12pm (Midday) on the 1st to avoid being charged that month. Alternatively, email us at goodbye@thevegankind.com (If emailing us to cancel, you must email at least 48 hours prior to the payment cut-off time of 12pm on the 1st day of the month, to guarantee we process your cancellation in time). . By purchasing a Groupon, you are purchasing a voucher for the underlying products or services described above. Orders fulfilled by thevegankind ltd. For queries contact info@thevegankind.com.
See the rules that apply to all deals.

For more on Groupon Goods, pricing and delivery, see the FAQ.