In a Nutshell
Made with high-resistant borosilicate glass, this range from Pyrex is microwave-, oven-, fridge-, freezer- and dishwasher-safe
Product Details
Cool-touch lid equipped with an integrated steam valve for microwave use
Airtight lid to keep food fresh
Glass does not absorb the flavours of food cooked or stored in it and is 100% stain-free
Material: high-resistant borosilicate glass
Stackable with other sizes in the range
Dishwasher-safe
Oven-safe
Microwave-safe
Fridge-safe
Freezer-safe
Ten-year manufacturer's warranty
Available Options:
Round:

One 14cm x 12cm x 5cm; 0.35L dish
One 20cm x 18cm x 7cm; 1.1L dish
One 26cm x 23cm x 8cm; 2.3L dish

Rectangular:

One 17cm x 10cm x 5cm; 0.4L dish
One 23cm x 15cm x 6cm; 1.1L dish
One 28cm x 20cm x 8cm; 2.5L dish

Square:

One 14cm x 12cm x 4cm; 0.35L dish
One 20cm x 17cm x 6cm; 1L dish
One 25cm x 22cm x 7cm; 2.2L dish

Pyrex Cook and Heat bundle contents:

One set of round, one set of rectangular and one set of square dishes
About Pyrex:
Since 1915, Pyrex has been recognised for its ultra heat resistant borosilicate glass, made in France in its factory based in Châteauroux. 2017 was a hot year for this flagship brand of the French Kitchen industry as its furnace was rebuilt. This rebuild makes it the biggest such furnace in the world. Energy saving, highly efficient and, very importantly, delivering further improvements in glass quality, this was a truly consumer-friendly project. The Pyrex glass is ideal for meeting all kinds of culinary challenges. It is unique and highly resistant to thermal shocks, and all Pyrex glass comes with a ten-year guarantee.
Shipping only to the UK Mainland.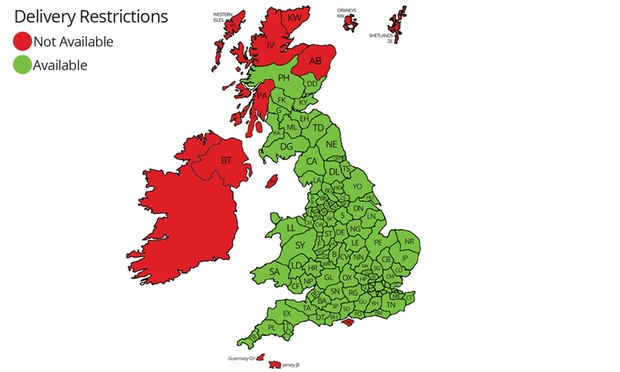 The Fine Print
Delivery: £1.99 (not included). Allow 7 working days (Monday to Friday). Shipping only to most of GB mainland.
Your order: At checkout you will be prompted to enter a delivery address. Delivery address cannot be amended after order is placed.
Original value: Based on online price as sold by Jdwilliams, checked on 07/01/2021.
Returns and queries: Products sold by Groupon Goods Global GmbH. For this deal the Terms of Sale and the Returns Policy of Groupon Goods Global GmbH are applicable. For more on Groupon Goods Global GmbH, see the FAQ.

Groupon may need to submit phone numbers and email address to its suppliers and/or courier companies to assist with the delivery of an order. They will only use those details to contact you to assist in the successful delivery of the order.