In a Nutshell
---
Taking sugar lovers back to the hazy days of youth, these bundles are packed with double dips, black jacks and refreshers
Product Details
---
Today's Groupon offers a retro sweet hamper. (£1.99 for Delivery)
Classic Retro Sweet Selection
Six fizzers
Four mini love hearts
One refresher chew bar
One wham bar
One candy whistle or candy lipstick
Two Anglo bubble gums
Ten fruit salads
Ten black jacks
Four drumstick lollies
Two mega happy tattoo bubble gums
One large flump twisty marshmallow
Four traffic light lollies
Two super hero candy stick packs
One double dip
Six refresher chews
One giant Parma violet pack
Two wine gummies packs
Three Haribo Strawbs or Super mix or Starmix or Tangfastics packs (random selection)
Two fruit caramels
One jawbreakers pack
Two strawberry dippers
Two fruit chews
One Sparx popping candy pack
One candy necklace
Three Maoam pinball packs
One refresher stick pack or drumstick stick pack (random selection)
One rainbow drops pack
One dip 'n' lick
Four double lollies
Twenty strawberry or blackcurrant or fruit salad Chewits (random selection)
Ten fruit salad or strawberry or blackcurrant Chewits (random selection)
Twenty blackcurrant or fruit salad or strawberry Chewits (random selection)
Monster Retro Sweet Selection
Two Parma violets
Eight fizzers
Six mini love hearts
Two refresher chew bars
Ten rainbow straws
Two wham bars
Two candy whistles or candy lipsticks
Four Anglo bubble gums
Fourteen fruit salads
Fourteen black jacks
Six drumstick lollies
Three mega happy tattoo bubble gums
Two large flump twisty marshmallows
Five traffic light lollies
Three super hero candy stick packs
Two double dips
Seven refresher chews
Three wine gummies packs
Five Haribo Strawbs or Super mix or Starmix or Tangfastics pack (random selection)
Two softies fruit chews
Twelve fruit caramels
One giant Parma violet pack
One jawbreakers pack
Two strawberry dippers
Two fruit chews
One Sparx popping candy pack
One candy necklace
Three Maoam pinball packs
One refresher stick pack or drumstick stick pack (random selection)
One rainbow drops pack
One dip 'n' lick
Four double lollies
Twenty strawberry or blackcurrant or fruit salad Chewits (random selection)
Ten fruit salad or strawberry or blackcurrant Chewits (random selection)
Twenty blackcurrant or fruit salad or strawberry Chewits (random selection)
Bumper Retro Sweet Selection
Two Parma violets
Eight fizzers
Six mini love hearts
Two refresher chew bars
Ten rainbow straws
Two wham bars
Two candy whistles or candy lipsticks
Four Anglo bubble gums
Fourteen fruit salads
Fourteen black jacks
Six drumstick lollies
Three mega happy tattoo bubble gums
Two large flump twisty marshmallows
Five traffic light lollies
Three super hero candy stick packs
Two double dips
Seven refresher chews
Three wine gummies packs
Five Haribo Strawbs or Super mix or Starmix or Tangfastics pack (random selection)
Two softies fruit chews
Twelve fruit caramels
One giant Parma violet pack
One jawbreakers pack
Two strawberry dippers
Two fruit chews
One Sparx popping candy pack
One candy necklace
Three Maoam pinball packs
One refresher stick pack or drumstick stick pack (random selection)
One rainbow drops pack
One dip 'n' lick
Four double lollies
Twenty strawberry or blackcurrant or fruit salad Chewits (random selection)
Ten fruit salad or strawberry or blackcurrant Chewits (random selection)
Twenty blackcurrant or fruit salad or strawberry Chewits (random selection) 
Monster Retro Wicker Hamper
Two Parma violets
Eight fizzers
Six mini love hearts
Two refresher chew bars
Ten rainbow straws
Two wham bars
Two candy whistles or candy lipsticks
Four Anglo bubble gums
Fourteen fruit salads
Fourteen black jacks
Six drumstick lollies
Three mega happy tattoo bubble gums
Two large flump twisty marshmallows
Five traffic light lollies
Three super hero candy stick packs
Two double dips
Seven refresher chews
Three wine gummies packs
Five Haribo Strawbs or Super mix or Starmix or Tangfastics pack (random selection)
Two softies fruit chews
Twelve fruit caramels
One giant Parma violet pack
One jawbreakers pack
Two strawberry dippers
Two fruit chews
One Sparx popping candy pack
One candy necklace
Three Maoam pinball packs
One refresher stick pack or drumstick stick pack (random selection)
One rainbow drops pack
One dip 'n' lick
Four double lollies
Twenty strawberry or blackcurrant or fruit salad Chewits (random selection)
Ten fruit salad or strawberry or blackcurrant Chewits (random selection)
Twenty blackcurrant or fruit salad or strawberry Chewits (random selection)
Please note that some of the sweets contain allergens. Please refer to the packages for all information. While every care has been taken to ensure product information is correct food products are constantly being changed so ingredients, nutrition content, dietary and allergens may change. Please contact the original manufacturer for updated ingredients.
Shipping to UK Mainland including Northern Ireland, Highlands and Islands.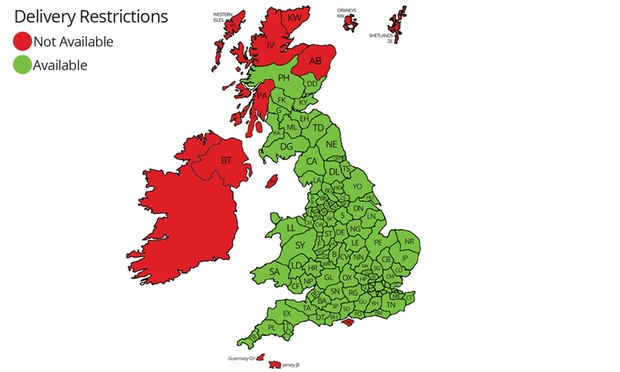 The Fine Print
---
Christmas Delivery: For Orders placed between 14.12.2017 and 02.01.2018 please allow 10 working days, these orders may not arrive in time for Christmas. Dispatch and delivery between Christmas and New Year may also take longer than usual. Delivery: £1.99 (not included). Allow 7 working days. Shipping only to the UK mainland including Northern Ireland, Highlands and Islands.
Your order: At checkout you will be prompted to enter a delivery address. Delivery address cannot be amended after order is placed.
Original value: Based on online price as sold by The Sharper Edge Ltd, checked on 21.11.2017.
Returns and queries: Products sold by Groupon Goods Global GmbH. For this deal the Terms of Sale and the Returns Policy of Groupon Goods Global GmbH are applicable. For more on Groupon Goods Global GmbH, see the FAQ.