In a Nutshell
Ideal for storing remote controls, gaming consoles or other appliances, this tv cabinet features a hanging construction and matt body finish
Product Details
TV Cabinet Wander 100cm
Type: hanging/standing
Height: 30cm
Width: 100cm
Depth: 31cm
Colour: white/grey, concrete, oak wotan
Construction of the body: laminated MDF plate
Body finish: matt
Construction of the front: laminated MDF plate
Front finish: matt, gloss
Quantity of packages: one
Product fully made in EU
LED optional
Includes legs (2cm high), which allow the cabinet to stand or hang on the wall
TV Cabinet Wander 140cm
Type: hanging/standing
Height: 30cm
Width: 140cm
Depth: 31cm
Colour: white/grey, concrete, oak wotan
Construction of the body: laminated plate
Body finish: matt
Construction of the front: laminated plate
Front finish: matt, gloss
Quantity of packages: one
Product fully made in EU
LED optional
Includes legs (2cm high), which allow the cabinet to stand or hang on the wall
TV Cabinet Wander 180cm
Type: hanging/standing
Height: 30cm
Width: 180cm
Depth: 31cm
Colour: white/grey, concrete, oak wotan
Construction of the body: laminated board
Body finish: matt
Construction of the front: laminated board
Front finish: matt, gloss
Quantity of packages: one
Product fully made in EU
LED optional
Includes legs (2cm high), which allow the cabinet to stand or hang on the wall
In some instances due to wall composition supporting brackets may be necessary (not supplied).
Due to different types of walls (e.g. drywall, concrete etc.), wall brackets and fasteners are not included. They are available in a local hardware store. If you are NOT experienced with wall mounting flat-packed furniture, it is recommended to seek for service of a professional installer to prevent the risk of injury.
To ensure delivery is available for your address please check the fine print before you purchase for any delivery zone exclusions (if any)
Shipping only to the UK Mainland.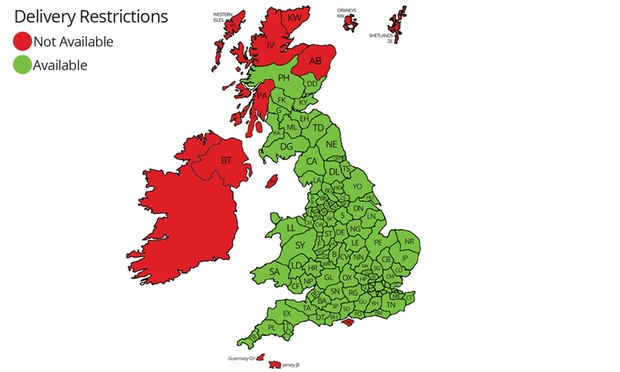 The Fine Print
Dear customer, following the implementation of restrictive measures by the UK government aimed to contain the spread of Covid-19 (also known as Coronavirus), deliveries may suffer delays throughout the United Kingdom.

Delivery: Free. Allow 7 working days (Monday to Friday). Shipping only to most of GB mainland.
Your order: At checkout you will be prompted to enter a delivery address. Delivery address cannot be amended after order is placed.
Returns and queries: Products sold by Groupon Goods Global GmbH. For this deal the Terms of Sale and the Returns Policy of Groupon Goods Global GmbH are applicable. For more on Groupon Goods Global GmbH, see the FAQ.

Groupon may need to submit phone numbers and email address to its suppliers and/or courier companies to assist with the delivery of an order. They will only use those details to contact you to assist in the successful delivery of the order.