Brunch is King at Hadski's Belfast
BY: John Ferris |
17 Oct 2014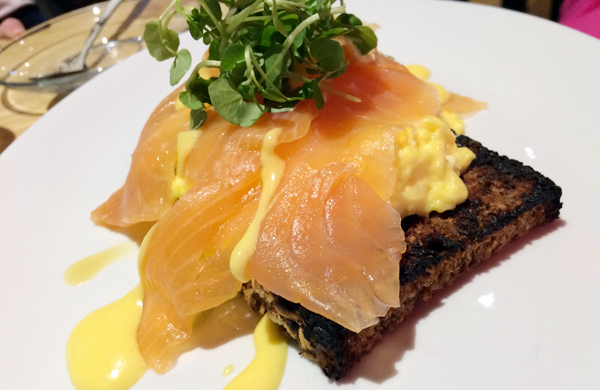 Down in the Cathedral Quarter there's a sense that the area is growing into its potential. There are great bars like the Duke of York and the Harp Bar and there's also high end dining like the Merchant Hotel but what the area lacked was a more casual, laid-back restaurant.
Enter Hadski's Belfast, the latest offering from Niall McKenna whose group of restaurants also includes James Street South and The Bar + Grill. Brimming with great little ideas like Wine Mondays, which sees three courses with a country specific wine to go with each course, Hadski's is all that's good about the area.
The restaurant is modern and fresh inside and backs onto the same cobbled street as revellers from the aforementioned Duke of York and adds an extra dimension to the area.
We went for brunch on a weekend and arrived shortly after the restaurant opened at 11am. The first thing that hit us was the smell of the fresh Focaccia just out of the oven.
The brunch menu is simple and kept to under ten items including the usual offerings like granola and fruit salads.
At our table we began with some coffees and fruit juices, the former's cups being a little on the small side for me, especially for brunch.
Our duo of kids both had waffles and bacon. With lashings of maple syrup this dish has a good hit of sweet and saltiness.
On the other side were smoked salmon and scrambled eggs on toasted wheaten bread. The eggs were perfectly cooked and good quality salmon accompanied them.
I couldn't help but order the Full Hadski's Breakfast. When I noticed the price – £10.50 for what is essentially a fry – I was worried. Would Belfast be ready for a breakfast at that price?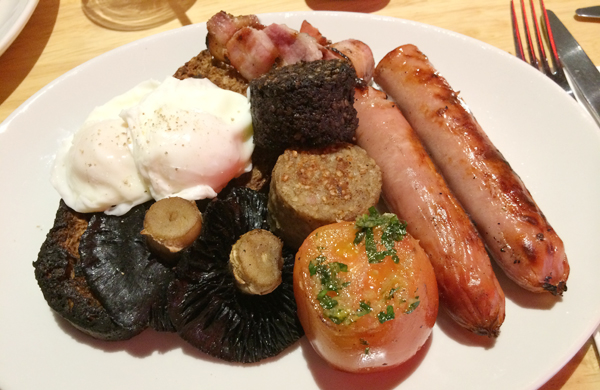 It's a hefty dish and if truth be told you'd probably not need to eat again the rest of the day. Two of those excellent big sausages that you'll also find on the menu at sister restaurant the Bar + Grill are some of the best you'll get anywhere in Belfast.
They come with black and white pudding as well as thick bacon, tomato, mushroom and choice of eggs (I'd two perfectly cooked poached eggs). The toasted wheaten adds to the monster brunch dish that'll certainly keep you fuelled for the day.
Given it was brunch we added in some lovely truffle and parmesan fries to bring a bit of lunch to the proceedings.
Service was excellent and I've always been a fan of the relaxed attitude in Hadski's. If you haven't been down yet, get yourself fuelled for the day and head out to the Cathedral Quarter for a pub crawl, it'll be a day to remember.
Hadski's, Commercial Court, Belfast. Tel: 028 9032 5444
Related Articles
A Rhubarb Twist to Classic James Street South
Lunch Treats Around Belfast City Hall
Interview with Paul Rankin - His 3 Favourite Places for Eating Out in Belfast
____
Find a deal for a Belfast restaurant.
BY: John Ferris
John was a journalist for over 15 years and previously the editor of a Belfast-based newspaper. Co-founder of one of Ireland's most influential food and drinks websites, Forked.ie, he's a long-time judge of various food and drink awards in Ireland and writes primarily for Forked.ie. He also occasionally writes about food for Hospitality Review NI, Belfast Telegraph, the Guardian and makes the odd appearance on u105's Lunchtime Bistro show with Carolyn Stewart. You'll find him on Twitter @foodbelfast