Top 5 Healthy Sandwiches in London
BY: Helen Graves |
14 Jan 2015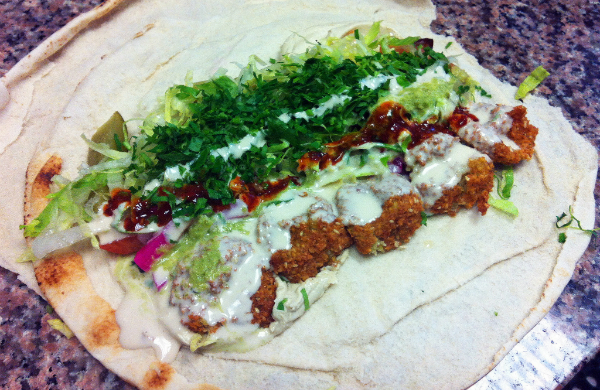 January is a time when we tend to consider a healthier diet. I'm going to hazard a guess that you ate a bit too much over Christmas (just a hunch) and perhaps you're thinking about eating more of those fruit and veg thingies, or cutting back a little on the meat. To deny yourself the pleasure of eating sandwiches however, would be just plain silly, so here are five healthier than average examples to be found around London. Get stuck in.
Fish or Vegetarian Wraps at Mike and Ollie
Mike and Ollie sell their marvelous wraps at Brockley Market in South East London and regardless of their 'healthy' status, they are some of the best you will find anywhere. They offer three wraps each week, often containing ingredients they have smoked, cured, preserved or foraged themselves. They top warm, home-made flatbreads with ingredients like mackerel and rhubarb or beetroot, hummus, red cabbage, salad leaves, home made yoghurt, toasted seeds, herbs and chilli flakes. My all-time favourite though has to be their char-grilled cauliflower wrap. Yes, cauliflower. Their sandwiches are the opposite of the now ubiquitous sub-standard pulled pork and sauce in a bun – fresh, inventive and good for you.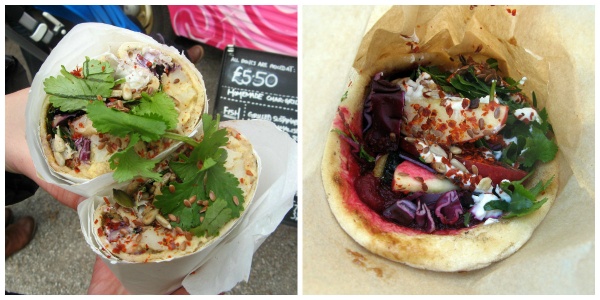 Open Sandwiches at Scandinavian Kitchen
Open sandwiches mean fewer carbs. I don't know how the Scandinavians got away with calling them sandwiches in the first place, frankly, when there's no sandwiching involved but here we are. At Scandinavian Kitchen they come topped with a variety of oily fish and vegetables. Again, health. Examples include smoked mackerel with a fresh and crunchy apple and fennel salad or gravadlax (cured salmon) on dark rye. Wraps are also available, with fillings like crayfish, coriander and spinach.
Vegetarian and Vegan Wraps at Persepolis
Peckham is home to a famous, bright yellow corner shop called Persepolis, run by Sally Butcher and her Iranian husband Jamshid. Together they import and sell lots of Persian foods and home wares, and have now converted part of the shop into a café. Along with meze plates, there are various wraps with vegetarian or vegan fillings. The most popular, Sally tells me, is black-eyed beans with lemon and spices, avocado mashed with yoghurt and fresh herbs. To be honest, whatever you order, you're in good hands with Sally – she's written four (excellent) cookery books about Iranian food.
Vegan Wrap at Rainforest Creations
Rainforest Creations caters to the hardcore healthy eater and these wraps are the only things they serve that aren't completely 'raw'. The 'Caribbean Roti Wrap' for example is a whole-wheat corn and split lentil roti, filled with sprouted hummus, a rainbow salad called 'Caribbean Sunrise' with kale, and a spicy dressing. The devil here is in the detail. You'll feel cleansed just looking at it.
Falafel wrap at Mr. Falafel
So this is slightly controversial, as falafels are deep-fried but come on, they're really tasty and hey, they come in a flatbread with salad. Chickpeas are healthy, right? And then there's the hummus! That has more chickpeas in it. There's lettuce and onions and chilli sauce and and…I don't even care. Mr Falafel serve some of the best Palestinian falafels in London.
Related Reads
London's Top 5 Toasted Cheese Sandwiches
8 Great Vegetarian Restaurants in London
Vegetarian Food London - Best Veggie Burgers!
____
Find a deal for restaurants in London.
BY: Helen Graves
Helen is a food and travel writer based in Peckham, South East London. She is the author of the book 101 Sandwiches and the blogs Food Stories, and The London Review of Sandwiches. She has written for The Guardian, The Times, The Evening Standard, Sainsbury's Magazine and various other publications. Her writing and recipes are inspired by the diversity of London and her travels and she is a sandwich and jerk chicken addict. She spent six years perfecting her recipe for jerk marinade, which is available to buy via her blog and in various shops in London. She won the fresh faces in food writing award at the Young British Foodie Awards in 2013 where judge Ottolenghi praised her 'jaw droppingly foul mouth'. She is also studying for a PhD in psychological medicine. Follow Helen on Twitter @FoodStories.'