Top 5 Picks For London's Weekend Brunches
BY: Edward Smith |
18 Apr 2014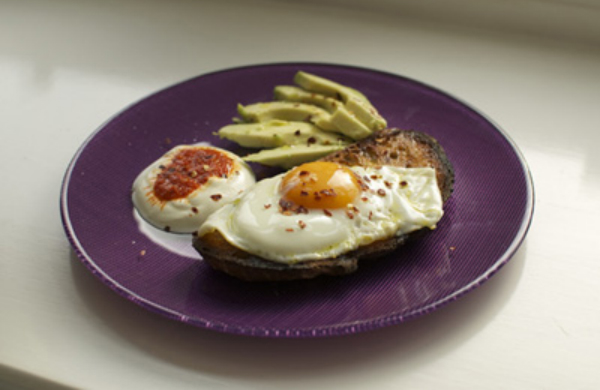 We can all knock up a decent fry-up, or match yoghurt with granola and fresh berries. But do you want to do that the morning after the long slog of the working week, when maybe, just maybe, you're nursing a slightly fuzzy head? More importantly, have you got the provisions to hand, good coffee beans and a grinder, and the willpower to wash up afterwards? Thought not. Which means you need some brunch inspiration. Convenience, value and proximity to your bed are important. But I also like places that go the extra mile. Maybe they do things differently or are slightly quirky. Maybe they just use superb ingredients. Here's a selection of some of the better options in London. I've tried to give a reasonable geographic spread.
The Modern Pantry
The Modern Pantry sits proudly at the back of a lovely Clerkenwell square. In the morning through to just after midday, it's generally bathed in sunlight and has, for some time now, been at the forefront of quality Australasian brunching to London. I love, in particular, the 'fruits, grains and seeds' section of their menu - the spiced red wine poached tamarillo, Greek yoghurt and manuka honey is always a winner. Cooked breakfasts are offered too, but there's usually a spicy or fruity twist. Some are quite unusual but look mighty tempting (rendang mince on toast, crispy egg, chilli lime dressing and ginger, for example).
The Modern Pantry
, 47-48 St John Square, EC1V4JJ
M1lk, Balham
South Londoners are very lucky to have M1lk - though as with most of the good brunch spots, a table here will involve an early start or a queue or both. They've nailed the coffee, tea and juices. But (arguably more importantly) they've nailed the food too. All ingredients are sourced from independent suppliers in the South East, then they're cooked up with a bit of flair and invention. Sweetcorn fritters, grilled halloumi, smashed avocado, kasundi and lime with drycure bacon anyone? M1lk do a quality full English too. Check out their
Instagram feed
.
M1lk
, 20 Bedford Hill, SW12 9RG
Lowry and Baker
This is a really, really plain and simple brunch spot. Which makes it particularly attractive if you're not so good at choosing from long menus in the morning, but do want a decent coffee and maybe avocado on toast or a poached egg or two. A charming little café for Notting Hill types.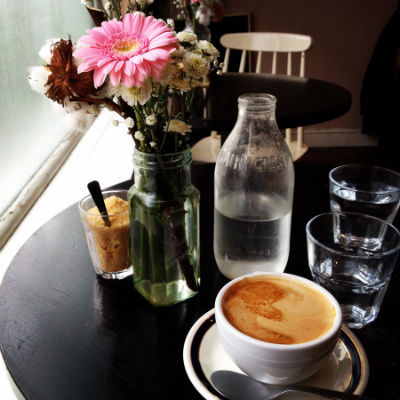 Lowry and Baker
,
339 Portobello Road W10 5SA
Lantana Café
This informal café at the top of Charlotte Place is a very welcome and reliable brunch option. It's a smart choice if you're looking for a central meeting point. There are always queues, but there's a takeaway option if you can't wait, or want a pastry and coffee to tide you over as you stand in line. I like the French toast with honey, ricotta and almonds.
Lantana Café
, 
13 Charlotte Pl, Fitzrovia, W1T 1SN
Ottolenghi
Yotam Ottolenghi and Sammi Tamimi's food is so well known in Britain now, due to the success of Ottolenghi's excellent books and burgeoning tv career. But it all began with the extremely tempting pastry selections and salads to go at deli sites in Islington, Notting Hill and Belgravia. Islington residents have always been particularly spoiled because that site houses a restaurant too – weekend brunch time is probably the most popular time to pay a visit. It's hard to look past the shakshuka or cannellini bean and chorizo stew with fried egg and black pudding. If Islington is too far, try their rather nice, slightly more upmarket restaurant 'Nopi' in Soho.
Ottolenghi
,
287 Upper Street, N1 2TZ Do you agree with this list? Where do you go for brunch in #London? 
@Groupon_UK
#grouponguide
____ Click here to see deals for
brunch in London
.
BY: Edward Smith
Click here to see more articles by Ed...Ed Smith used to be a lawyer but retrained as a chef and now cooks and writes for a living. Based in London, Ed writes for various publications, including his blog, Rocket and Squash, and was shortlisted in the 'Best Online Food Writer' category of the 2013 Fortnum and Mason food awards. Ed eats too much. Click here to see more articles by Ed...