Highlights
Spectate stunts with monster trucks, motorcycles and BMXs and stay clued-up with a souvenir brochure; venues include Bath and Bristol
Fine Print
Validity:
Valid for date and time specified on Groupon.
Purchase:
Limit 1 per person. May buy 19 additional as a gifts.
Booking:
No booking required. Present printed Groupon on arrival. No cancellations.
Restrictions:
Under 16s must be accompanied by an adult. Based on unreserved seating. Valid on option purchased only.
Original values:
Verified using our merchant's website on 18 Jul 2014.
The Event
Tearing across the UK in a fleet of growling trucks and revving bikes, the Extreme Stunt Show entertains audiences with a cavalcade of powerful machines and dangerous feats. Monster truck drivers attempt to hurl their gargantuan vehicles over people carriers while motorcyclists perform daring displays of bravado. Further spectacle is provided by a bike team riding through fire, and freestyle motocross riders and BMXers careening over ramps. Audience members (usually £12 per person) can stay in the loop with the adventurous proceedings thanks to a souvenir brochure (£5).
Show Times
Hengrove Park, Bristol, 25 August; gates open 2pm, show starts 3pm
Bath Racecourse, Bath, 26 August; gates open 6.30pm, show starts 7.30pm
Reviews
The Extreme Stunt Show has attracted over 8,000 Facebook likes.
Details verified 18 June 2014.
Learn more about Groupon's Merchant Reviews Policy.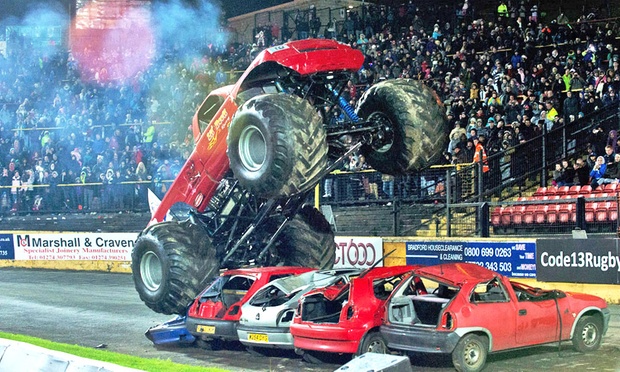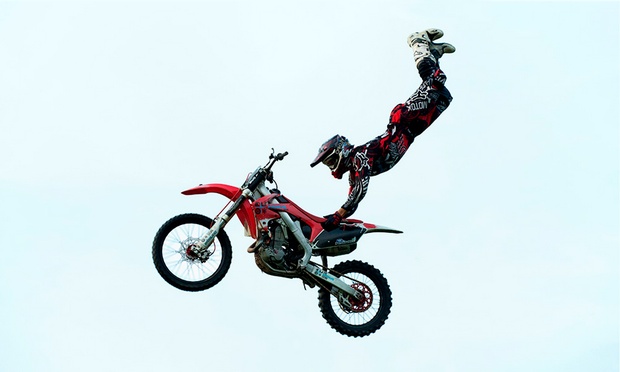 Extreme Stunt Show