5 Best Italian Restaurants in London
BY: Chris Pople |
11 Mar 2015
For a long time, your options for Italian food in London fell along two main lines. Firstly there was your friendly local high-street Italian, called something like Mamma Mia or Don Luigi's where you could get a plate of pasta penne or lasagne, a thin crust pizza or even a commodity steak if you were (un)lucky, and eat it by the light of a candle stuck in a raffia chianti bottle. Then, if you lived in London (mainly) there was the super-high-end – sites in Mayfair and Belgravia competed for gullible yuppies wanting to spend as much as possible on some tomatoes flown in from Sicily. Now, thank the Roman gods, a new wave of Italian restaurants has demonstrated a Third Way – top notch cooking, and ingredients, in smart surroundings, followed by a bill that won't break the bank. Here are my five favourite.
5. Tinello
Veering somewhat closer to the high-end than others mentioned, Tinello is nonetheless still worth your time for serving some superb house pasta and a menu that includes (season allowing) more truffle than you can shake a breadstick at – which of course is a Very Good Thing. Plus despite the location (posh end of Pimlico/Chelsea) it's still pretty good value – Borlotti beans and Cornish lobster is £13.50, for example.
4. Trullo
Moments away from Highbury & Islington tube, extremely fairly priced and boasting some of the best Italian food in London, Trullo was always going to be popular. But as anyone who's ever attempted to get a table here will tell you, there's popular and there's Trullo popular. If you do snag a seat though, you're in for a treat. Meat and fish cooked over charcoal, and expertly hand made pasta, all served with care and attention – there's little not to love.

3. Artusi
New kid on the block Artusi has made waves partly because it forms part of an astonishing resurgence in the East Dulwich/Peckham restaurant scene (Peckham Bazaar, the Begging Bowl and Toast are all also worth checking out) but mainly because it's incredibly good. The menu changes daily, but expect seared ox heart with capers to start, bouncy house pasta for a main, and various clever ways with meat and fish for secondi.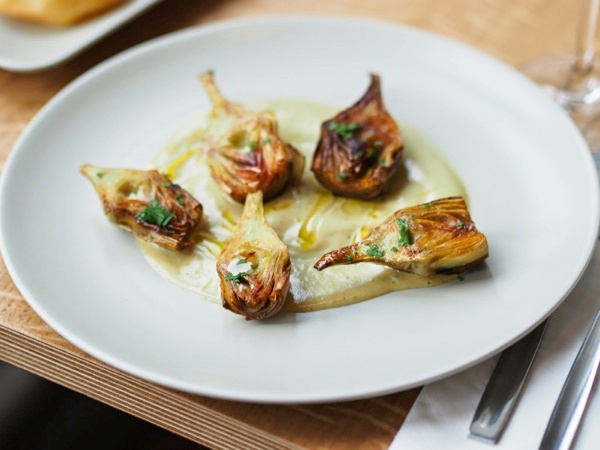 2. Zucca
Where it all began, at least as far as this blogger is concerned, was the opening of this smart, buzzy space on Bermondsey Street and its menu of incredibly keenly priced, modern Italian food. Sure, the prices in Zucca have crept up a bit over the years (oh for the days of the £12.95 veal chop with lemon; it's now £16.95) but it's still possible to eat here much better, and much cheaper, than most other restaurants in London and the service is a joy.
1. Bocca di Lupo
Doing for Italian food what fellow Soho restaurant Barrafina did for Spanish, the food at Bocca di Lupo is consistently imaginative, exciting and served with flair, and while it may not be the cheapest on this list it's hard to think where else you can eat food with such a sense of fun and occasion. The crudités are live langoustine kept in a tray beneath the bar and "prepared" (killed) to order; the specials often includes interesting game options like teal or pheasant, and the wine list is world class. I adore Bocca di Lupo.
Related Reads
Seafood Restaurants London - 5 Best Value
London Canals - Best Canal-Side Food and Coffee