5 Reasons to Take Kids to The British Museum
BY: Janis Curry |
26 Aug 2014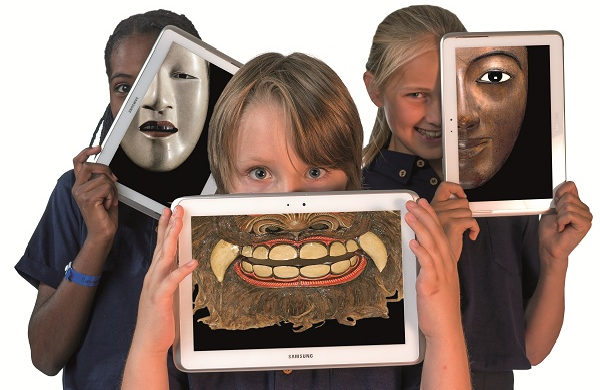 I have a confession to make - a day out with my kids can be hard work. Every outing starts with a dispute about whether or not a skin tight crocodile costume (for the kids, not me) is the best thing to wear in central London. Then there are the last wees, the interminable tube ride and the near heart-attack every time they forget to 'mind the gap'. By the time we arrive at our destination all I want is a stiff drink. The British Museum is one of the few places that makes the effort and palpitations worthwhile. Here's why:
1. Where Else Will You Find a Mummified Bull?
No doubt about it, a dead animal is like a gory child magnet. I mean, dead pigeons and dried up worms are cool enough, but if that dead animal happens to be 2000 years old and a bit weird looking, with all its bones jumbled up in a cloth bull shape, let me tell you, in a child's mind that is quite possibly the best thing ever.
While they're transfixed by the eerie painted-on mummified bull eyes, you can teach them everything you know about ancient civilizations and the importance of animals across countless religions through time. Education by stealth, I call it.
2. Activity Trails – Even for the Pre-schoolers!
Plenty of museums have interesting family trails, but for the most part they are designed for older children. The British Museum has those too, but the free activity trails* for ages 3 to 6 are outstanding and were obviously designed with inquisitive youngsters in mind.
The 'Chasing Rainbows with Mama Wata' trail is my favourite, taking us on a journey through the museum to find shapes and colours – for example, a challenge to find diamond shapes on an African snake sculpture. The little ones absolutely love the chance to test (and show off!) their knowledge.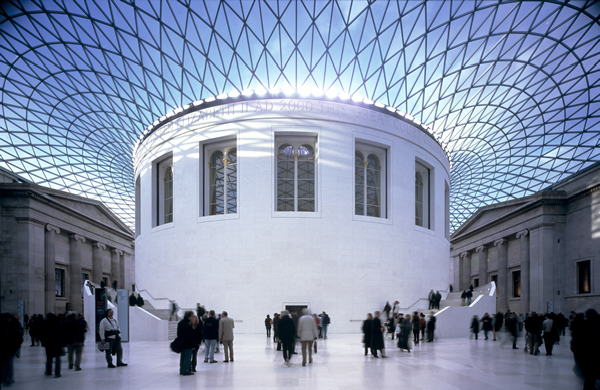 3. The Great Big Lion
My two are drawn to the magnificent marble lion** near the entrance. It weighs six tonnes, is more than 2000 years old, and was originally found in Asia Minor (now Turkey) atop a steep cliff as part of a funerary monument. Although they don't care too much yet about the history of the lion, the children's eyes light up when they see it – it really sparks their imagination.
4. It's Free!
Paying entrance fees can be a real downer if you have young children and just want to spend 30 minutes enjoying the exhibits. Entrance to the British Museum is free, as are the family trails, activity packs, kids meals at the Gallery Café, and even the many fantastic workshops for kids on weekends and school holidays.
5. Superb Facilities for Babies and Young Children
The British Museum is so well kitted out for families that it takes all the stress out of your outing. Besides the family activities, it's buggy friendly (even for the side-by-sides), there are baby changing facilities*** dotted around, highchairs at the cafes, baby feeding rooms, picnic tables, and the accessible toilets are big enough to fit you and all the kids at the same time. If you don't yet have kids, have accidentally read this section and are now feeling a mixture of confusion and terror about your future, please erase that last fact from your mind.
Have you been to the British Museum? I would love to know which exhibits and family trails your children enjoyed the most, and which other London museums you'd recommend!
More Information
The British Museum is open every day from 10am - 5.30pm except Fridays when they open late until 8.30pm.
* British Museum Activity Trails
*** British Museum Facilities for Families
Main image copyright of Benedict Johnson.
British Museum image copyright of Nigel Young.
____
Check out our museum deals in London.
BY: Janis Curry
Click here to see more articles by Janis...Thanks to her two boisterous rascals, Janis is the expert on glitter glue, stick collecting, rainy days out with kids, and which family movies have the most deliciously despicable baddies. Her website ReallyKidFriendly.com has been nominated for 9 awards, and with good reason – you'll find 10,000 local events and activities every month, honest reviews by real mums and dads, film previews, prize draws and the best handpicked stories from around the web. Janis can normally be spotted in North London trying (and failing) to outsmart her kids. Say hello: @kidfriendly_uk Click here to see more articles by Janis.