A Unique Direction for Belfast Art
BY: Jeff Meredith |
9 Sep 2014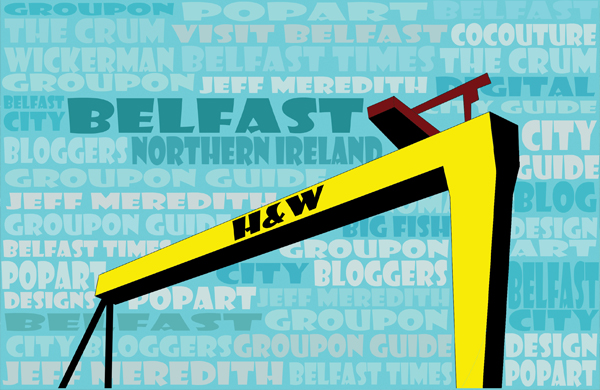 In 2007, feeling inspired by visiting some of the world's greatest cities and by the great Andy Warhol's famous Popart, I began a journey to expand my long hidden creativity.
It all started with a friend's special birthday party and I was tasked to create an invite, and Warhol's famous Liz Taylor and Marilyn Monroe were the inspiration. The design for the invite led to a commission to recreate the Belfast Harland & Wolff cranes in Warhol style.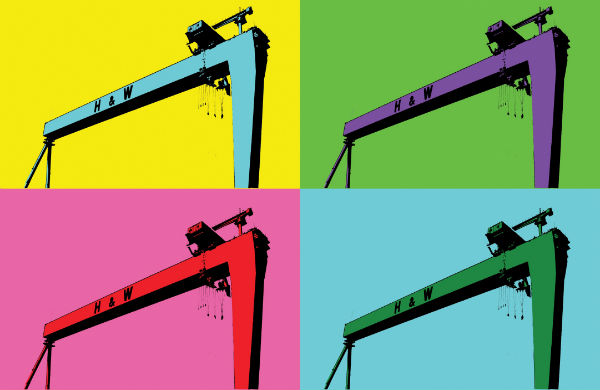 A year or so later I discovered typography, and stumbled across the idea of creating digital images of Belfast's most recognisable buildings and structures using words. What I created was modern, fresh and different from the other designs on the Belfast art scene.
From that point, ten designs of Belfast icons were born including the cranes, City Hall, Crown Bar and a few others which have been discontinued and replaced.
What followed took me completely by surprise, as I secured a three month exhibition in The Wickerman in Belfast, a three month exhibition in the Ikea store, and a weekend exhibition in the City Hall to celebrate the city's 400th birthday.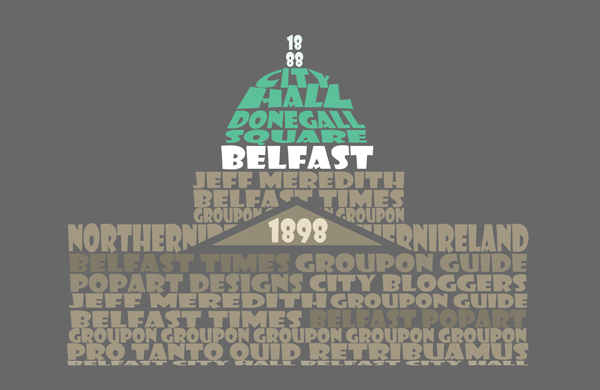 Where can you find these designs now? Since 2011 I've been trading every weekend in the multi-award-winning St George's Market. The designs are printed on a number of mediums, but I'm always on the lookout for new ideas and inspiration.
A selection of my typography can also be found at the Visit Belfast Information Centre, The Wickerman and Crumlin Road Gaol. Cocouture chocolates also have their own bespoke range of my chocolate themed typography cards.
The market is a great testing ground for new designs. It was here I launched my Giro, Game of Thrones and Northern Ireland golf designs in 2014. The trio of new designs marked a slight change of direction, as previously the designs were Belfast focused and the collection included Queens University, Crumlin Road Gaol, the Big Fish, a Belfast Taxi, Grand Opera House and a few others.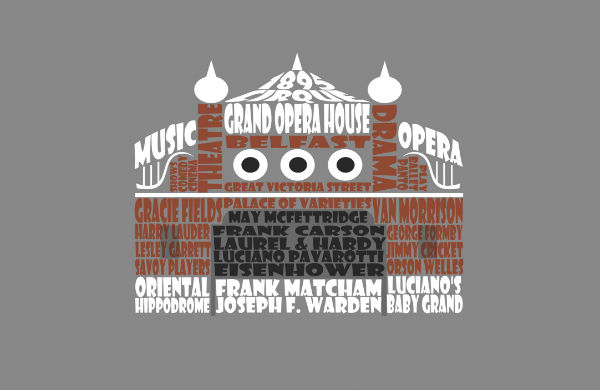 A few designs have featured in local press including the Belfast Telegraph. The Grand Opera House have also used the Opera House design with a fresh new background for their Open Day promotions.
I love creating my own colourful popart versions of 21st Century Belfast and am always refreshing existing designs and creating more. Plans are in progress for a series of new designs including a kids' range so keep an eye out on www.belfasttimes.co.uk for updates on new additions to the collection and new products.
Related Articles
Belfast's Historic Linen Hall Library
Crumlin Road Gaol - A Tour of the Crum
Images copyright of Jeff Meredith @ Belfast Times.