African Restaurants - Best Ethiopian/Eritrean in London
BY: Chris Pople |
8 May 2015
Africa is a big place, and home to a remarkable variety of different styles of cuisine, from the tagines of Morocco to the fine dining restaurants of Capetown. There's also the little matter of chicken chain Nando's starting life in the continent, but I wonder whether this is really what Africans would consider their finest culinary gift to the world. So for this roundup I'm going to focus on my own personal favourite style of Ethiopian/Eritrean, of which there are a number of very decent examples dotted about
Lalibela
Perhaps Lalibela's biggest asset isn't the food but the remarkable rooms in which it is served. Packed full of African objet d'art and beautiful carved furniture, it's like eating your dinner in an Ethiopian antiques shop. Which is just as well, as on my last visit the interminable wait from ordering to receiving anything to eat meant we had a lot of time to take it all in. The food, once it finally arrived though, was largely worth the wait. Injera was light and fluffy, the various stews all packed full of interesting African spices, and the final bill very reasonable.
Adulis
Judged on what arrives on the table alone, Adulis has plenty to boast about. The menu contains plenty of unusual dishes, even for this underappreciated style of cuisine, such as spicy fried trip or "atter", split peas with cayenne pepper and oil. And Eritrean classics such as kwanta fit fit (shredded spiced lamb with chillies) and kitfo (minced beef cooked in ghee and paprika) are executed very well. My only issue is the price of it all – mains are a good 30% more than equivalent spots across London, and there's nothing in the rather workaday décor or distracted service that really justifies it.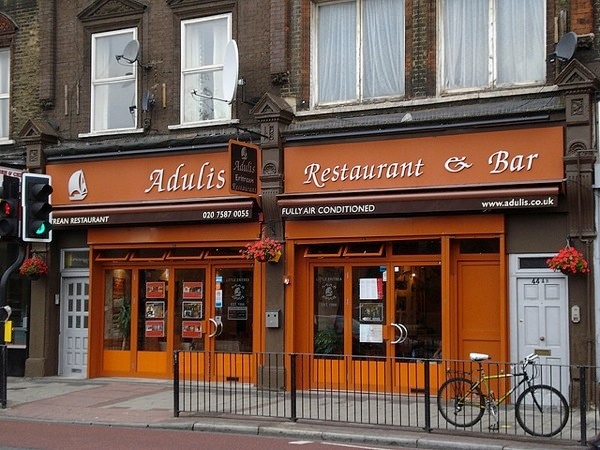 Image Credit: Kake, flickr
Asmara
A Coldharbour Lane institution, Asmara's obliging staff and budget menu mean it's a fantastic introduction to Eritrean cuisine. It's also understandably popular – crowds descend early in the evening for the platters of injera and fit fit but also the coffee ceremony, where roasted beans are wafted around the room in a mini copper pan before being ground and infused.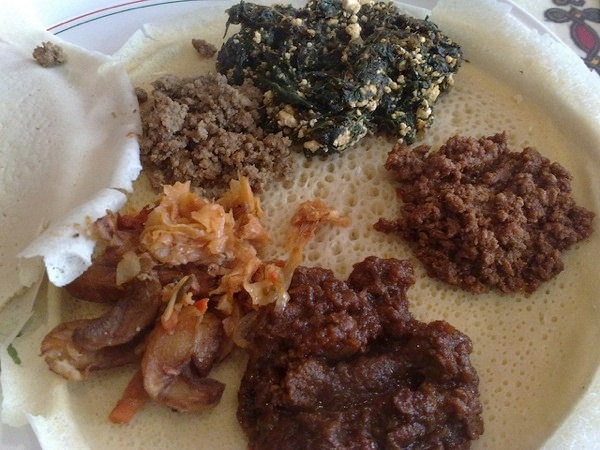 Food from Asmara, Image Credit: secretlondon123, flickr
Zigni House
The genial owner of Zigni House, Tsige Haile, wrote one of the first Eritrean cookbooks and is apparently quite a big deal back in her homeland. So as an ambassador for her country's cuisine, you couldn't want any more – the food she serves is colourful, bursting with exotic East African spices, and very reasonably priced considering we're in deepest Islington. Don't miss a starter of "timtimo" rolls, with their thick, rich lentil paste filling.
Zeret Kitchen
On the face of it, Zeret Kitchen aren't doing a great deal more than many other Eritrean restaurants in London. In fact, the décor here is even more Spartan, the menu more stripped back (just one chicken dish, and a handful of others). But from the first mouthful of smoky chickpea wrapped up in soft injera, it's very clear there is something extra special about this place. The flavours are just that more pronounced, the injera just that more balanced in terms of sour/savoury, the chunks of tender meat that much more plentiful. Match all that with friendly service and bargain basement prices, and you can see why it's my absolute favourite African restaurant in town.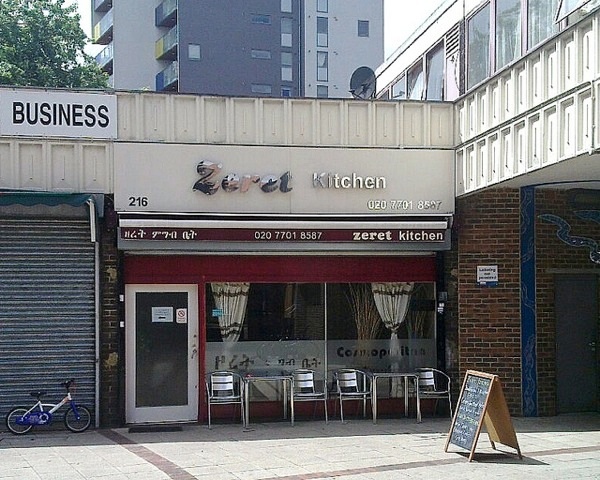 Image Credit: Kake, flickr
Zeret Kitchen is one of 100 restaurants featured in "Where to Eat London 2015" by Chris Pople (Blue Crow Media), available via the Apple App Store, £2.99
BY: Chris Pople
Over the seven years Chris Pople has been writing the Cheese and Biscuits blog, he has written about nearly 500 different restaurants, which is far too many by anyone's standards. During that time he has been lucky enough to be picked as one of the top food blogs in the Times, New Statesman and Esquire magazine, and for the last three years running has been named as one of London's 1000 Most Influential people. He's probably in a restaurant right now, scouring the menu for spelling mistakes and waiting for a martini.