Air Space Glasgow - Scotland's First Trampoline Park
BY: Ann Nugent |
30 Jul 2015
Scotland's first indoor trampoline park may have only bounced onto the scene as recently as December 2014, but already it has become a (not so) firm favourite for fitness and fun fans across the country.
Covering the same area as over six basketball courts, Air Space is Europe's largest freestyle jumping arena and features more than 100 interconnected wall-to-wall trampolines - you can literally 'bounce off the walls'.
Part of Playsport in East Kilbride - a purpose built 90 acre park offering a vast array of indoor and outdoor sport and leisure pursuits, Air Space is an incredible spring-loaded urban playground situated just outside Glasgow and comes directly from the brains behind the multi-award winning adventure company Go Ape.
Football with a Difference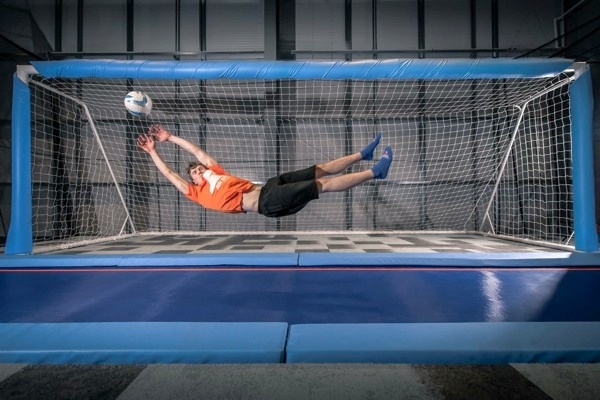 This £2 million investment comes at the perfect time for the city which has seen a huge rise in sports participation following the success of the 2014 Commonwealth Games. Air Space 'jumpsters' can perfect their freestyle parkour or participate in team sports with a twist - including dodgeball, basketball and football - all on super-sprung pitches. Urban and Extreme sports Pros and newbies are also welcome to use the trampolines and a special 'bounce-board' to further develop the tricks and skills used in skateboarding, snowboarding and wake boarding.
Other activities include a wall-running ramp (stand on the edge and jump - if you're brave enough) and special slacklines - a kind of springy tight rope.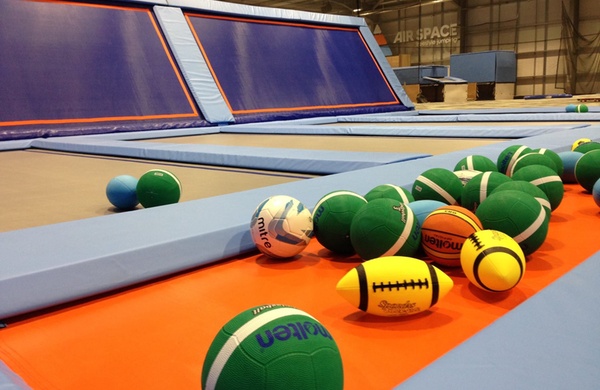 Bouncing just for fun is, of course, allowed too - and while you're knocking your (special Tramp) socks off enjoying the air space with your chums, feel smug in the knowledge that 10 minutes of trampolining is better than a half hour run and 68% more effective (according to NASA which uses trampolines to train its astronauts, fact fans). Oh, and according to studies it's also one of the most beneficial methods to genuinely reduce cellulite… I'll see you there!
A one-hour session at Air Space costs £12 and includes access to all the park's equipment. Currently the minimum age is 10 years old, but sessions for younger participants will be available soon and fans should get ready to jump to the new fitness classes and sno-fit classes also coming soon.
Air Space is open from 5pm - 10pm weekdays, and 9am - 10pm weekends.
Related Reads
Things to Do in Glasgow at Night
Art Classes in The Glasgow School of Art
Blooming Marvellous Florist Classes in Glasgow
____
Browse our deals for activities in Glasgow.
BY: Ann Nugent
Ann Nugent is a 30-something girl in the city of Glasgow. A freelance style writer and culture insider, Ann established her blog in 2010 and regularly contributes reviews and social commentary across Scottish national and local media titles.