Alexander McQueen Exhibition - Savage Beauty
BY: Paula Holmes |
27 May 2015
Savage Beauty
Savage Beauty covers McQueen's career in fashion from his first MA graduate show in 1992 to his unfinished Autumn/Winter 2010 collection. The exhibition was originally displayed in New York's Metropolitan Museum of Art in 2011 where its run time was extended by a week due to such popular demand. Tickets for this year's exhibition at the V&A went on sale last April and saw fashion lovers booking their tickets up to a year in advance.
The London exhibition will be based on the original Met version and is curated by the V&A's senior curator of fashion Claire Wilcox, alongside Andrew Bolton who worked on the New York exhibition. Savage Beauty will be presented in ten different sections which each showcasing the themes and concepts within McQueen's extraordinary work.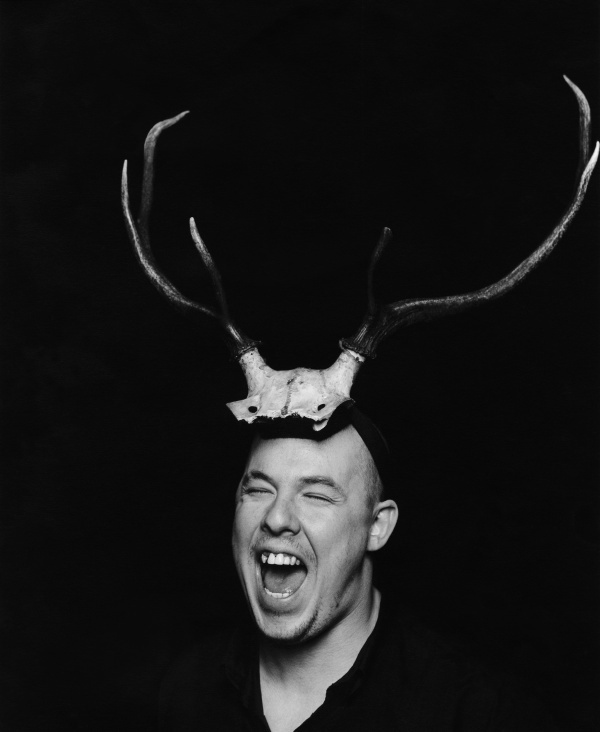 Portrait of Alexander McQueen, 1997. © Marc Hom / Trunk Archive
London
The first section of the exhibition is titled London and will focus on the early stages of McQueen's career, exploring his London roots and his development as a designer. This will also show footage from catwalk shows including The Hunger (S/S 1996) and also pieces which have not been shown since they were shown on the catwalk. Savage Mind will focus on McQueen's skilful subversion of traditional tailoring practices. Garments on display will demonstrate his signature silhouettes – including that of the 'bumster' trousers and also highlight McQueen's innovative cutting techniques.
The Unfinished Collection
McQueen was heavily influenced by Victorian Gothic tradition and in Romantic Gothic these references are seen. This part of the exhibition will also feature pieces from McQueen's final unfinished collection. Romantic Primitivism explores McQueen's fascination with the animal world, which is something that inspired him throughout his career. This section will also feature the themes of survival and include garments crafted from horn, skin and hair.
The Cabinet Of Curiosities
McQueen had a fascination with Scottish heritage and in Romantic Nationalism you can see this, with his collections inspired by Scottish battles. The main part of the gallery will be The Cabinet Of Curiosities and over two levels will showcase more than 100 garments and accessories from which have been produced in collaboration with milliner Philip Treacy, and jewellers such as Shaun Leane and Sarah Harmarnee. Whilst screens will show film footage from McQueen's many catwalk presentations. An exciting part of the exhibition is part of Pepper's Ghost which provided a memorable finale to The Widows Of Culloden (A/W 2006-7), this will feature an almost life size spectral form of model Kate Moss.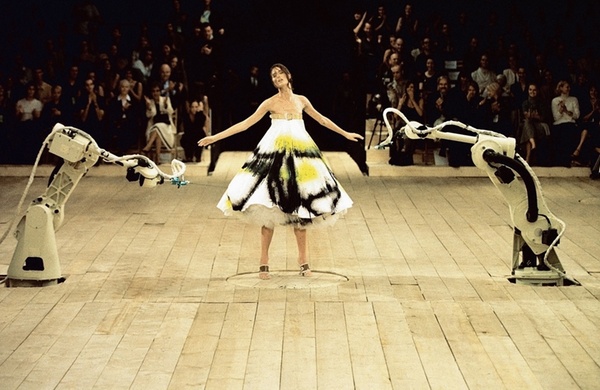 Spray Painted Dress, Alexander McQueen, No 13, S/S 1999. Model: Shalom Harlow represented by dna model management New York, Image: Catwalking
In Romantic Exoticism an arrangement of designs that draw inspiration from traditional Japanese dress forms such as the kimono and decorative motifs will be featured. This coincides with McQueen's longstanding interest in Eastern cultures. Whereas Romantic Naturalism will represent McQueen's passion for nature and the inspiration he drew from its beauty and fragility.
Plato's Atlantis
The last section of the exhibition Plato's Atlantis (S/S 2010) features McQueen's last fully realised collection. It is set within a futuristic narrative where the ice caps have melted and humanity has had to devolve in order to live under the sea. The collection fuses McQueen's interest in nature and technology and was widely considered his greatest achievement.
Alexander McQueen: Savage Beauty, in partnership with Swarovski, supported by American Express, with thanks to MAC Cosmetics and made possible with the co-operation of Alexander McQueen, runs from 14 March-19 July 2015, www.vam.ac.uk/savagebeauty
Cover Image: Jellyfish ensemble and Armadillo shoes, Alexander McQueen, Plato's Atlantic S/S 2010. Model: Polina Kasina, © Lauren Greenfield/INSTITUTE
____
Browse our deals for shopping in London.
BY: Paula Holmes
Paula is the author of The LDN Diaries and for over two years has been writing about fashion, beauty and lifestyle in London. If you are wondering what to wear each season or what the latest must-have beauty product is, Paula will share this in her style guides and beauty reviews. Originally from Glasgow, she now lives in North London where she works as a freelance writer and social media professional. Paula is currently writing her first novel and can normally be found online shopping and enjoying a good cupcake...