An Expert's Guide to the Best Ice Cream in London
BY: Rejina Sabur-Cross |
22 Sep 2014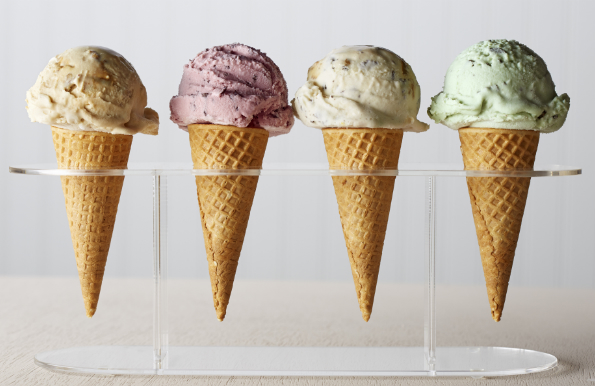 There's nothing quite like an ice cream to complete a hot day in the city. But if a 99 cone from the Mr Whippy van just isn't cutting it for you, where's the best place to scoop up the real Italian deal?
La Gelatiera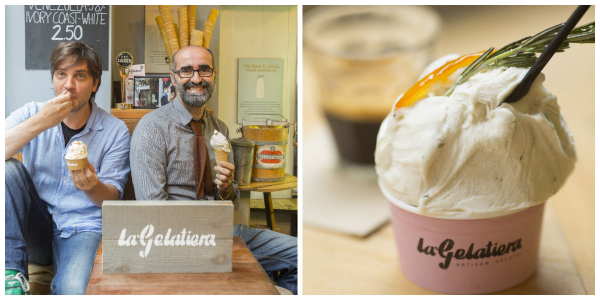 La Gelatiera is an excellent starting point. Staunch supporters of the slow food movement, this is where outrageously good ice cream meets creative taste sensations in the form of balsamic vinegar, cornish blue with walnuts (an incredible combo of rich, creamy blue and bitter toasted walnuts) or award winning honey, rosemary and orange gelato. Wash this down with a cup of their fresh southern Italian style coffee and you could easily forget you're still in Blighty. For serious chocolate addicts their dark chocolate sorbet is impossibly rich and dense, despite being dairy free, low in fat and getting the thumbs up from vegans. Ice magic indeed.
Where do you get your frosty fix?
I asked Stephane, one of their founders where he likes to get his frosty fix in London. "I would say Gelupo for their creative approach and seasonal care. A scoop of their dark bitter chocolate sorbet, blood orange granita or black cherry ice cream are definitely a bit of a gastronomic imperative and if you're feeling decadent they also sell black truffles and Italian caviar". Anywhere else? "Unfortunately not really in London. The others I know use processes that we don't approve of. Maybe Chin Chin for the theatrical aspect of liquid nitrogen however, it doesn't really bring anything special to the gelato itself and is more for show. Don't get me wrong though, it is still very good quality ice cream. We also like the Ice Kitchen guys. Their ice lollies come in the most amazing flavours and combination of ingredients."
Other highly rated places include Oddono's where the award winning pistachio or hazelnut are an absolute must. Amorino on Old Compton Street are open until midnight at the weekends and the salted pistachio and mango ices are super (they also do very good coffee). At Zaza in Canary Wharf it's the chocolate gelato cakes that are a big hit. They also do brioche con gelato (ice cream stuffed into a croissant) freshly squeezed orange juice and little bags of cacao nibs.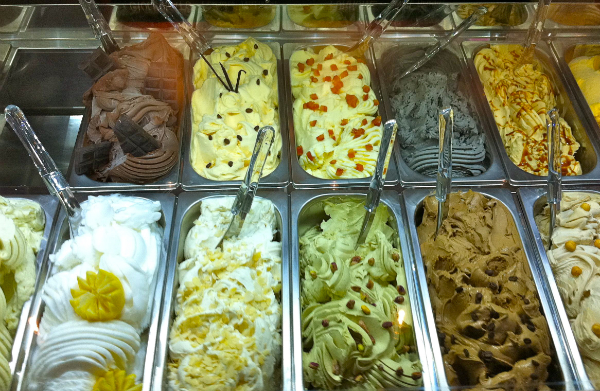 How about Argentinian ice cream?
If you fancy a change from Italian, how about Argentinian instead? Freggo has dulce du leche ice cream on the menu, or if you fancy some cake with your ice cream they also do a cracking line in media lunas, alfajores and Argentine petit fours,.
At Ruby Violet the lucky people of Kentish Town can indulge in some fantastic ice cream flavours, like basil and lemon, masala chai, horseradish and chocolate gingerbread. All the ice cream is hand churned in small batches on the premises using organic milk.
A North London Institution
For a more traditionally flavoured ice, head to Marine Ices in Chalk Farm, London's oldest ice cream parlour. A North London institution (they've been there for the past 83 years) Marine's traces its heritage back to one Geatano Mansi who arrived in England in 1898 from the Amalfi coast at the tender age of 12, and who opened the shop in 1931 and took Londoner's by storm. I'm happy to confirm that the coconut and rum and raisin are still fantastic.
So why waste your money on a cone of refined corn syrup, xanthan gum, guar gum, emulsifiers and stabilisers when there's the finest concoction of cream, sugar and fruit to be had?
Related Reads
The Best (Sort of) Russian Restaurants in London
Dining with History - 5 of London's Oldest Restaurants
An Expert Shares His Tips to the Best Seafood in London
Find a deal for ice-cream in London.
BY: Rejina Sabur-Cross
Click here to read more articles by Rejina..Rejina Sabur-Cross is a blogger and freelance food writer. She started Gastrogeek back in 2009 and has written for various publications including The Guardian, Fork Magazine, Eat Me Magazine, Le Cool, Blogosphere Magazine, Channel 4 Food, Fire and Knives and BBC Good Food. She's been featured in Red Magazine, the Evening Standard, The Independent, Olive Magazine, Waitrose Kitchen and more recently in the Sunday Times Magazine as one of the UK's top food bloggers. She's judged the Brick Lane curry competition, dined on bull's pizzle pie on Jimmy and Jamie's Food Fight and judged dishes for "The Perfect" on the Good Food Channel. Her first book "Gastrogeek" is out now. Click here to read more articles by Rejina..