Banana Leaf Glasgow - Our Best Kept Secret!
BY: Ann Nugent |
12 Jan 2015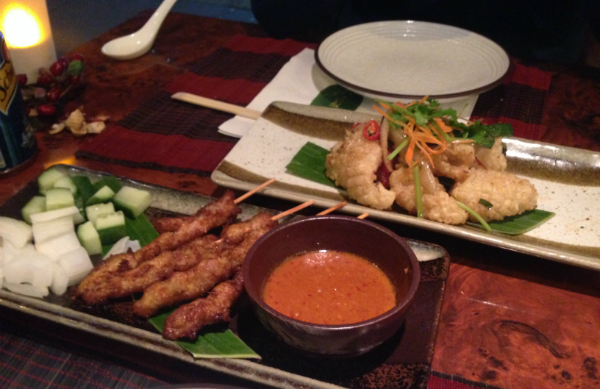 First-time diners at Glasgow's Banana Leaf tend to come by recommendation - a pass the oh-so-moreish Malaysian parcel if you like. Situated in a quiet corner of Cambridge Street (a short distance from the city's popular Sauchiehall Street), Banana Leaf is, well, rather unassuming from the outside really - peer in the windows and you'd be forgiven for thinking this canteen-style set-up was just another noodle joint. Until you notice the crowds that is - mostly local Malaysian Chinese community and amongst the regulars the odd first-timer looking chuffed-as-can-be with their sticky glazed meats, steaming hot noodles, fragrant rices and bowls of Curry Laska. You see, Banana Leaf is one of those places that once tried you'll be telling everyone you know to go - your family, friends, the postman… you get it.
Family Run Business with Quirky Touches
A family business run by father and sons, this simplistic little space really is one of the city's finest eating establishments when it comes to flavour. Dishes are different, quirkier than the normal Chinese restaurants that saturate the city. The little touches - like the presentation on banana leaves, the little lanterns that hang high on the ceiling - oh, and the way your chopsticks are rested on a monkey nut (we enquired after the significance - 'you can eat it' was the answer. Fair enough).
Delicious Fare
On a recent visit we opted to share the crispy salt and chilli squid with peppers and onion (the best squid in Glasgow by my reckoning - don't be disappointed by the lack of sauce, these slippery-little-suckers are fiery, juicy and would come in a half pound bucket if I had my way), and the restaurant's most popular dish - chicken satay skewers with peanut sauce - thick, nutty, crunchy.
The other half ordered a main course of char sui pork - all glazed and sticky that made him quiet gooey-eyed, and I had a seasonal variation on the stir-fried kai lan vegetables with sliced beef - tastiest greens in the city, fact. We shared a portion of sticky coconut rice and noodles.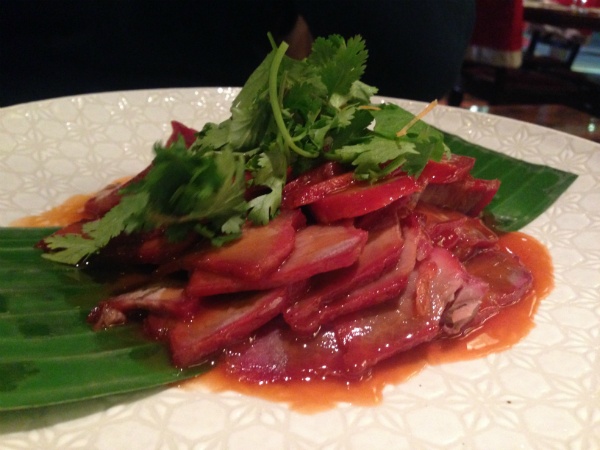 Char-Sui Pork
Try the stir-fried king prawns with butter, milk and curry leaves for an authentic taste you won't find elsewhere in Glasgow - or feast on the three roasts on vermicelli noodles (crackly, salty, sweet pork belly; crispy-skinned duck and melt-in-your-mouth char-sui pork) - and promise you won't leave without ordering the roti canai - a kind of flaky, pastry bread that you'll want to dip in everything.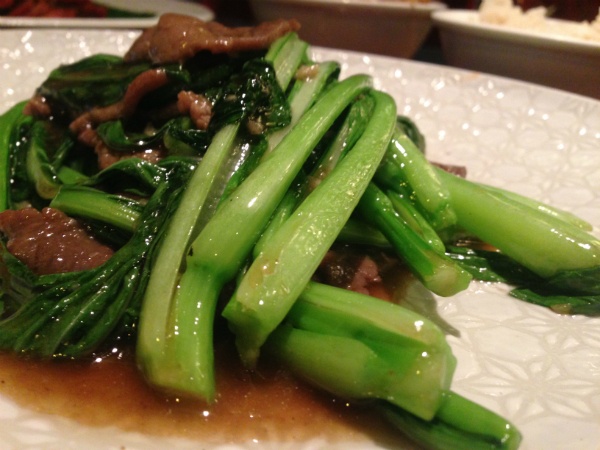 Kai Lan Beef
Banana Leaf offer a set lunch for £9.50 and an average evening meal will set you back around £15 for a starter and main course.
Tables fill up quickly - particularly in the evening, so it's best to book in advance on 0141 333 9994. Find Banana Leaf at 67 Cambridge Street, Glasgow.
Other Asian Delights
If you're a fan of Asian food, why not try some of the city's other best-kept secrets:
Asia Style 185 - 189 Saint George's Road, Glasgow G3 6JD - laid back interiors, complementary jasmine tea and ginger duck to die for.
Dumpling Monkey 21 Dumbarton Road, Glasgow, G11 6PR - a recent makeover from its laptop repair beginnings (yes, really) - this quirky little canteen in the city's west end offers ten-portion dumplings - boiled or fried 'pot stickers' in pork, beef of veggie. Try the tapioca tea.
...and if you are looking for an authentic Chinese hotpot check out Chinese Hot Pot - Where to Get them in Glasgow.
Related Reads
Koolba - Glasgow's Favourite for Curry
Sweet Treats - Get your Cake Fix in Glasgow
4 Great Italian Restaurants Glasgow Loves
Hungry? Find a deal for restaurants in Glasgow.
BY: Ann Nugent
Ann Nugent is a 30-something girl in the city of Glasgow. A freelance style writer and culture insider, Ann established her blog in 2010 and regularly contributes reviews and social commentary across Scottish national and local media titles.