The Growing Local Designer Scene for Belfast Fashion
BY: Katrina Doran |
18 Apr 2014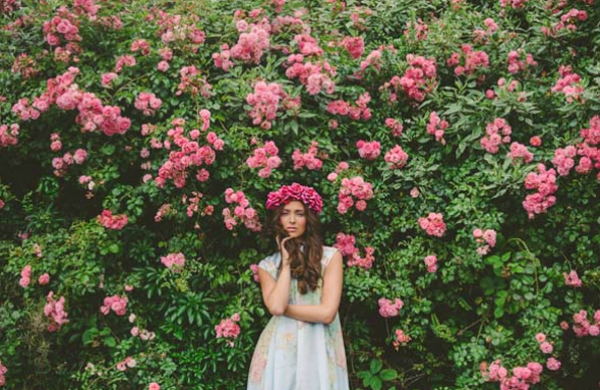 London, Paris, New York, Milan… Belfast doesn't quite roll off the tongue as a fashion capital of the world but, as the saying goes, 'tall oaks from tiny acorns grow!'
The local Belfast fashion design scene is a fledgling industry with some strong creative forces. There are two excellent fashion design degree courses on offer in Belfast at the University of Ulster and Belfast Met. A lot of our home-grown graduate designers are getting the chance to cut their teeth in the wardrobe departments of notable film productions being filmed in Belfast - big names include HBO's Game of Thrones and Dracula Year Zero. Sugahfix Talent Spotter 2013 winner Rachael Blair scooped the award with her graduate collection from University of Ulster Belfast and is currently working in the wardrobe department at Game of Thrones. With incredible talent and creativity she's one to watch for the future!
The retail locations in Belfast are somewhat hidden gems but it's worthwhile taking a detour to discover them. Like a compass of style they are located within yards of Belfast City Hall which is the site of the former White Linen Hall - an important linen exchange that dominated Belfast's Linen Quarter.
Most stores house the designer's work space as well as a boutique area to browse off the peg creations so you can meet the designer and buy directly from the creative source.
Una Rodden - Belfast Fashion Designer
Una Rodden is the shining light of fashion design in Belfast and runs her atelier from her city centre boutique on Arthur Street, just one street east of Belfast City Hall. The Buncrana-born designer takes personal appointments for her couture service at the boutique where her seamstresses are busy in the background constructing her designs. You can also browse the boutique, which is filled with Parisian fashion finds sourced by Una and her team from quirky independent labels. Una is also a big supporter of local talent, stocking headwear, accessories and jewellery from local designers including Grainne Maher Millinery, Pluck & Devour and Catherine B Jewellery.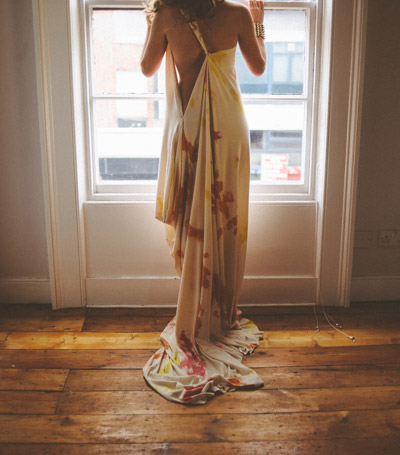 Una Rodden dress image: Photography by Kelly McAllister, Hair and make-up by Olivia Muldoon, Styling by Katrina Doran
Grainne Maher - Belfast Fashion Designer
The most high profile local designer is award-winning accessories designer Grainne Maher, who has a coveted concession on the women's wear floor at House of Fraser in Victoria Square. Ready-to-wear millinery and perspex jewellery from her Pluck & Devour range are available to buy in store.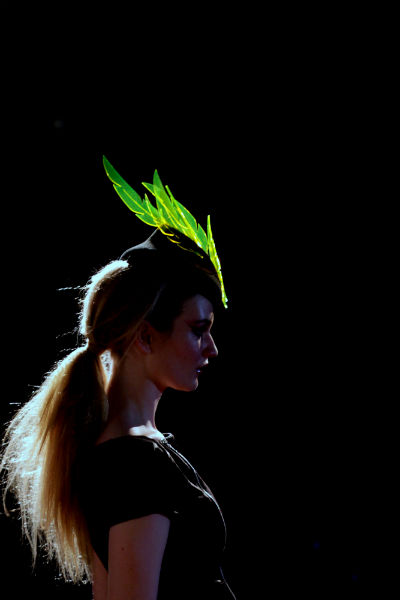 Grainne Maher image: Grainne Maher Autumn/Winter Collection at Belfast Fashion Week 2013 - Photography by Ruairi Drayne
Goddess & Swift - Fashion Store
Tucked away on Commercial Court - one of the prettiest streets in Belfast - is the newly opened retail unit for local designer Larissa Watson's label Goddess & Swift. This cobbled street is beautifully kept with window boxes filled with red flowers, old Guinness signs and strings of lights weaving back and forth creating a canopy of light. Beside the Duke of York pub is Goddess & Swift's window display showcasing couture dresses, printed silk scarves and cushions. The space houses Larissa's studio so you can see the designer at work as you shop.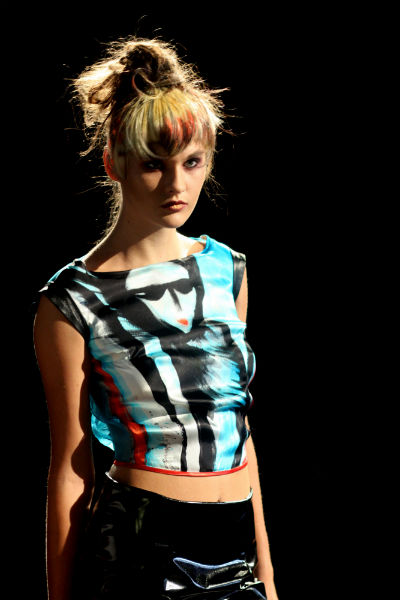 Goddess and Swift image: Goddess and Swift by Larissa Watson at Belfast Fashion Week AW13 - Photography by Ruairi Drayne
Lizzie Agnew - Bridal Designer
If you're a bride-to-be then make an appointment at Lizzie Agnew's studio upstairs at the Fountain Centre – one street north of Belfast City Hall. Lizzie's bridal designs are inspired by a vintage era of classic style. Her bridal showroom is adjacent to her spacious studio.
Studio Souk - Designer Market
Studio Souk at Spires Mall – one street west of Belfast City Hall - houses a combination of the Unify Fashion Collective combined with the permanent home for The Fashion Souk. The Fashion Souk is a monthly market where local designers and crafters sell their wares and local fashionistas take a rail to clear out their wardrobes. You could find everything from an ex Miss Northern Ireland selling her worn-once sequin gowns to vintage upcycled jewellery – it's an Aladdin's Cave for fashion fans. Now with a permanent home, the space mixes it up with a bunch of up-and-coming fashion designers and makers including Shauna Fay, David Henderson, Kiera Ann Marie Phillips and jewellery designer Linzi Rooney's Elephant Juice label, which makes stunning jewellery from antique cutlery.
Header image credit: Photography by Kelly McAllister, Hair and make-up by Olivia Muldoon, Styling by Katrina Doran, Model - Rebecca Maguire from Style Academy
Related Articles
Fashion and Food on Belfast's Lisburn Road
Shopping in Belfast - Best Kept Secrets for Beauty
Belfast Shopping Centre - Best Places to Shop
____
Check out our Belfast fashion deals
BY: Katrina Doran
Click here to see more articles by Katrina...Katrina Doran set up Sugahfix.com in 2008, the NI-based online style source delivers with daily fix of locally relevant fashion and beauty news plus a weekly ezine rounding up the week's fashion, beauty and entertainment news with a extra sprinkle of Sugahfix sparkle. Katrina combined her marketing expertise with a parallel career as fashion and beauty creative director, stylist and writer, working for ELLE UK in London, and beauty writer for the Irish News, to create Sugahfix.com including the hugely popular Hey Sugah! weekly ezine. Sugahfix.com has won several prestigious awards including CIPR Digital Innovation 2010 and Best Blog at the 2011 Northern Ireland Social Media Awards. To support and encourage fellow bloggers Katrina set up the FABB network for Fashion And Beauty Bloggers in Northern Ireland in 2011 which has grown to include 42 members. One of the most in demand creative directors and fashion stylists in Ireland, Katrina has created stunning photographic campaigns for Erneside, Rushmere, The Quays and Marshes Shopping Centres, The Vintage Bridal Fair, and local designers Grainne Maher and Una Rodden...click here to see more articles by Katrina...