Belfast's Old Pubs and Passageways
BY: Jeff Meredith |
13 Nov 2014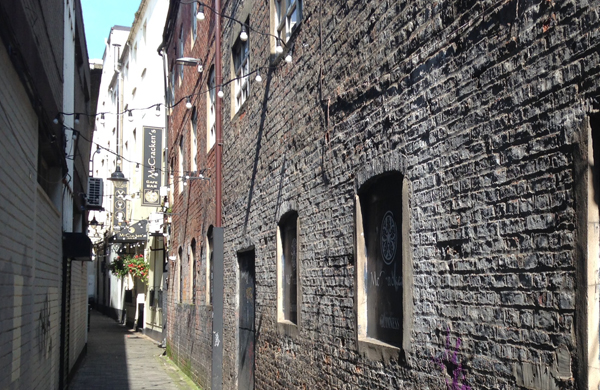 In the 18th Century, the passageways (The Entries) of Belfast were buzzing with commercial and residential premises and are often regarded as the area where Belfast was born. The Entries are now a network of historic lanes running off some of the city's main shopping streets High Street and Ann Street. High Street was once the Farset River, so these passageways would have been the main area of the city for sailors and merchants. Today they are also home to a few of Belfast's oldest pubs.
Pottinger's Entry
Pottinger's is probably the most used and most well known of the Entries. It's named after local man, Sir Henry Pottinger, who became the first colonial Governor of Hong Kong. Pottinger's connects Anne Street to High Street and hosts The Morning Star bar and restaurant. The Morning Star is a great example of a Victorian pub and still has its original counter, but more importantly it's a great spot for a pub lunch.
The Victorian archway to the entrance of this particular entry from Ann Street is a bit of an architectural icon in Belfast and provides great acoustics for local buskers daily.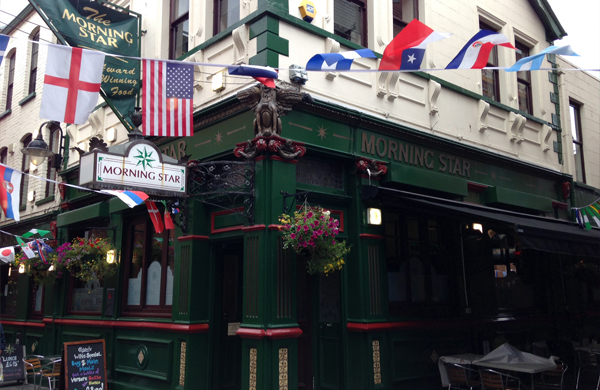 Crown Entry
Crown entry is a partially covered passageway which opens out to reveal a courtyard and the now partially hidden Crown House. Once known as the Crown Tavern, Crown House is where the Society of United Irishmen was formed in 1791. The building also housed the offices of two local papers, the Ulster Weekly News and the Morning News.
Joy's Entry
Joy's Entry is a particular favourite of mine with its narrow passageway, brick walls and string of lights zigzagging their way along its length between High Street and Ann Street. Named after Francis Joy, the founder of the Newsletter, it's home to McCracken's bar. Joy's entry has been the location of this licensed premises since 1892.
Wilson's Court
Wilson's Court can be found between Joy's Entry and Crown Entry. It's not a well used passageway but it's here you will find the Mermaid Inn - this building is believed to be one of the earliest surviving domestic buildings in the city.
Find out more about Wilson's Court and its newspaper publication history at www.belfasthistory.org/wilsons-court-home-of-the-northern-star
Winecellar Entry
Originally known as Biggart's Alley, Winecellar Entry is three passageways which open onto a central courtyard where you can find Belfast's oldest tavern, White's Tavern. White's proudly displays its year of origin painted onto its exterior wall, 1630. It was the first tavern to be granted a tavern licence in Belfast. Another newer addition to Winecellar Entry is the Monico Bars.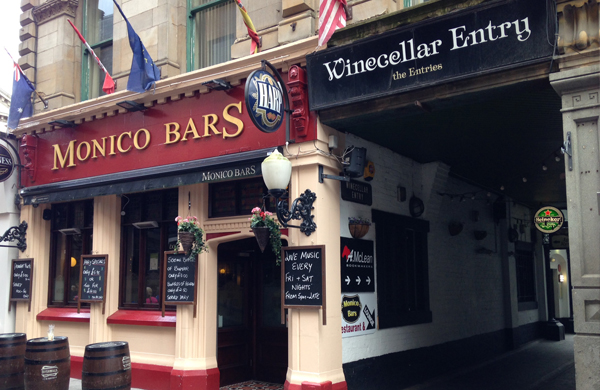 Castle Arcade
This passageway doesn't exist in its original form and is now a covered walkway between two sections of the city's BHS store. Take a look at the large images and information signs on the walls of the arcade, giving a history of the entries and their importance to the birth of Belfast.
Related Reads
Crumlin Road Gaol - A Tour of the Crum
The Best Belfast Tours - Discover Belfast by Boat, Bus, Bike and Belly
____
Find a deal for things to do in Belfast.
BY: Jeff Meredith
Jeff Meredith runs popular Belfast blog, BelfastTimes.co.uk. He describes his blog as an online magazine for the city and covers fashion, restaurants, theatre, events and launches in the greater Belfast area. Jeff can be found on his blog, Facebook and Twitter promoting, plugging and reviewing the best things happening in and around the city of Belfast.