GROUPON GUIDE TO MANCHESTER
Best Bars on The Manchester Gay Scene - LGBT Women Special
BY: Ruth Allan |
7 Apr 2015
Manchester has to be one of the most relaxed and open minded places to hang out in Europe if you are into the LGBT and gay scene. But as Morrissey sang of girls, some bars are bigger – or just better- than others, so we've compiled a guide to five venues that are particular favourites of LGBT women and their friends. We've included everything from hip and happening clubs, to places where you can take your dog and tuck into a stone-baked pizza. Here's to many happy nights on the tiles.
The Molly House
The Molly House is an elegant town house bar and a relatively recent addition to Manchester's Gay Village. Unlike the typically flashy bars that rule this part of town, it's a proper pub, with beautiful hearths, armchairs and an elevated smoking terrace that boasts a swing. A friendly clientele completes the picture and there is a slightly male bias. They serve real ales, and craft beers and excellent G&Ts. Take a seat on an upturned beer barrel and chat the night away in great company.
The Molly House, 26 Richmond Street, Gay Village.
Kraak
Less of a bar, more of a dive club, Kraak is one of the coolest haunts in town. Very much of the DIY school of bar design, you'll see the venue's past as an office block inside. Minimal conversion has taken place, giving it a Berlin-style vibe that's only matched by equally open-hearted live venue, Islington Mill.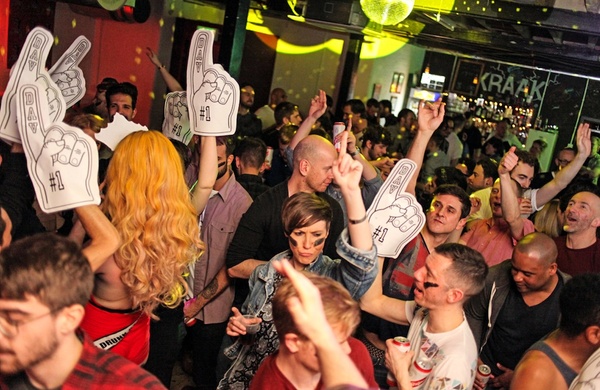 Kraak serves cocktails, often with a designer vodka base, as well as beers like BrewDog Punk IPA and beers from the Goose Island brewery. Nights to look out for include Witch*unt (for women who like electronic beats), Off the Hook's raging r'n'b and drag fest and Pop Curious; an upfront LGBT disco. Probably the most alternative venue on our list, it's a haven for those who don't necessarily feel at home in the mainstream bars. Kraak is co-owned by a local female DJ who founded long-running queer party, Club Brenda. No matter who you are, it feels like a place where you are among friends.
Kraak, Off Stevenson Square, Northern Quarter.
Nip and Tipple Bar
Sometimes, it's worth exploring outside the city centre and Whalley Range's Nip and Tipple bar is a haven for those in search of a good pint and a bite to eat. The stone-baked pizzas are cooked to order, alongside burgers and serious cheese boards. There's a slight female bias - the clue is in the name - but it's a friendly place for all. Children and dogs are positively embraced and everyone talks to each other which makes a change. A large outdoor terrace makes this favourite in summer time. House wines are good value by the bottle.
Nip and Tipple Bar, Upper Chorlton Road.
Bangkok Bar
Turning things up a notch, Bangkok Bar is home to some of the city's wildest LGBT parties. Of particular note is the indie and alternative LGBT fest, Bollox and fetish party, Club Lash. It's a cosy, multi-faceted venue that actively encourages good times, a bit like the much-missed queer venue, Legends, used to do.
Bangkok Bar, Princess Street, City Centre.
G-A-Y
Finally, while G-A-Y bar wears it's heart on its sleeve, this friendly bar in the heart of the village has all the fun you've been seeking - and then some. It's the only sister bar of the famous London haunt, and local DJ, Rivca Burns explains that it's lost little in the move up north. 'Ladies who like ladies can go with all of their friends no matter what sex and have a great night for super cheap. Great views too,' she says. What's not to like?
G-A-Y, Canal Street, Gay Village.
Related Reads
Manchester Bars – There's One for All of Us
Drunk at Vogue's Guide to the Best of Gay/LGBT Manchester
____
Find deals for things to do in Manchester.
BY: Ruth Allan
Ruth has been writing about Manchester's cultural scene for the last 10 years, specialising in off-the-beaten track destinations and hidden gems. She's the editor of Manchester's award-winning what's on guide.