GROUPON GUIDE TO MANCHESTER
Top Spots for Brunch in Manchester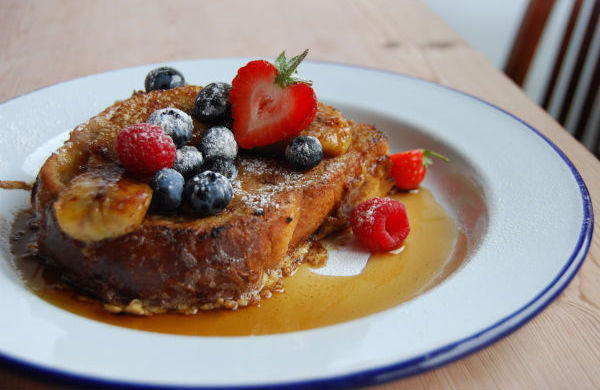 Whether you've imbibed a little too much the night before, or it's just a luxurious, lazy Sunday stretching out in front of you, nothing beats a lazy brunch in Manchester. We are lucky to have a wide selection of places to pick - in fact, if you're a little worse for wear, it can be the picking part that's most painful.
Home Sweet Home - Just Like Mum's Brunch
For a good slice of heart-warming Americana, head into the Northern Quarter, Manchester's warren of arty, independent-led streets just one street away from the city centre's main shopping street. Here you'll find Home Sweet Home where pale blue walls are decorated with cute cross stitches, the menu is full of comforting, filling dishes and the counter is groaning under the weight of homemade cakes. When the combination of breakfast and lunch I'm seeking needs to be a massive hug, there are only two things on the menu that I'll consider ordering: the waffles and the cookies. The waffles are sweet, soft and smothered in blueberries. The cookies are baked to order, served with milk and remind you of happy days in your Mum's kitchen.
Brunch - New York Style
Pancakes make everything better. This is a fact. If you can't be bothered (or are too hungover) to make your own, then head on down to Manchester's Moose Coffee. A little slice of New York plopped down into the middle of Manchester, Moose is hidden just off the main shopping street - this isn't a bad thing, it stops an amazing brunch destination being rammed with throngs of dithering shoppers, ensures you're seated quickly and your banging head isn't troubled too much.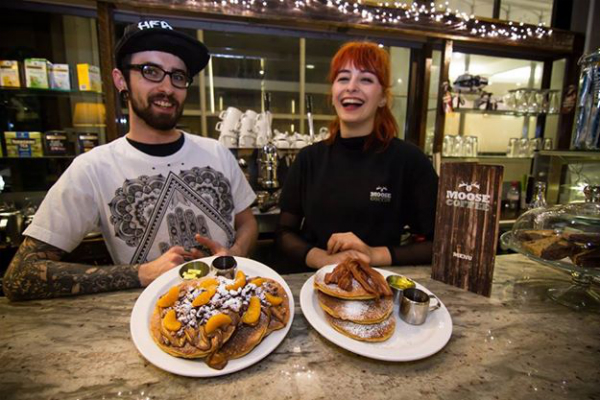 Photo courtesy of Moose Coffee
Pick a booth seat if you can, tall, soft, creamy leather will cocoon you and your companions, while delicious wafts of pancake batter, sizzling bacon and maple syrup are emitted from the kitchen. I always go for the pancakes - they're big, fluffy and come with the holy trinity of pancake toppings: blueberries, bacon and maple syrup (other toppings are available). Moose also has waffles for those who prefer things a little more crunchy, granola for health nuts, large fried dishes for unhealthy nuts and an almost infinite list of delicious egg dishes (their take on huevos rancheros, the Manolito, is divine). Breakfast is served all day with a perfect smile and strong coffee - what more could you want?
The Koffee Pot - BIG Brunch Style
If you need something more meaty to start the day, don't worry, Manchester has plenty of savoury offerings from full English to breakfast burgers – but the best is The Koffee Pot. A long standing institution, The Koffee Pot has been in Manchester longer than I have. Still serving their staples of full English, builders tea and hot buttered toast (and some more modern dishes too), it doesn't look that salubrious, but is always jam-packed. The Koffee Pot is frequented by Manchester's musical royalty (see who you can spot) and stars in many TV shows. Don't hold back, just have the full English, it's only £5.60 and is a proper Northern portion (i.e. massive).
When it comes to brunch in Manchester, the city has got more than her fair share of fantastic places, so all you need to do is sit back and worry about what you're going to order.
Is this the conclusive list? Let us know what you think! @GrouponGuide_UK #grouponguide
____
Related Reads
Great Breakfasts In Manchester
8 Options for Sunday Lunch In Manchester
Check out our Manchester brunch deals.