Best Cafes in London Art Galleries
BY: Julie Pallot |
28 Oct 2014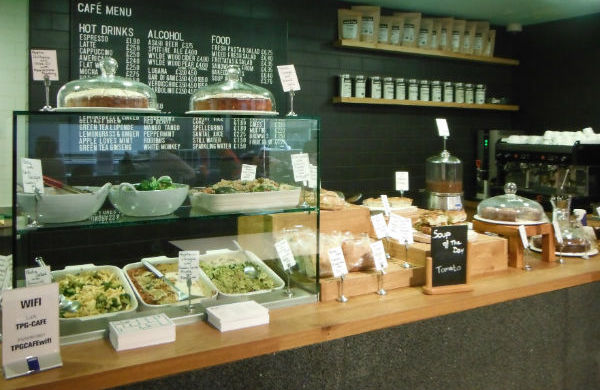 An essential part of going out for the day and visiting art galleries with friends is the post gallery feed. It is impossible to look round an exhibition without at least a coffee and a cake afterwards, all that pondering and deliberating makes for hungry work. Serving great food in quirky settings, here's my my pick of London's coolest gallery cafes.
The Ragged Canteen
The Beaconsfield Gallery Space sits in a converted Victorian workhouse. Its huge, beautiful wooden entrance gates give it an imposing feel. Inside, The Ragged Canteen take pride in their ethically sourced vegetarian seasonal fare, delicious coffee from their vintage Italian machine and homemade cake. They even have a gluten free section. The cafe has free wifi, art magazines and newspapers. They are also are now open on Saturdays (11-5) for all day brunch, toasties, coffee and cake, it's a more limited menu, but still a variety of delicious options which you can eat at any time.
The Photographer's Gallery Cafe
Fairly new and still a well-kept secret from the hordes of shoppers fighting their way down Oxford Street, the Photographers Gallery cafe has a selection of home-made cakes, Italian deli foods and salads. The café also hosts free talks exploring and debating photography and the gallery itself has five floors of incredible photography. It's a great place to take rest-bite after the madness of Central London shopping. The architecture of the purpose built building is lovely too with its sleek minimal feel.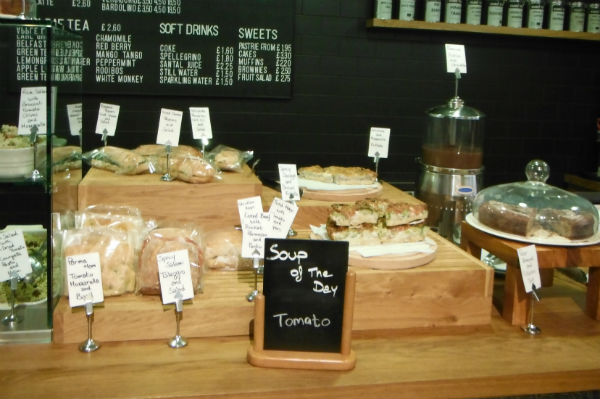 The Tate Modern Cafe
The Tate Modern Cafe deserves a mention because of its setting - it has a great roof terrace where you can take in the views over London. Word is the 'public areas are going through an exciting restoration expansion project'. So watch this... cafe!
Cafe in the Crypt
If you are going to the National Galleries, skip the overcrowded cafes in the galleries themselves and go over to the East side of Trafalgar square where you'll find Cafe in the Crypt. Homemade food and tombstones beneath you, it's a huge space where you'll always find a seat. They do jazz nights on Wednesdays.
The Other Cafe
This small and quirky independent cafe and tea room in Islington is amalgamated with a contemporary gallery, The Other Gallery. It supports emerging artists and gives them a space to display for minimal cost. The cafe serves homemade organic food including South American dishes and vegan options. It's definitely worth checking out if you're in the area.
The Step
If you fancy going further afield, The Step in Bounds Green is a bar and cafe with lively events and a gallery program. Enjoy the local North London vibe at one of their events. They have comedy, live music, art exhibitions, vintage markets, quizzes and talks.
Related Reads
Where to Find Street Art in London
London's Recently Opened Restaurants
____
Find a deal for restaurants in London.
BY: Julie Pallot
Art Sleuth is a blog about the contemporary art scene in London; comprising tangible reviews of opening nights, recording unusual exhibition spaces and general buzz and goings-on. Art Sleuth loves emerging artists, community art projects, supporting art for a good cause and discovering anything new, different and that is passionate about what it does. The blog covers the major art fairs and anything considered a yard stick for contemporary art right now. It gives readers a heads up on future art events that won't hit the mainstream media.