Best Pizza Delivery in London
BY: Chris Pople |
29 Jan 2015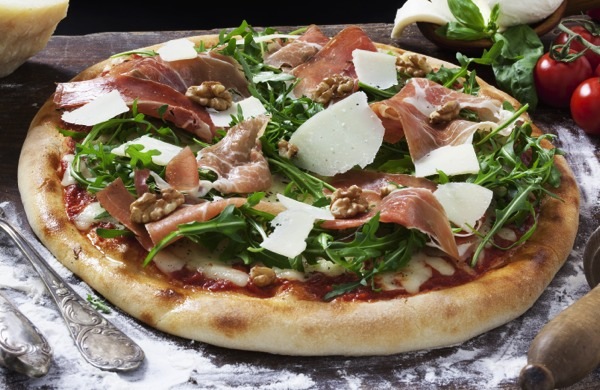 Although I have been known to go to quite extraordinarily tragic lengths in search of a good meal (I once went to Hendon for a burger), sometimes circumstances (hangover, illness, just general bone-idleness) dictate my dinner is brought to me whilst I'm sat in my pants in front of Antiques Roadshow. And in these situations, it helps to have a shortlist of reliable, fresh pizza delivery operations that can deliver while the toppings are still hot and use great ingredients. While I've nominally split my top 4 by region, actually some deliver city-wide where indicated.
South – Donna Margherita (Battersea, Clapham)
A long-standing and ever-popular Battersea stalwart, a recent refurb may have damaged a bit of its ramshackle charm, but fortunately the pizzas (and many of the seafood pasta dishes, for that matter) from Donna Margherita are still hugely enjoyable. They also score points for being one of the few places I know that can deliver a calzone – folded pizza, stuffed full of melted cheese and ham, a wonderful thing.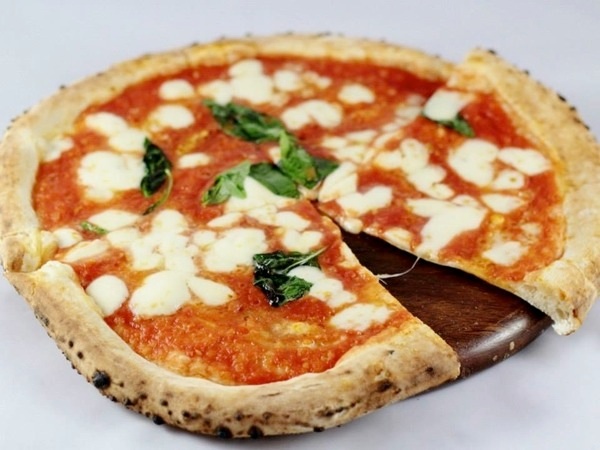 Image Credit: Donna Margherita
West – Basilico (and various branches across London)
A loyal fanbase and a branch network that's expanding rapidly across London speaks to a product that is right at the upper end of quality of delivery pizzas. With a less elastic base than some more traditional Neopolitan-style pizzas, I'd say Basilico has more in common with the thinner Roman-style, but the toppings are hugely imaginative (the Alba, with dolcelatte, smoked mozzarella and pancetta is great, as is my personal favourite the funghi au truffle with salami)
East – Pizza Union (Shoreditch and the City)
The 12" Margherita from Pizza Union is £3.95. I think that's worth repeating. A twelve-inch circle of freshly-baked 00 flour pizza bread, tomatoes, fresh basil and mozzarella is less than the price of a pint of beer in most pubs. Add a paltry £2 delivery fee, and you can have it to your front door. This is astonishing value for even a pretty mediocre pizza, and yet fans of Pizza Union say their product is anything but. Truly one of the great foodie bargains of London.
UPDATE: We've been told by Pizza Union that they no longer offer delivery, so if you want their lovely cheap pizzas you're going to have to put some pants on a pick them up yourselves. However, a solution exists for Shoreditch dwellers in the form of Amici Miei on Kingsland Road, which although not quite as cheap are still incredibly reasonable (£7 a Margherita, up to £10.65 for one involving Sardinian sausages and buffalo mozzarella) and still come thoroughly recommended.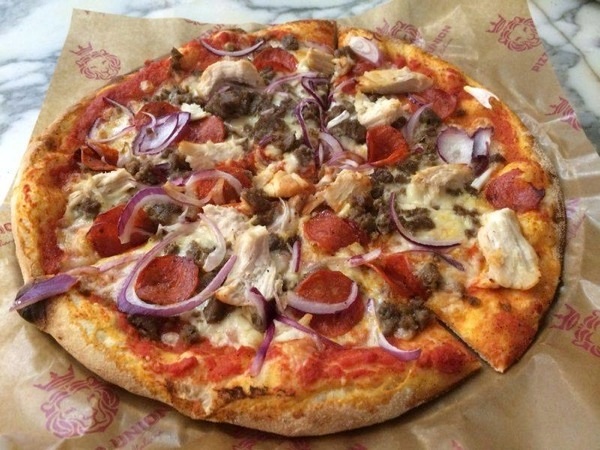 Image Credit: Pizza Union
North – Firezza (and various branches across London)
Good, elastic, smoky bases with a huge variety of high quality toppings, I've not known the menu at Firezza to stay static for more than a few months at a time, speaking of an operation constantly innovating and evolving to stay ahead of the game. Two recent additions have been a Christmas version with cream and chestnuts and melted brie, and another (Porcini) with wild porcini mushrooms, truffle cream, Taleggio and tarragon, which presumably tells you everything you need to know about the quality we're talking about here. Buy them by the 12" round or as two separate styles as halves of a half metre.
Related Reads
Five of the Best for a Pizza in London
Top 5 Picks For London's Weekend Brunches
Best Burgers in London - Pub Edition
Find a deal for restaurants in London.
BY: Chris Pople
Over the seven years Chris Pople has been writing the Cheese and Biscuits blog, he has written about nearly 500 different restaurants, which is far too many by anyone's standards. During that time he has been lucky enough to be picked as one of the top food blogs in the Times, New Statesman and Esquire magazine, and for the last three years running has been named as one of London's 1000 Most Influential people. He's probably in a restaurant right now, scouring the menu for spelling mistakes and waiting for a martini.