Best Places to go for a Pedicure in London
BY: Jen Riley |
11 Aug 2014
Why is it that the warmer weather seems to creep up on you and arrive when you're least ready for it? With the changeable British weather being as it is, we seem to be able to go from rainy and grey to warm sunshine and back again in a single day. When the sun comes out, so do the feet so here's a little run down of three best places to head to to get your feet in tip top condition so that when the sun shows its face - you're ready to go.
Nails and Brows - Green Park
A newly opened destination for essential beauty maintenance, Nails and Brows caters to all your pedicure needs. Whilst the spaces for pedicure are slightly more limited than the row of nail bars, it does offer a really lovely destination for a touch of pampering and getting your feet set for sandals.
The salon has a lovely balance between girly and sleek - with a good array of colours to choose from for your manicure or pedicure. If you're feeling like your feet need some proper TLC (yes please) then go for the Signature Pedicure (£60) which is about as thorough a treat as your feet could ask for. It includes everything from a massage, scrub, wax treatment and nail and cuticle work - oh, and a colour application of course. But if you're in more of a hurry then go for the Quick Fix pedicure - not as luxe, but gets the job done for almost half the cost.
Nails and Brows, 31 Berkeley Street, Mayfair London W1J8EJ
Margaret Dabbs - Sole Spa at Liberty
Margaret Dabbs is the Queen of feet - ask any beauty lover in London and this will be the top name you are given to get your feet totally overhauled and feeling fantastic. Not just for a prettifying treatment - Margaret and her team at the clinic will sort a whole host of foot issues (it's a Chiropody Clinic rather than mani/pedi destination). With both a clinic in Marylebone and the Sole Spa in Liberty you can get the Margaret Dabbs foot treatment in a location convenient to you.
My choice of destination would have to be the Liberty Sole Spa - where you can get a shape and polish if you want a simple option or go all the way up to jet-lag curing reflexology or the full Margaret Dabbs Medical Pedicure - they even have a 'perfect wedding feet' pedicure that is on my list of pre-wedding pampering essentials (yes, definitely an essential!)
Sole Spa at Liberty, Marlborough Street, London W1B 5AH
Cowshed - Carnaby Street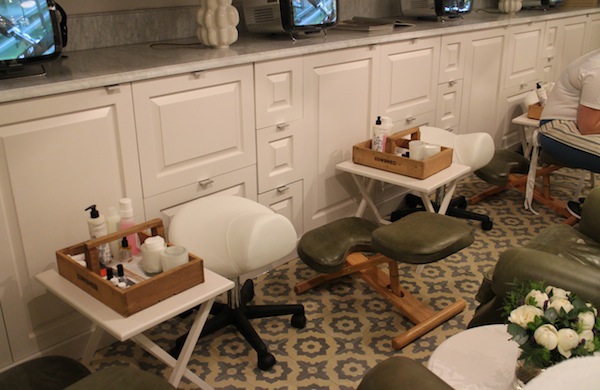 Cowshed is the must-visit destination to really feel like you have escaped from it all. In fact, they recently opened up a fabulous little salon space in the Beauty Workshop area of Selfridges. It's amazing - really feels like you're in a country kitchen rather than the middle of London's Biggest Department store. This is what I love about the Cowshed Experience - there's something so comforting about it - it's the sort of pampering that you need to go for if you need a pick me up after a tough day!
There we have three of the best pedicure destinations in London to get your feet ready for Summer sandals - now all we need is the sunshine...
Cowshed, 1 Ebor Street, Shoreditch, London, E1 6AW
____
Grab yourself a pedicure deal in London.
BY: Jen Riley
Jen is the writer behind the London-based beauty blog, A Beauty Junkie in London. The blog was started back in 2009 and is exactly what it says - all about a beauty junkie who can't get enough of all things girly...and lives and works in London. Jen is equally as enthusiastic about many other things in life - including macaroni cheese, her two house rabbits, finding the perfect striped top or pair of ankle boots...and other slightly less shallow pursuits. Jen can also be found on Twitter and Instagram @beautyjunkieldn where she mainly shares insightful tweets or photos about lipgloss or what she had for lunch.