Bread Street Kitchen Burger Review
BY: Nick Andrews |
15 Sep 2014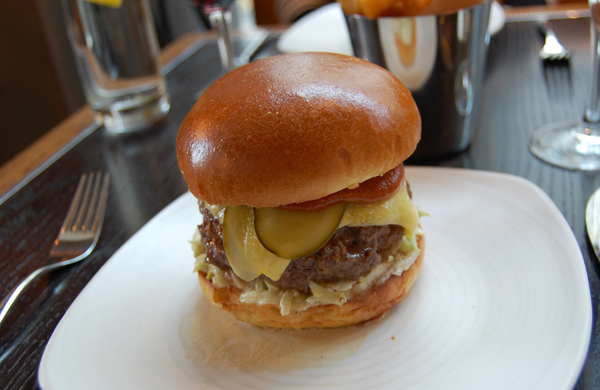 Gordon Ramsey's Bread Street Kitchen launched in 2011 on the ground and first floors of Cheapside's One New Change. It's a relaxed fine dining restaurant, with a small menu and a selective wine list. Initial reviews were mixed, but for me it very quickly established itself as one of London's top burger restaurants for its rather good short rib burger.
The Burger
The Bread Street Kitchen short rib burger clocks in at £12.50, with hand-cut chips an extra £3.50 - for the price you'd expect a pretty special burger. Luckily, it doesn't disappoint.
The burger arrives without fanfare on a plain white plate, bucking the wooden board and greaseproof paper trend, but it doesn't need these gimmicks as it is an impressive looking dish – tall and wide, with a thick juicy beef patty at the centre.
The pleasure of the Bread St. Kitchen burger is in its harmonious construction. Every element is executed to perfection – the short rib/chuck beef blend is a rich, juicy patty that is complemented by the Ogleshield cheese (a thick salty wedge that's melted on top of the burger). This could mean the burger becomes too rich and slightly sickly, but this is where the genius comes in. A series of elements are then added which counter the richness with much needed acidity. To start, there's a house-made spicy tomato ketchup, reduced with star anise, which immediately cuts through the fatty flavours. Added to this are a layer of thin-sliced pickles, and garnishing the bottom bun is a layer of chopped iceberg lettuce mixed with garlic and mustard mayonnaise. All these elements counter the beef and cheese and the resulting mouthfuls are a masterclass in burger construction.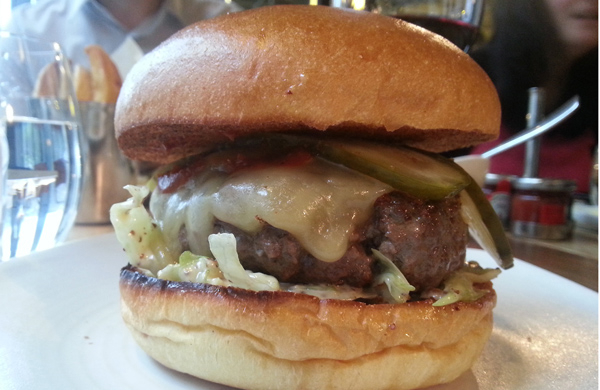 It's all wrapped up in a Miller's brioche bun, the same bun that's used across the entire Gordon Ramsay estate in London, and it's a bun that's up to the task of holding together a seriously juicy burger.
For an extra £3.50, the hand-cut chips are worth ordering. They arrive in a silver beaker and you can expect really thick, super-crunchy sticks of salted, golden fried potato. The whole experience is very satisfying indeed.
If the burger isn't enough for you (it will be for most people!) then take a look at the dessert menu for some inspired sweets. The chocolate tart with salted caramel ice cream and honeycomb is pretty special.
Bread St. Kitchen are open for lunch and dinner, seven days a week.
Bread St Kitchen, One New Change, 10 Bread St, London EC4M 9AB
Related Reads
Where to Bring a Big-Burger-Lover
The Best Burgers in London - Hamburger Me's Best Bits
Review of Burger & Lobster in London

____
Check out our deals for restaurants in London.
BY: Nick Andrews
Nick is Hamburger Me and he likes burgers. Actually, it goes a bit deeper than that. Nick is, in fact, London's pre-eminent burger blogger, and the author of www.hamburger-me.com where, since 2010, he's been posting about and reviewing London's best burgers. He's a keen collector of burger memorabilia (check out his burger phone!) and he even has his own line in burger cufflinks...