Breakfast Club at The National Belfast
BY: John Ferris |
6 May 2014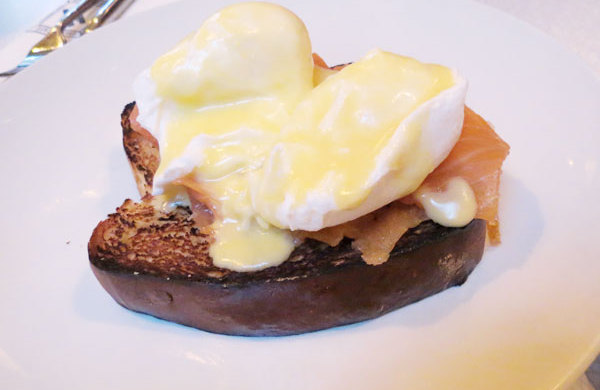 It seems hard to believe that it took the Belfast food industry so long to realise what most regular patrons already knew – the city needs to up its game when it comes to all day dining. In particular, when it comes to breakfast. We're famed for the Ulster Fry, but there are few places that serve up a decent adaptation and even fewer serving it in decent surroundings.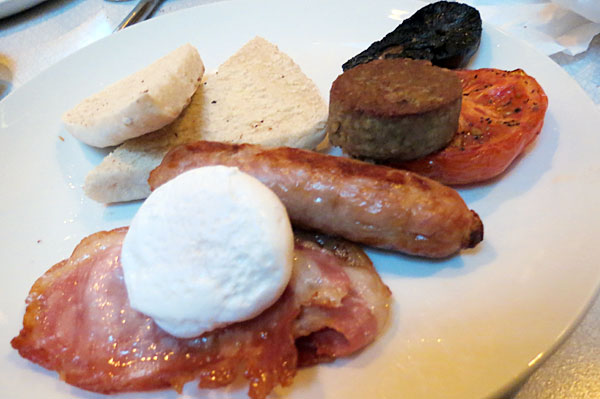 Late in 2013 Bill Wolsey opened the National Grand Café just a few hundred feet from one of his other ventures - the Merchant Hotel. Like many of 2013's new openings in the city, the National Belfast owes a lot of its large-ceilinged-brick-walled design to New York circa the late noughties. Were it not for the fact everyone else is doing likewise with their décor, it wouldn't be a bad thing. The interior is made more welcoming, however, by the baskets of Viennoiserie from Patisserie Mimi next door.
Opening up with the express desire to create a venue that would cater for people morning, noon and night, Wolsey told me: "It will be hard for you as an individual to work out whether it's a coffee shop, café, a bar… you should be able to go in at night and have a coffee or a glass of wine and somebody could have a craft ale as well".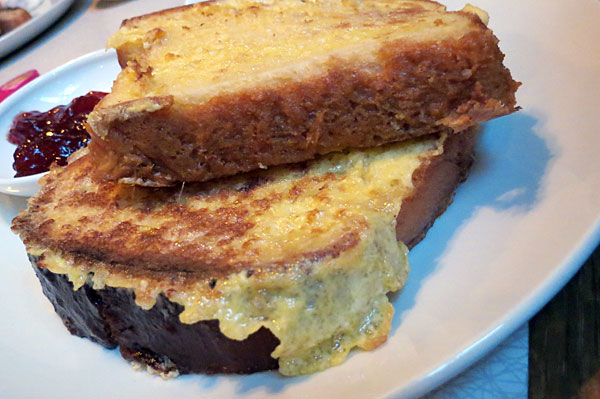 I decided to check it out for breakfast and opened up with a delightfully fresh Pain Au Chocolat boasting a rich dark chocolate filling alongside a double espresso. Thick slices of brioche French toast followed and were as sweet and eggy as one would expect Humpty Dumpty to be were he to make his way out of the nursery rhyme. The addition of jam and a touch of mascarpone made it a perfect breakfast for one of the youngest members of my party
Staff on the morning were friendly and efficient - the perfect balance of great waiting given the National Belfast was pretty packed. It's great to see such a varied breakfast menu for a change that included everything from organic porridge and handmade granola to the heart-stopping National breakfast. The latter using great local bacon and sausage alongside tomato and Portabello that were both seasoned to perfection. The only disappointment was for the poor egg whose 'soda bread soldiers' were so anaemic that they probably hid in a cupboard for six months rather than doing a tour of duty.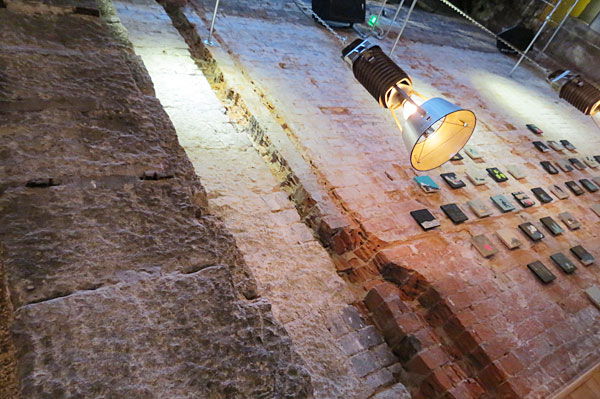 With a menu that will keep the lunch crowd entertained and a night-time food offering that includes a selection of small hot pots and Catalan flat breads, Wolsey is definitely meeting his initial hopes to create a place that will be used from morning to night. The breakfast club did it for me though, and I'll be back for another great club sandwich as soon as I can!
More Information About The National Belfast
The National Grande Café is at 62-68 High Street, Belfast BT1 2BE. Breakfast is served from 7.30am-11am daily.
Pricing: breakfasts cost between £3.60-£7.50
Facebook: https://www.facebook.com/NationalBelfast
Twitter: https://twitter.com/NationalBelfast
Related Articles
Coppi This - A Review of Coppi Restaurant in Belfast
The Best Restaurants in Belfast
2 of The Weirdest Things You'll Find on a Plate in Belfast
____
Check out our deals for restaurants in Belfast.
BY: John Ferris
John was a journalist for over 15 years and previously the editor of a Belfast-based newspaper. Co-founder of one of Ireland's most influential food and drinks websites, Forked.ie, he's a long-time judge of various food and drink awards in Ireland and writes primarily for Forked.ie. He also occasionally writes about food for Hospitality Review NI, Belfast Telegraph, the Guardian and makes the odd appearance on u105's Lunchtime Bistro show with Carolyn Stewart. You'll find him on Twitter @foodbelfast