Review of Burger & Lobster in London
BY: Nick Andrews |
9 Jun 2014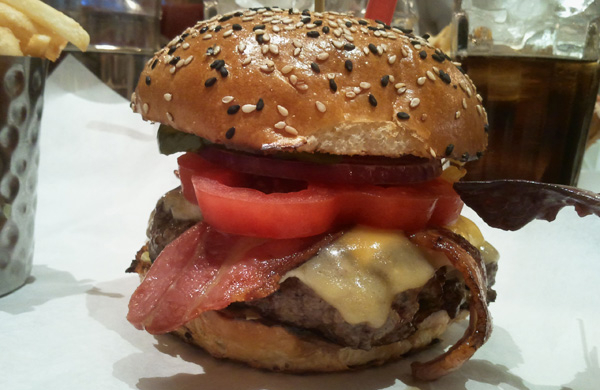 Burger & Lobster is widely regarded as being the first restaurant in London to take the concept of pairing luxury food with a perceivably junk food alternative and roll it out successfully across London. There have since been a raft of other restaurants that apply the luxury/junk combination including Bubbledogs - a restaurant that pairs champagne with a selection of hot dogs - and Duck & Waffle, but Burger & Lobster was the first. Burger & Lobster launched its first branch in Mayfair in 2012, and has rapidly expanded to open its fifth branch on St John Street in Farringdon in 2013. The chain is part of Goodman, a specialist steak restaurant, which itself has two locations in Mayfair and near Bank. At Burger & Lobster, the food options available to you are limited - you choose from just three items, a burger, a whole lobster, or a lobster roll – and everything is priced at £20. Each main is served with a portion of fries. Fear not, however, as to complement the small food menu there is a rather lovely and diverse wine list.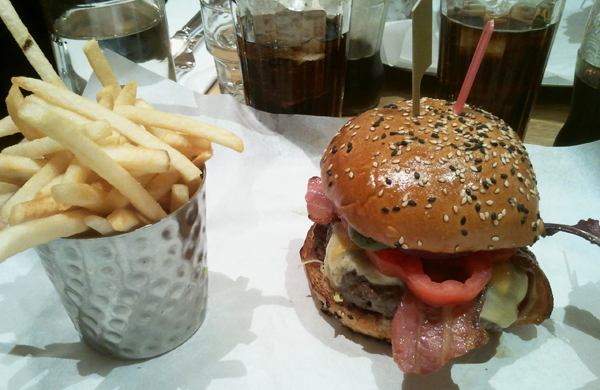 So let's take a look at the burger itself. It arrives on a sheet of greaseproof paper covering a silver platter – it's a nice touch, eschewing the more functional wooden board you'll find at many a gastropub – I'd call it shabby chic, a bit like eating your takeaway fish and chips off your finest china using the family silver. The bun is an egg-glazed brioche and is covered with white and yellow sesame seeds. It forms an all-encompassing wrapper around the contents of the burger, and it's robust enough to keep its form until the very last bite. The beef patty itself weighs in at a supersized 10oz, making this burger one of the biggest regular menu burgers in London. I have no doubt the decision to supersize it is the £20 price tag. It's a blend of beef, with a high fat content, making it both juicy and allowing your teeth to cut through it like butter. Toppings-wise, the bacon is excellent (when is bacon ever NOT excellent?!) but these are thick, satisfying, salty strips that criss-cross. The double cheese is great, and the pickles add a mellow acidity which balances the beef beautifully. There's also onion and tomato on there, but it doesn't add much to the overall mix. The burger comes with a silver pot of beautifully crisp, hot and salty fries which are excellent. Oh, and did I mention they also do lobster? Glorious, glorious lobster. My recommendation would be to go with someone else, order everything on the menu and share the burger, lobster and lobster roll – you're guaranteed to descend into a satisfying food coma. Burger & Lobster has restaurants in Soho, Mayfair, Knightsbridge, Farringdon, and Cheapside. You can find out opening times and locations on their website:
www.burgerandlobster.com
. Have you been to Burger & Lobster? Tweet us!
@Groupon_UK
#grouponguide
____ Check out our deals for
restaurants in London
.
BY: Nick Andrews
Nick is Hamburger Me and he likes burgers. Actually, it goes a bit deeper than that. Nick is, in fact, London's pre-eminent burger blogger, and the author of www.hamburger-me.com where, since 2010, he's been posting about and reviewing London's best burgers. He's a keen collector of burger memorabilia (check out his burger phone!) and he even has his own line in burger cufflinks...