Chinatown London - 10 Best Restaurants
BY: Rejina Sabur-Cross |
30 Jul 2015
Ever found yourself in central London in desperate need of some chopstick related sustenance yet simultaneously crippled by the sheer choice? As well as traditional Cantonese, you can enjoy Sichuanese, Korean, Japanese, Malaysian and Mongolian food, to name a few, some boasting authentic bowlfuls of joy and many sadly not.
There's no doubt that all 78 restaurants in London's chinatown are brimming with many fine (and many not so fine) choices to satisfy the fussiest of chopsticks. How to navigate your way through the tourist traps is another question entirely.
So to avoid the Russian roulette of decent food, here's a brief overview to ten of the best places.
Four Seasons
A Cantonese classic, the roast duck is legendary here (the FT voted it the best in the world ) but the other meats are also worth a try. Incredibly busy so be prepared to queue.
Four Seasons, 12 Gerrard Street, Chinatown, London W1, tel: 020 7494 0870
Cafe TPT
The stuffed tofu is very good and they also have a great selection of bubble teas. There are two menus, forget the Malaysian, the Cantonese is the one to opt for.
21 Wardour St, Chinatown, London W1D 6PN, Phone:020 7734 7980
Leong's Legend
Proof that you don't need to remortgage your home to eat well in central London. The stir fried chilli crab is top notch and the pork buns are also brilliant value.
4 Macclesfield Street, London, W1D 6AX tel:020 7287 0288
Dumplings Legend
Go for the xiao long bao, a Shanghai speciality expertly made (dumplings filled with a bolus of meat and hot broth)
Dumplings Legend, 15-16 Gerrard Street, W1D 6JE tel: (020) 7494 1200
Young Chen
A pretty safe bet, Young Chen is a definite crowd-pleaser. It's for good for authentic off menu dishes as well as the usual tourist fodder.
22 Lisle St, London, WC2H 7BA
Far East Cafe Bakery
The sesame balls with red bean paste here are consistently good, and a fried dough stick washed down with hot soy milk is a lovely way to start the day. Having said that, it's best to avoid the restaurant side of Far East Cafe if you don't want to be disappointed.
13 Gerrard Street W1d 5QG
New Loon Fung Restaurant
This old timer is a great all rounder for old school Hong Kong style cooking. A solid, dependable stalwart.
New Long Fung Restaurant, 42-44 Gerrard St, London W1D 5QG
Maotai Kitchen
The only restaurant in the UK specialising in delicious spicy, sour Guizhou cooking. The two day marinated crispy spring chicken is a must. For pork lovers they also do authentic dishes of tripe, trotters and pork knuckle.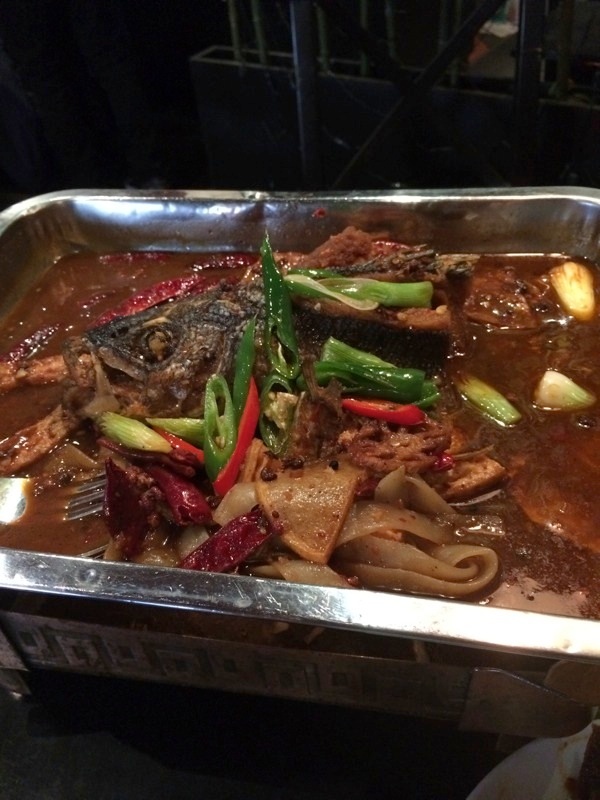 Crispy chicken and seabass at Maotai kitchen
Maotai Kitchen, 12 Macclesfield St, London, London Chinatown W1D 5BP, 020 7437 8785
Baozi Inn
Tucked away on Newport court, Fuschia Dunlop is behind the scenes at this little Sichuanese gem, so you can expect authentic spicy specialities from the region. Dan dan noodles and the hot and sour soup are great, and the home made tofu and soy milk are worth a visit in their own right. Super cheap too.
Baozi Inn, 26 Newport Ct, London WC2H 7JS tel:020 7287 6877
Cover Image Credit: Marilyn Peddle, flickr.
Related Reads
5 of the Most Authentic Chinese Restaurants in London
Five of the Best Sushi Restaurants in London
Five of London's Best Dim Sum Restaurants
____
Browse our deals for Chinese restaurants in London.
BY: Rejina Sabur-Cross
Click here to read more articles by Rejina..Rejina Sabur-Cross is a blogger and freelance food writer. She started Gastrogeek back in 2009 and has written for various publications including The Guardian, Fork Magazine, Eat Me Magazine, Le Cool, Blogosphere Magazine, Channel 4 Food, Fire and Knives and BBC Good Food. She's been featured in Red Magazine, the Evening Standard, The Independent, Olive Magazine, Waitrose Kitchen and more recently in the Sunday Times Magazine as one of the UK's top food bloggers. She's judged the Brick Lane curry competition, dined on bull's pizzle pie on Jimmy and Jamie's Food Fight and judged dishes for "The Perfect" on the Good Food Channel. Her first book "Gastrogeek" is out now. Click here to read more articles by Rejina..