Demijohn - Glasgow's Only Liquid Delicatessen
BY: Ann Nugent |
10 Apr 2014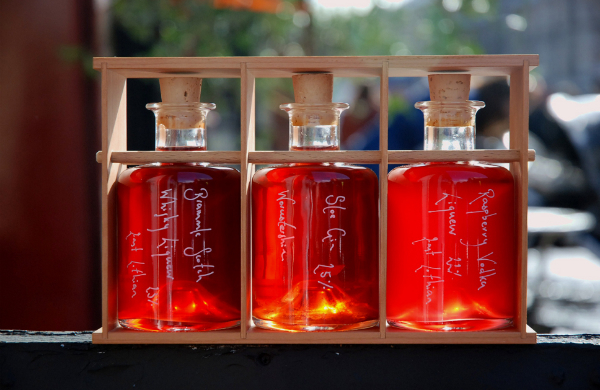 Byres Road in Glasgow's West End is the city's very own Diagon Alley – full of weegie wonder with its glorious little rickety pubs, piled-high curiosity shops and hidden gems off its cobbled side routes. And while I can't promise you'll find your very own magic wand (though with the variety of markets, it might be a possibility!) a visit to
Demijohn
, with its rows of every-shape glass bottle and oversized glass beakers full of colourful, promising potions is a must for food & drink fans alike. Demijohn refer to themselves as Glasgow's only liquid delicatessen, or more specifically the liquid deli where you can taste the origin. And tasting is something they're happy to accommodate – but you can probably expect a stern No if you ask to take residence directly under the homemade cherry liqueur tap for the remainder of your Saturday evening. (I was only half joking, that stuff is like delicious cherry amber from the delicious cherry gods). The shop-front is small, but step into the store and you're met with walls filled top to bottom with the most tantalising local fruit wines, gins and liqueur's and farm sourced oils, vinegars and chutneys. The owner, Angus has hand-picked caskets of single malt whisky – an 11 year old Bladnoch, sweet with honeyed apple undertones, and a peatier 8 year old Caol Ila – and there's even a special Demijohn blend for those who like their drams a little smoother.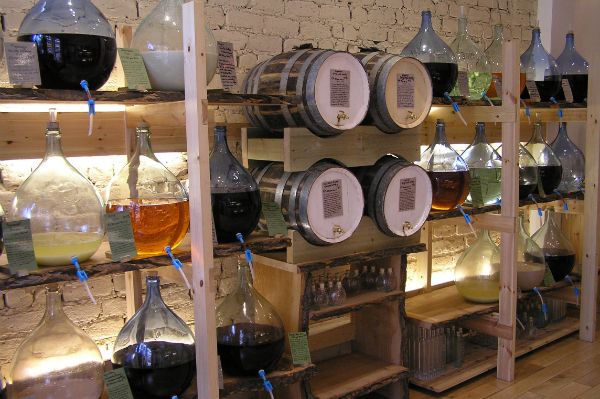 The staff are keen to tell you just where each of its unusual liquid treats is sourced – whether that be the red bramble vinegar from Perthshire or the local Lothian raspberries in its raspberry gin. They even get involved in foraging for the wild sloes that make Demijohn's perfectly plummy sloe gin so moreish. Fashionable Rapeseed oil is also represented. Scottish and flavoured with a zesty lemon, it has similar nutritional benefits to olive oil, but a higher burning point which makes it perfect for flash frying or roasting. In fact, ask any of the friendly staff in this West end store and it becomes apparent that they're keen foodies too and they're happy to share their own favourite recipes – how to make house cocktail
Whisky Mac
(1 shot of the Demijohn blend to 2 parts of the shop's winter warming, top-selling ginger wine) or using their gooseberry gin to glaze a roasting pan for a rich kick to any Sunday roast. Shoppers are encouraged to try before they buy, and purchases are decanted from source into a range of environmental friendly reusable, refillable glass bottles that range in shape and size – with hearts and interconnecting curvy wavy or stacking bottles, all starting from 100ml. What do you think? Have you been to Demijohn?
@Groupon_UK
#grouponguide
#glasgow ___ Check out our deals for
drinks in Glasgow
.