Dip & Flip Burger Review
BY: Nick Andrews |
28 Oct 2014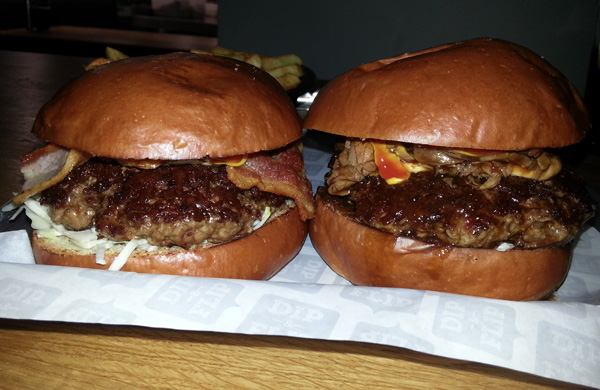 When Dip and Flip opened its doors to the public back in September 2013 it was something of an unknown entity. Located on the corner of Northcote Road and Battersea Rise, it was hardly the burger hotspot of central/East London, and without any history of pop-ups or market testing, it opened to little fanfare. But I'm going to let you in on a little secret…this is Clapham's best burger. And it's very high up my list of favourite burgers in London!
The Burger:
There is a range of burger options from a standard cheeseburger clocking in at £6.50, to the eponymous Dip and Flip burger priced at £9.95. All the burgers come without fries, but they're not going to break the bank at a very reasonable £2.75.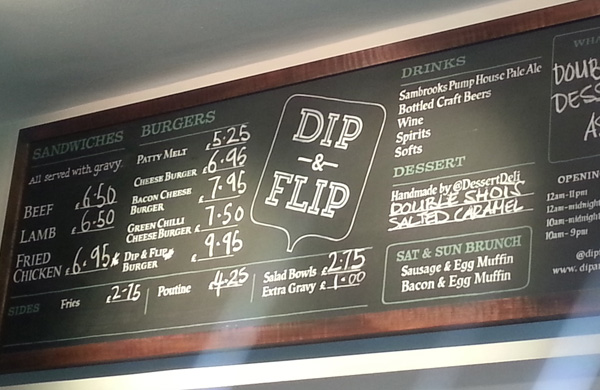 Dip and Flip do things a bit differently. The burgers are served as standard on a greaseproof paper-lined metal tray, but every burger that arrives is accompanied by a bowl of gravy. Yes, that's right, a styrofoam bowl of gravy. And frankly, it's glorious. Brewed for three days with a wonderfully mature beefy flavour – it's the perfect accompaniment to your burger.
Let me take you through the Dip and Flip burger make up. The concept is quite simple. It's a cheeseburger with shaved roast beef added as a topping. But the magic happens when you take a look at how the burger is actually constructed. Topping the beef patty are ketchup, mustard and shaved roast beef (think roast dinner in a bun). The cheese isn't an off-the-shelf job, it's a custom made American burger cheese, which is super melty and runs in rivers down the aged, coarsely minced beef patty. This in turn sits on a thin layer of chopped white cabbage (which adds crunch and texture) and is finished off with a mayonnaise mixed with some pickle juice to inject a bit of acidity into the burger. All in all it's a brilliantly constructed burger, and tastes phenomenal.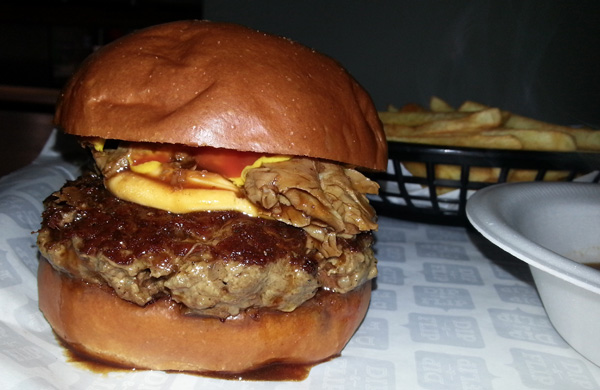 Now, with all that gravy, I expect you'd be fairly worried about your bun falling apart, wouldn't you? Well fear not, as this is a sturdy beast of a demi-brioche bun – it takes some punishment, but will stay intact until the last unctuous mouthful of double meat and gravy.
For an extra £2.75 the fries are decent, but for £4.50 you can upgrade to a bona fide poutine (Canada's answer to chips and sauce) which comes with small balls of buffalo mozzarella and gravy drizzled over the top.
Dip and Flip are open from midday until late seven days a week for your dipping and flipping pleasure.
Address: Dip & Flip, 87 Battersea Rise, London SW11 1HW.
Related Reads
The Best Hangover Cures in The Smoke
Five of the Best Sushi Restaurants in London
The Best (Sort of) Russian Restaurants in London
____
Find a deal for restaurants in London.
BY: Nick Andrews
Nick is Hamburger Me and he likes burgers. Actually, it goes a bit deeper than that. Nick is, in fact, London's pre-eminent burger blogger, and the author of www.hamburger-me.com where, since 2010, he's been posting about and reviewing London's best burgers. He's a keen collector of burger memorabilia (check out his burger phone!) and he even has his own line in burger cufflinks...