Exploring London's Walthamstow Marshes
BY: Sarah Trivuncic |
10 May 2014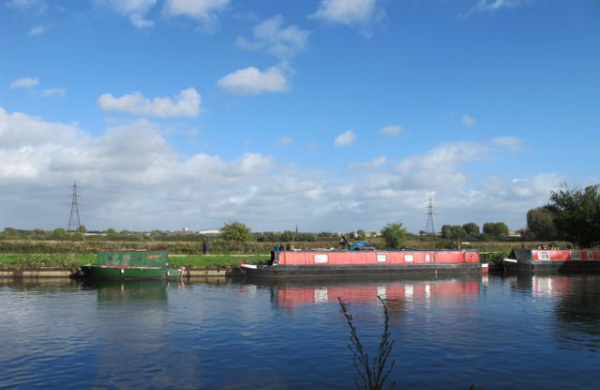 Walthamstow Marshes is an East London wilderness offering respite from city hubbub without even leaving Zone 3. It's a secretive spot easily overlooked – even by locals - but with £288,000 Heritage Lottery funding for development already awarded and further bids due, rebranding as Walthamstow Wetlands is planned by 2016. But there's no need to wait this long because for those in the know, walking routes, sporting facilities and nature reserves exist already. For sustenance during a day's exploring, here are my best five foodie stop-offs dotted around Walthamstow Marsh.
1. Waterworks Nature Reserve
Tree lined walks, bird hides and a piggery now nestle amongst the ruins of this former filter bed. Their utilitarian café operated by Lee Valley is not the prettiest around but offers a £5 cooked breakfast and in summer you can even camp. Also on offer are Starbucks coffees, flapjacks, cakes, panini and canteen style hot meals. Honey from hives on the reserve is sold here too.
Waterworks Nature Reserve
, 
Lammas Road, London E10 7QB Tel: 020 8988 7566
2. The Princess of Wales
On the Hackney bank of the river, this revamped Clapton boozer offers stone baked pizzas and handmade pasta at gastro-pub prices. Family friendly with half size kids' portions and guest "Princess of Ales" beers on tap, it's an ideal venue for smart but casual lunch with friends or relatives. Main courses cost £12-15. Seating outside overlooks the river.
The Princess of Wales
, 
146 Lea Bridge Road, London E5 9RB Tel: 020 8533 3463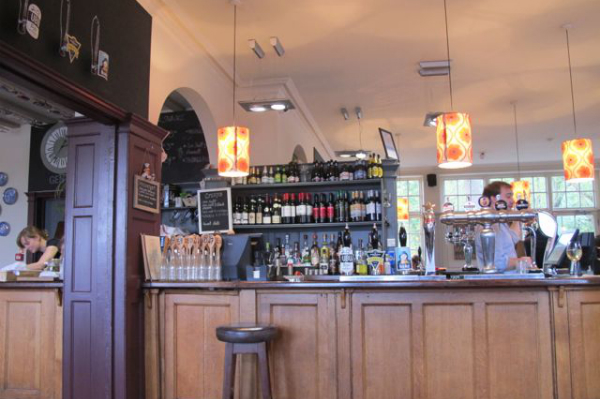 3. Spark Cafe
From the riverside path, climb up the hill towards Spark Café, housed in the White Lodge, a Grade 2 listed building at the top of Springfield Park. With tall ceilings and picture windows overlooking the greenery, it's furnished with character and an antidote to anodyne coffee chains. Buggy space, loos and changing facilities make Spark appealing for yummy mummies as do the kids' art classes held on second Sundays of the month. As well as coffees and freshly squeezed juices, they serve freshly prepared salads, wraps and sandwiches. Try their "hal-fal" halloumi and felafal wrap for £5.50.
Spark Cafe
, 
Springfield Park, London E5 9EF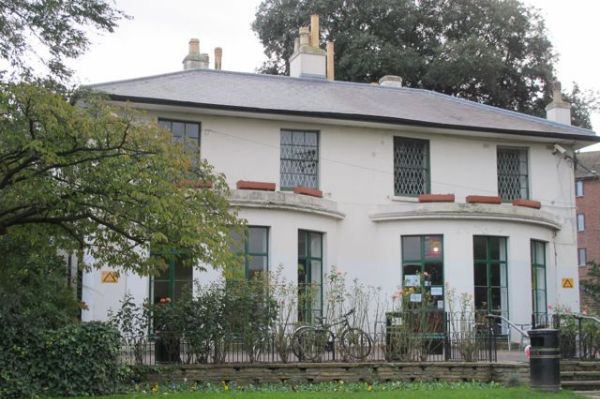 4. Pistachio's in the Park
Brightly painted and toddler friendly with toys and changing facilities, Pistachio's is a cheerful stop off for those with small children. Between South Tottenham's Markfield Park rose garden (and nearby playground) and the river, there are wooden picnic benches outside whilst inside offers free wi-fi and a paperback library.  Shortbreads, traybakes and dried fruit snacks are served as well as light meals including crepes and jacket potatoes for £3-5. The adjacent
Markfield Beam Engine and Museum
, open most second Sundays of the month (plus fourth Sundays April to September), is small with free entry and brief entertainment for kids, local history enthusiasts and steam engine geeks alike. The Victorian machinery is demonstrated on special steam days throughout summer months (check website for dates).
Pistachio's in the Park
, 
Markfield Road, London, N15 4RB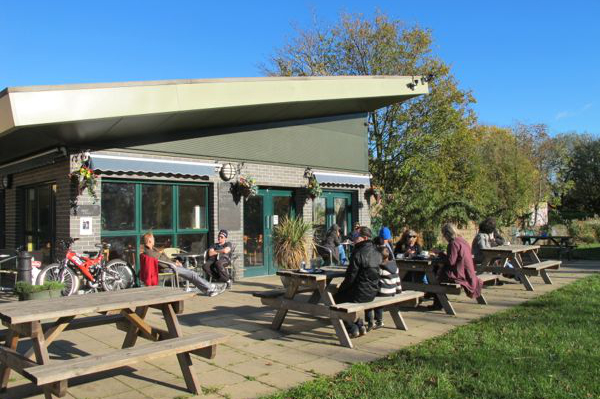 5. The Ferryboat
If you're feeling peckish after a morning's birdwatching or fishing at
Thames Waters' Walthamstow Reservoirs
, The Ferryboat is an ideal spot to catch a bite.  With faded furniture and uneven interior, standard pub fare main dishes are priced £8-12. Sunday roasts are £10 with changing offers during the week. In brighter weather there's a pleasant garden with potential to spot the local herons and cormorants swooping by.
The Ferryboat
, 
Ferry Lane, London, N17 9NG Tel: 020 8808 4980
What's your favourite pitstop in London? Tweet us!
@Groupon_UK
#grouponguide
____ Check out our deals for
restaurants in London
.
BY: Sarah Trivuncic
Sarah Trivuncic arrived in London as a fashion student during the 90s Brit Pop era. During these 20 years she's lived north, west and east of the capital. From Shepherds Bush to Stoke Newington, from to Muswell Hill to Walthamstow Village, this yummy mummy baking blogger behind "Maison Cupcake" is obsessed with shops and cafes. Knowing many London neighbourhoods up close, she was possibly a London cabbie in a former life.