Essential Guide to Fake Tan: How to Apply it in 8 Easy Steps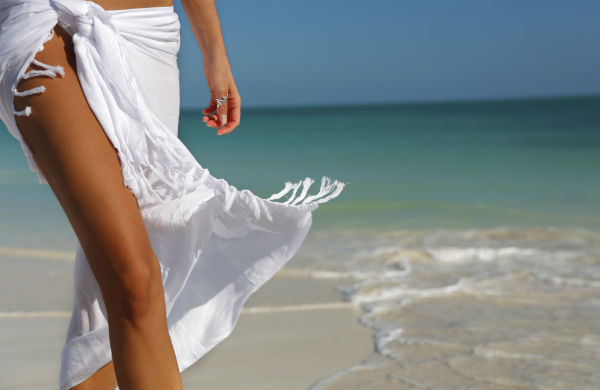 Belfast isn't known for its sunny climes so I tend to rely on fake tan for a summer glow. If applied well, no-one will know it's fake, so here are my self tanning tips to keep things smooth and seamless - without an orange streak in sight!
Start by preparing your skin
If you do the preparation well, you're half way towards an even, long lasting self tan - it really is worth the effort!
1. Exfoliate the night before to remove dead skin cells, get rid of dry patches and leave skin soft, smooth and ready for application. This will also help your tan last longer as you're less likely to shed it with dry skin. Nice! My current fave is Soap & Glory Breakfast Scrub and not just because it smells good enough to eat, though Clinique Sparkle Skin is gorgeous if you fancy something a little more luxurious (both from Boots).
2. Defuzz legs a day in advance (or at least a few hours) if possible. Shaving leaves my skin feeling sensitive and self tan stings if I apply it to freshly shaved skin, so I prefer to do this the day before and avoid unsightly rashes.
3. Moisturise areas that are particularly prone to dryness, concentrating on knees, ankles, feet, elbows and hands. If you're applying body lotion all over, do it an hour in advance to give it time to absorb and avoid it diluting or interfering with the tan. Simple, unperfumed formulas work best - try Aveeno (Boots) for super soft skin.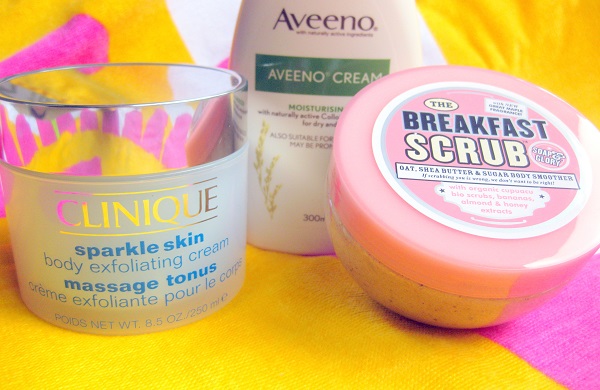 Next prepare the area
4. Stand in front of a full length mirror. Always apply self tan in front of a full length mirror. Sounds daft, but believe me - it's way easier to make sure you've got it right if you can see every angle in a mirror rather than just looking down. Let's face it, we wouldn't apply make-up without a mirror!
5. Chuck an old towel on the floor. Self tan has a habit of splattering across the bathroom unexpectedly - been there, lost a new bath mat to it.
6. Put your tanning mitt on. Don't even think about applying your tan with bare hands. Tango palms are not a good look and the product will spread much more quickly and evenly with a mitt.
Now you're ready to apply your fake tan
7. Shake the bottle well before you begin (and again half way through if it's a mousse).
8. Apply product onto the mitt, not your body, and blend completely before moving on to the next section. Start on a part of your body that's unlikely to be seen in public the same day e.g. your tummy or thighs. This allows you to gauge what the product will look like, how well it spreads and blends before moving on to the rest. Be sure to use the same amount of product on each half of your body e.g. one pump for each arm, two for each leg. Go easy around dry areas such as knees, ankles, elbows and wrists and use excess product on the mitt to buff over them. Same theory applies to hands and feet, where I actually prefer to use a lighter coloured tan to avoid tell-tale disasters. Check backs of arms, elbows, knees and ankles in mirror to make sure you haven't missed any sections (or been over enthusiastic!)
9. Buffing is my final tanning step and has prevented many mishaps. Using a clean mitt or old soft flannel, gently buff skin around 'the edges': hairline, under jaw, wrists, ankles, fingers, toes, knees and elbows. Sounds like a faff but only takes a minute and will remove any excess product that could otherwise result in streaks.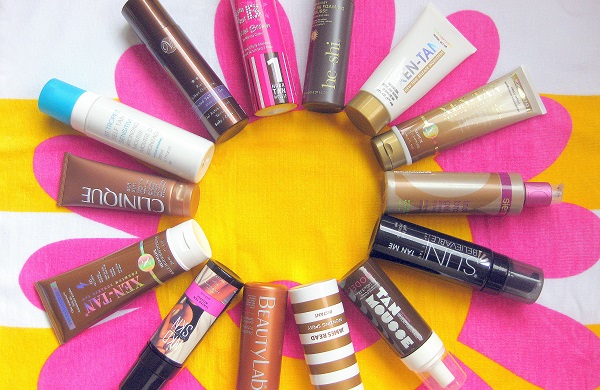 Which product?
This completely depends on your skin colour and whether you're a beginner or not. I find mousse formulas easiest to work with and always use self tan with a tint - it makes for easy application as you can see which bits are blended in - and check you haven't missed or over-tanned any bits! I always recommend gradual tanners for beginners - essentially a body lotion with a little self tan added in, these are the easiest to apply and add a subtle wash of colour. Here are my tried and tested recs for every skin tone, from novices to pros...
Beginners or pale skins
Budget buy: Dove Summer Glow Lotion in Fair to Medium (Gordon's Chemist)
Blow the Budget: Xen Tan Transform Luxe (Space NK)
Light to medium skins
Budget buy: Cocoa Brown 1 hour Instant Tan (Primark)
Blow the Budget: Vita Liberata Tinted Self Tan Mousse in Medium (House of Fraser)
Olive/tanned/dark skins
Budget buy: St Moriz Instant Self Tanning Mousse in Dark (Boots)
Blow the budget: He-Shi Dark Foaming Mousse (Medicare)
___
Check out our tan deals in Belfast.