Fireworks Glasgow - The Best Displays Across the City
BY: Ann Nugent |
23 Oct 2014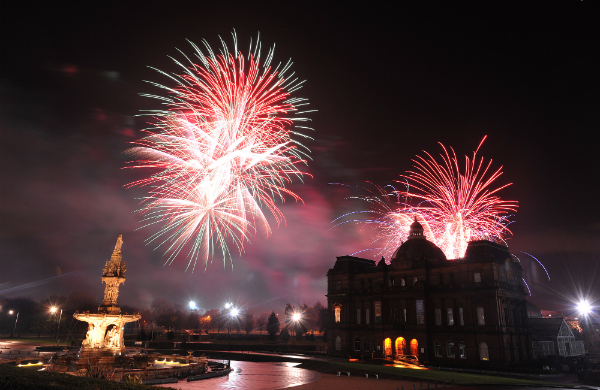 Uniquely British, Bonfire Night commemorates the failed attempt by Guy Fawkes to blow up both King James I and the London Parliament - effigies ('the guy') are burned on a bonfire to mark his arrest and serve as a reminder that treason would not be forgiven. Cheery, huh?
Nowadays we're more likely to remember the Katy Perry anthem and utilise the gunpowder in our fireworks to light up the night sky with a whizz, bang, woosh, whoop. (Fact fans, did you know that those impressive colours actually depend on the mix of chemicals – mainly metal salts and oxides which react to produce the spectacular spectrum of light – the bright sparkles come from small bits of burning metal.)
The Biggest and Best Glasgow Fireworks Display
Glasgow's biggest, annual official fireworks display takes place once again this year at Glasgow Green – the city's best-loved green space with easy access along the Saltmarket. Spectators are welcome from 4pm, where alongside stalls offering winter-warming food and drink options they will also be able to enjoy the sparkling lights and thrills of the Glasgow Green funfair. The free Fireworks Glasgow display is on from 7.30pm and the event closes at 9pm.
Local Fireworks Displays
Local displays can be enjoyed elsewhere too, with GHA Rugby Club (please link to ) in Giffnock offering the biggest and best fireworks display on the southside of Glasgow from 6.45 – 9pm on the 5 November, and Paisley Town Centre getting in on the action earlier on Saturday 1 November with a very special spooky Hallowe'en themed afternoon of live entertainment on the big stage leading up to the big fireworks show at 6pm.
Strathclyde Fire and Rescue and Strathclyde Police have also organised safe, fabulous, free fireworks displays at: Dunbeth Park Coatbridge; Rawyards Leisure Centre; Airdrie and St Maurice's High School, Cumbernauld on 4 November, all at 7.30pm, and Strathclyde Country Park, Motherwell on 5 November at 8pm. There will also be a fun Bat Walk and fireworks display at Finlaystone Mansion House, Port Glasgow on Saturday 8 November – find out more at www.finlaystone.co.uk (Adults £7.50 / Children £5)
Remember - Safety First
For those putting on their own firework displays at home - be safe not sorry. Fireworks are safe if you use them properly. Don't give sparklers to children under five – they can get hotter than cooking oil! And only buy fireworks from a reputable shop and make sure that they conform to British Standards (this means that they should have BS 7114 stamped on the box).
And Don't Forget Our Furry Friends!
Remember remember Rover – and Fluffy too. Pets don't like those scary big bangs and wooshes so keep them indoors with their favourite toys, the television on for company (what poodle doesn't enjoy Eastenders?) and the lights firmly on. You could also make them a fortress out of cushions and throws – but they might refuse to go out ever again such is the awesomeness of your comfy-skills.
Wrap up warm, indulge in toffee apples (fingerless gloves make for less candy gloop) and hot roasted chestnuts and leftover pumpkin soup - look out your best wellies (this is Glasgow after all) – stay safe, and let the sensible adult in your life – or at your display - take charge – and get ready to oooooh and aaaah to your heart's content this bonfires night.
Related Reads
Things to do in Glasgow at Halloween
Glasgow Museum's Must See Treasures
Comedy Clubs - Glasgow Smiles Better
____
Find a deal for things to do in Glasgow.
BY: Ann Nugent
Ann Nugent is a 30-something girl in the city of Glasgow. A freelance style writer and culture insider, Ann established her blog in 2010 and regularly contributes reviews and social commentary across Scottish national and local media titles.